Senate Republicans Play Election Politics, Kill Bipartisan Energy Bill And Keystone Pipeline Vote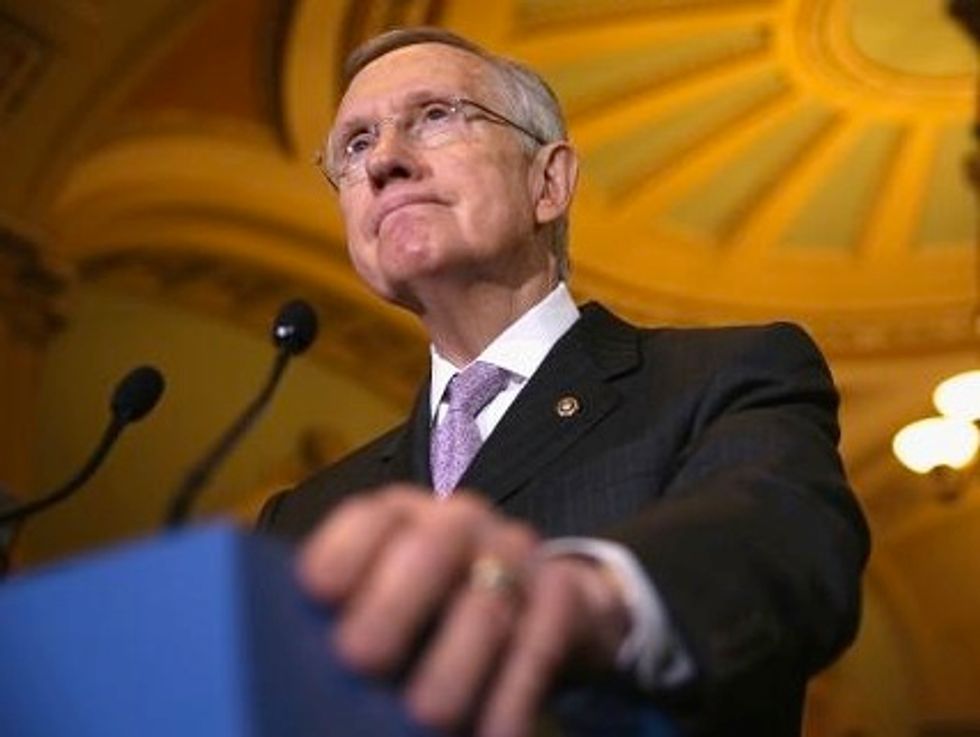 On Tuesday, Senate Republicans killed what could have served as a rare example of bipartisan consensus, the Energy Efficiency Improvement Act.
The legislation, which was sponsored by Senators Rob Portman (R-OH) and Jeanne Shaheen (D-NH), should have passed; the bill's provisions were far from controversial and a similar companion bill in the Republican-controlled House had already acquired bipartisan support.
Also, as TheNew York Timespoints out, the bill served as a test that lawmakers hoped "would show that bipartisan agreement is still possible in a gridlocked Capitol and pave the way for a broader energy bill."
Instead, the bill fell short of the five votes it would have needed on the procedural motion that would have allowed it to come to a final vote.
So what happened on Tuesday? Politics happened.
Senate Republicans suddenly introduced amendments to the energy-efficiency bill, which would have implemented stricter efficiency guidelines for new federal buildings and provided tax incentives for the purpose of adopting these same measures in private homes and commercial buildings. They knew Senate Majority Leader Harry Reid (D-NV) would not agree to the changes: a measure that would have stopped President Obama from taking executive action on climate change issues, and an additional amendment that would have approved the Keystone XL Pipeline.
Once Reid refused to allow a vote on the amendments, the GOP attacked him and Senate Democrats for their unwillingness to negotiate on issues.
However, it was Democrats' willingness to negotiate in the first place that caused the GOP to kill the bill. Desperate to pave the way for an eventual larger energy bill and to demonstrate bipartisan cooperation in Washington, Reid had promised Senate Republicans that if they passed the energy efficiency bill, he would schedule a vote pushing Obama to approve the Keystone XL Pipeline, an issue on which the president has remained vague.
Even though the right has long supported the Keystone pipeline, which would connect Canada's Alberta oil sands to Gulf Coast refineries, Republicans could not risk allowing Democrats up for re-election in energy-producing states the chance to back the measure that their GOP opponents could have otherwise used against them in November.
Specifically, Democratic senators Mary Landrieu (LA), Kay Hagan (NC), Mark Pryor (AR), and Mark Begich (AK) were seen as likely "yes" votes on the pipeline that is generally viewed as a Republican cause.
Following Tuesday's vote, Landrieu managed to turn the issue around on Republicans, saying: "They chose to have an issue, as opposed to having a pipeline, and that's very disappointing."
And while one of the bill's co-sponsors, Senator Portman, avoided calling out his conservative colleagues when he slammed the "disappointing example of Washington's dysfunction," the legislation's other co-sponsor, Senator Shaheen, openly denounced Republicans.
"People in New Hampshire and across the country lost out today because of election-year politics," said Shaheen, according to Reuters.
AFP Photo/Alex Wong
Want to stay updated with the latest news on Capitol Hill? Sign up for our daily email newsletter!