Senate Republicans Refuse To Fund Election Security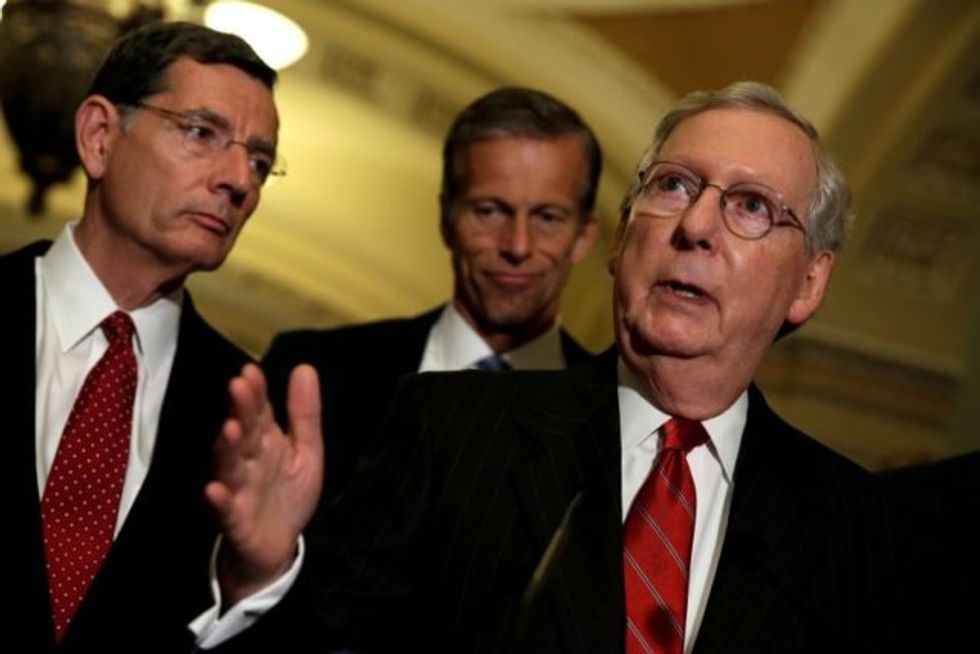 Reprinted with permission from Shareblue.
Senate Republicans voted on Wednesday to reject a measure that would allow additional funding to states to upgrade election systems and defend against cyberattacks and hacking.
The amendment, which was introduced by Sen. Patrick Leahy (D-VT), would have provided $250 million dollars in grants to help states improve election-related cybersecurity, replace outdated equipment, and undertake other election security efforts like training and hiring additional personnel.
Only one Republican senator, Bob Corker, voted in favor of the measure. Three others — Richard Burr, Jeff Flake, and John McCain — were not present for the vote. Ultimately, the legislation got 50 votes, falling short of the 60 votes needed to pass.
The GOP's nearly unanimous vote against the election security measure comes just as top intelligence officials are warning of the ongoing threat of election interference posed by Russia.
That threat became even more real last week when it was reported that Russian cyber operatives had unsuccessfully attempted to hack Sen. Claire McCaskill (D-MO), making her the first known target of the Kremlin's 2018 interference operation.
Three days later, outspoken Kremlin critic Sen. Jeanne Shaheen (D-NH) revealed that her office had also been targeted by multiple spear-phishing attempts in what she described as a "widespread" hacking campaign.
With just 100 days to go before midterms, state officials are increasingly sounding the alarm about vulnerabilities in our election systems.
Last week, 21 state attorneys general wrote a letter to Congress saying that additional funds were urgently needed for protective efforts in order to prevent the type of breaches that occurred in the lead-up to the 2016 election. In some states, officials say the increased funding is needed just for maintenance of existing election infrastructure.
But despite these warnings, Republicans just don't seem interested in doing much of anything to ensure the integrity of our elections.
Last month, House Republicans killed similar legislation that would have approved additional funding aimed at combatting foreign interference in U.S. elections.
It's almost as if Republicans are inviting Russia to interfere in future elections — perhaps because they don't think they can win without Putin's help.
Published with permission of The American Independent.