Senator Cruz Introduces Bill To Let States Reject Refugees
@reuters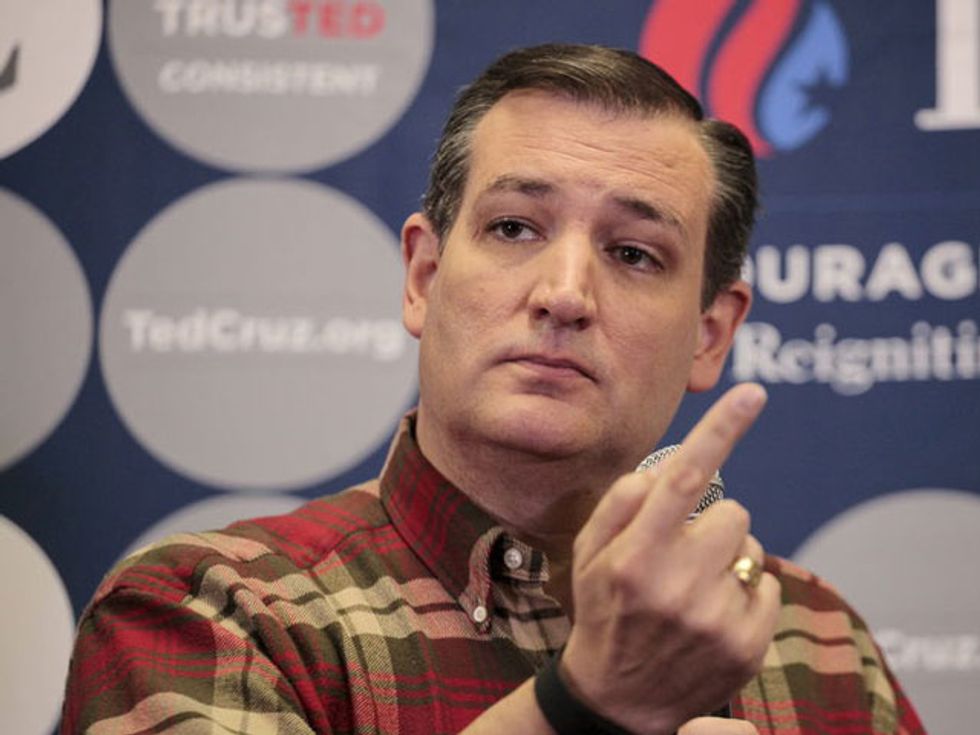 By Alana Wise and Patricia Zengerle
WASHINGTON (Reuters) – Senator Ted Cruz, who is seeking the Republican nomination for president in 2016, said on Tuesday that he introduced legislation to give governors the ability to opt out of refugee resettlement programs.
Cruz said that if President Barack Obama wanted to send refugees to any state, his legislation would let its governor refuse to participate, "to conclude that the federal government has not done a sufficient job ensuring that the safety and security of the citizens of the state will be protected."
The comments came at a news conference with Greg Abbott, the Republican governor of Cruz's home state of Texas. Abbott was one of the first U.S. governors to seek to block the resettlement of refugees from Syria.
Many Americans have worried that those refugees might include militants allied to the Islamic State. Such fears have intensified since the Nov. 13 attacks in Paris and last week's killings in San Bernardino, California.
"We are at a time of war," Cruz said.
The U.S. House of Representatives passed legislation after the Paris attacks that would make it more difficult for refugees from war-torn Syria and Iraq to enter the country. That measure has not yet come up in the Senate, although some lawmakers want it included in a massive spending bill Congress must pass in the next few days to keep the government open.
Congress' Republican leaders have not yet disclosed their plans for the legislation.
Obama, a Democrat, plans to admit 10,000 Syrian refugees in the next year, a decision many Republicans have opposed since it was announced in September.
Three Senate Democrats held a news conference on Tuesday with religious leaders who oppose including the House refugee measure in the spending bill.
"These refugees are not our enemies," Senator Tim Kaine said. "They are fleeing our enemies."
Cruz said he had also authored legislation to impose a three-year moratorium on refugees coming from countries where Islamic State or al Qaeda controlled significant territory, and another measure that would strip U.S. citizenship from any American who traveled abroad to fight with militant groups.
Cruz also commended businessman Donald Trump, who is vying with him for the Republican nomination for president, for "standing up and focusing America's attention on the need to secure our borders."
Trump has proposed banning Muslims from entering the United States.
(Reporting by Alana Wise and Patricia Zengerle; Editing by Lisa Von Ahn)
Photo: U.S. Republican presidential candidate Ted Cruz speaks at a 2nd Amendment Coalition announcement at CrossRoads Shooting Sports in Johnston, Iowa, December 4, 2015. REUTERS/Brian C. Frank