Senator Elizabeth Warren To Liberals: I'm Fighting Back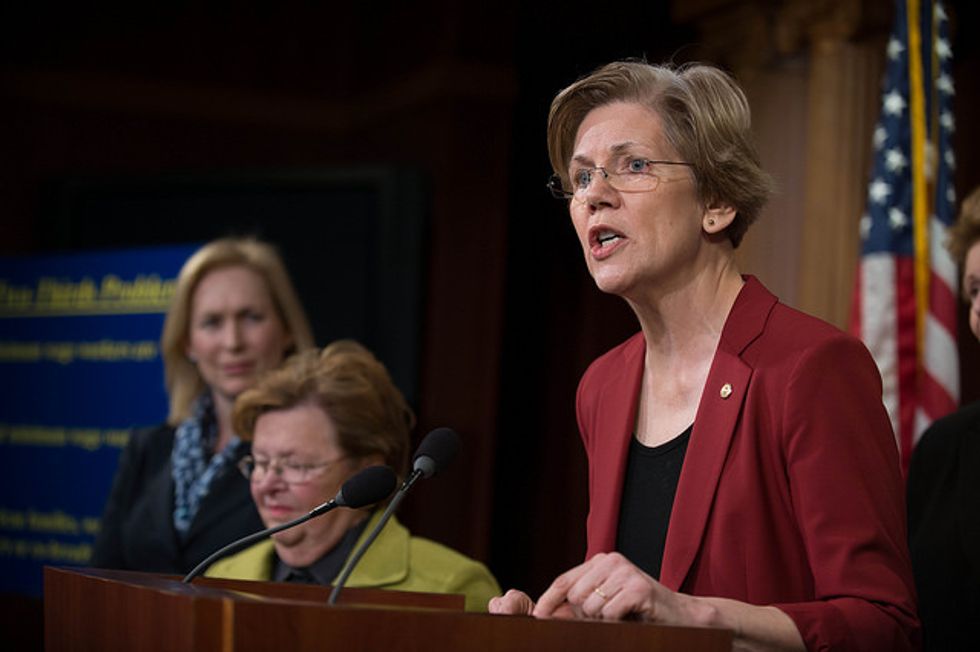 By Lesley Clark, McClatchy Washington Bureau
DETROIT — Senator Elizabeth Warren (D-MA) wowed a friendly crowd of influential liberal activists Friday in Detroit, pledging to fight against Republicans and the "sleazy lobbyists" she says have rigged the rules in Washington and harmed the middle class.
Warren took the stage in a crowded ballroom to calls of "Run, Liz, run" by activists waving "Elizabeth Warren for President" signs — and did little to disappoint.
Speaking before the nation's largest gathering of liberal activists, she railed against giant corporations, secret trade deals and Republicans she said were too cozy with big business.
"The tilt in the playing field is everywhere," Warren said in a 15-minute speech that had the audience at the Netroots Nation on its feet. "We can whine about it, we can whimper about it or we can fight back. I'm fighting back."
Progressives are hoping the populist Massachusetts Democrat makes a run for the presidency in 2016, challenging former Secretary of State Hillary Clinton from the left. Though Warren has said she's serving out her Senate term, which expires in 2019, her speech at times had the feel of a campaign.
She credited the activists with seeing that the Consumer Financial Protection Bureau, which she helped develop, is up and running, declaring that it's forced financial institutions to return more than $4 billion to consumers.
"You called out sleazy lobbyists and cowardly politicians," she said. "You said, 'We the people will have this agency,' and you won the fight."
Warren, who enjoys fervor among liberals for leading a charge to overhaul the financial system, called for more Wall Street regulations, accusing big banks of crashing the economy but continuing to "swagger through Washington blocking reform."
Activists swooned, even if they're not convinced she'll run for president. She's already proved a powerhouse this year, raising $2.6 million for other Democrats and campaigning for Senate candidates across the country.
"I love her. I would be 1,000 percent behind her," said Mooney Gow, 52, of Sacramento, Calif., a "Warren for President" hat perched on his head as he streamed out of the ballroom. "She would move the needle to the left, and that's her job. "
Ready for Warren, a group that hopes to draft the senator to run for president, made a major splash at the event, handing out placards, stickers and faux straw boaters emblazoned with "Elizabeth Warren for President."
One volunteer suggested a use for the Warren sticker: Affix it to the "Ready for Hillary" coffee tumblers that Ready for Hillary, Clinton's campaign-in-waiting, had distributed. Clinton didn't speak to the group.
Warren's popularity has spurred Republicans to put her on their radar.
America Rising, a conservative group that does opposition research on Democrats, sent out a fundraising appeal this week that says it's tracking Warren now, along with Clinton.
"Democrats are launching a campaign to draft liberal Democrat Elizabeth Warren for president," the appeal says. "America can't afford to let that happen."
Activists have lauded Warren, a onetime Harvard professor, for her candor, and she didn't mince words Friday. Though the Obama administration is pressing a major trade deal, Warren laced into the secrecy around it, saying Wall Street, pharmaceutical companies and "big polluters are smacking their lips at the possibility of rigging" the deals.
Conservatives, she charged, are "guided by an internal motto: 'I got mine; the rest of you are on your own.' "
She delivered a list of liberal values, including combating climate change, raising the minimum wage, mandating equal pay, protecting Social Security and revamping immigration law. Some of her loudest applause came as she voiced opposition to the Supreme Court's Hobby Lobby decision on contraceptives.
"She hits a chord with us," said Cathy Casas, 59, a retiree from Tampa, Fla., who'd arrived early to secure a seat in the ballroom so as not to miss a minute of Warren. "She's so real, so genuine. Not a plastic politician."
Photo: Senate Democrats via Flickr
Video of Senator Warren's speech can be seen below: