Senator: Koch Brothers And Others Behind 'Opt Out Of Obamacare' Are 'Guilty Of Murder'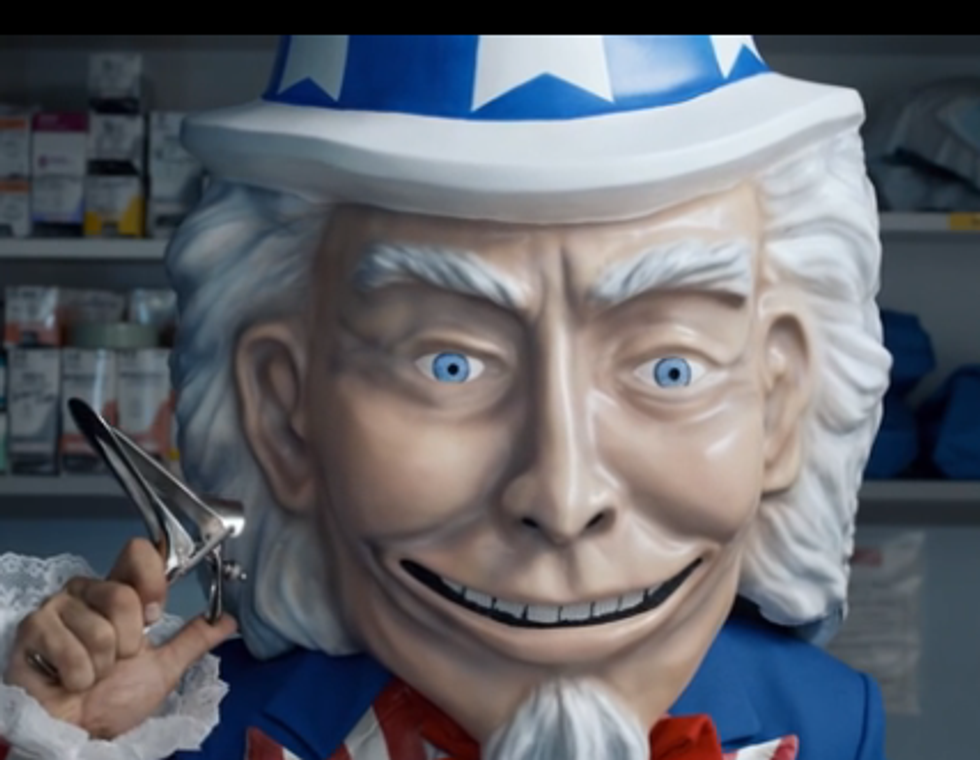 Senator Angus King (I-ME) doesn't think the disturbing ads that attempt to scare young people into opting out of Obamacare are funny at all.
"That's a scandal — those people are guilty of murder in my opinion," the senator told Salon 's Brian Beutler . "Some of those people they persuade are going to end up dying because they don't have health insurance. For people to do that to other people in the name of some obscure political ideology is one of the grossest violations of our humanity I can think of. This absolutely drives me crazy."
Senator King says he tried to track down the folks behind these campaigns and ask "are you aware of what you're doing?"
FreedomWorks — a group that's been central to organizing the Tea Party movement — originated the " Burn Your Obamacare Card " effort, where they organized "protests" on college campuses that were supposed to conjure images of teenagers in the 1960s burning their draft cards to protest the Vietnam War.
But the movement didn't garner national attention until Generation Opportunity released its now-infamous ads depicting a creepy Uncle Sam popping up in a doctor's office at the worst possible time.
Who's behind Generation Opportunity? Yahoo! News ' Chris Moody explains that it is "a Virginia-based group that is part of a coalition of right-leaning organizations with financial ties to billionaire businessmen and political activists Charles and David Koch."
Next month, "the group will begin a tour of 20 college campuses, where they plan to set up shop alongside pro-Obamacare activists such as Enroll America that are working to sign people up for the insurance exchanges."
"What we're trying to communicate is, 'No, you're actually not required to buy health insurance,'" Generation Opportunity president Evan Feinberg told Moody. "You might have to pay a fine, but that's going to be cheaper for you and better for you."
Right-wing activists committed to defeating Obamacare know that young people are the key to the success of the Affordable Care Act — because young, healthy people with insurance help to subsidize older, sicker Americans. But to King that doesn't mean young people can't get sick and don't need insurance — and he knows this from experience.
Senator King didn't get coverage until he was in his late twenties and that's what motivated him to visit a doctor.
"It was a routine checkup and the doctor found this mole, and I went in a week later to have the stitches out," the independent senator who caucuses with the Democratic majority in the Senate told Beutler. "The doctor told me I'd better sit down and that I had melanoma…. A month later I found myself having every cancer test you could imagine. Ultimately I had a fairly major surgery. The point of the story is that without the surgery I would have died."
"The bottom line for me is 15, 20, 25,000 people a year die in this country because they don't have health insurance," King said.
The senator believes blood will be on the hands of the Koch brothers and FreedomWorks if young people take their campaign seriously.
"Enabling more people to get coverage is not just common sense, it's humane," King added.
Screenshot via Generation Opportunity's YouTube channel