Senator Robert Menendez Pleads Not Guilty To Corruption And Bribery Charges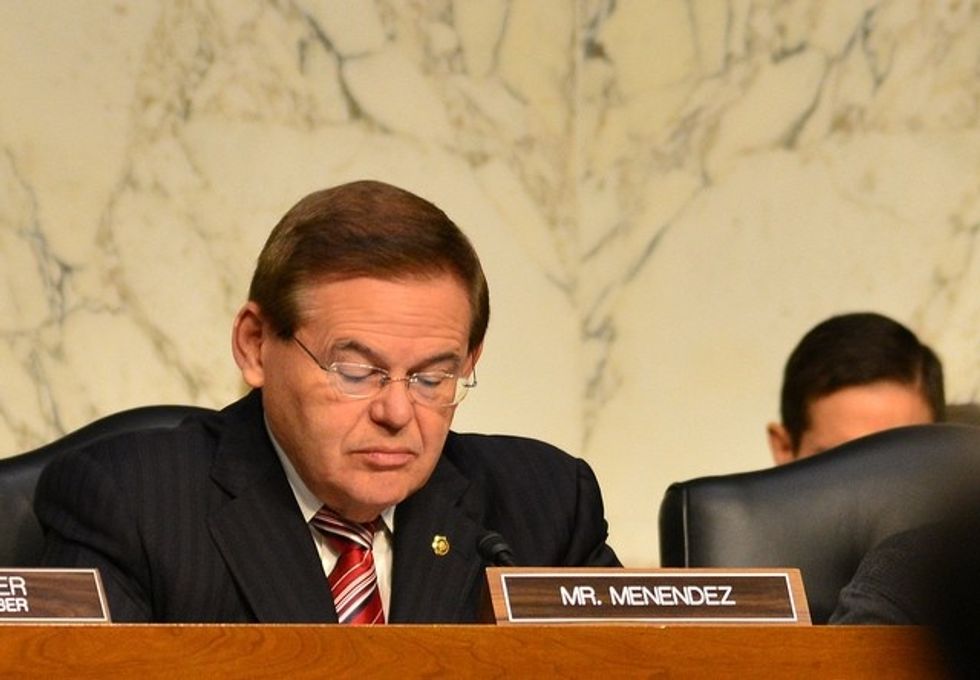 By James Queally, Los Angeles Times (TNS)
U.S. Senator Robert Menendez (D-NJ) pleaded not guilty to corruption and bribery charges in Newark, N.J., on Thursday, once again dismissing the long-expected accusations as little more than political gamesmanship.
Menendez and Salomon Melgen, 61, entered not guilty pleas one day after they were indicted on charges of conspiracy, bribery, and fraud. The longtime New Jersey senator's relationship with Melgen, a wealthy Florida ophthalmologist, has been under scrutiny for years.
In a 95-page indictment unsealed Wednesday, federal prosecutors claimed Menendez accepted nearly one million dollar in gifts, expensive vacations, and campaign contributions from Melgen, and in return, used his political influence to advance the doctor's business interests and help his girlfriends attain travel visas.
Speaking briefly outside a federal courthouse in downtown Newark, Menendez once again vowed to fight the charges.
"For nearly three years, the Justice Department has pursued allegations based on spears launched by political opponents trying to silence me," the Democrat told reporters Thursday afternoon. "Now they have laid out their case, we will finally have an opportunity to respond on the record, in court, with the facts."
Menendez was ordered to surrender his personal passport over objections, and was released on his own recognizance, according to a Justice Department spokeswoman. He was not ordered to turn over his Senate passport.
Melgen posted $1.5 million bond and was released after also agreeing to ground his personal plane, the spokeswoman said.
A status conference hearing was scheduled for April 22, and the trial will begin in Newark on July 13.
In addition to his brief statement in Newark, Menendez also touted his achievements and previous role as a witness in a federal corruption case in New Jersey in a two-minute video released Thursday morning.
"It saddens me that our system of justice has already failed at its most basic level, by leaking information and peddling rumors," he said, referring to the allegations in the indictment as "completely false."
Menendez will not relinquish his Senate seat, but said Wednesday he would temporarily step down as the ranking Democrat on the Senate Foreign Relations Committee.
Photo: www.glynnlowe.com via Flickr