Senators Demand Delay Of 'Tainted' Kavanaugh Nomination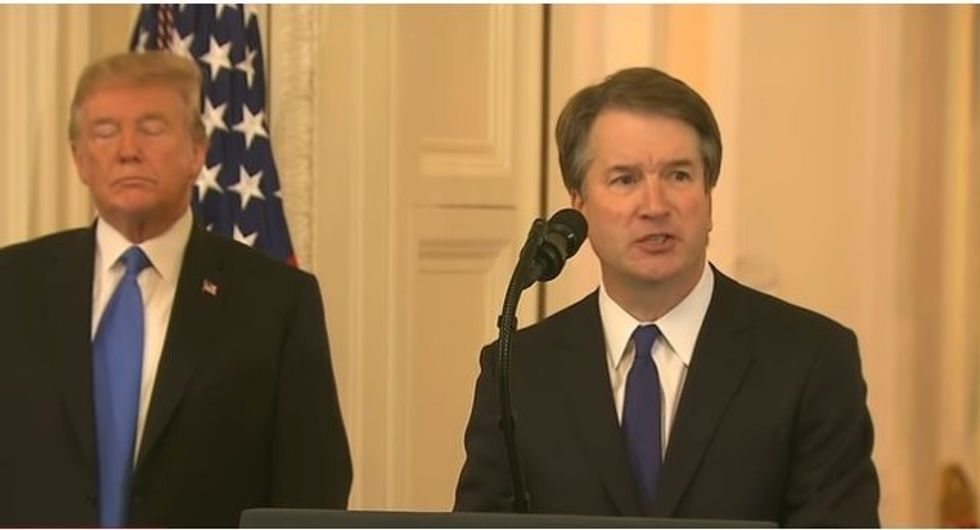 Reprinted with permission from Shareblue.
Trump's longtime personal lawyer Michael Cohen pleaded guilty Tuesday to illegal campaign activities on Trump's behalf — and said he broke the law at Trump's instruction.
Now two Democratic senators on the Judiciary Committee are refusing to meet with Trump's Supreme Court nominee, Brett Kavanaugh, and several others are calling for the Senate to delay scheduled hearings, set to begin Sept. 4.
"His nomination is tainted and should be considered illegitimate," said Sen. Ed Markey (D-MA), a member of the Judiciary Committee, after announcing that he will not meet with Kavanaugh.
Sen. Mazie Hirono (D-HI) said Trump is "an unindicted co-conspirator in a criminal matter," who purposefully nominated Kavanaugh "to protect, as we say in Hawaii, his own okole [butt]."
Hirono, also a member of the Judiciary Committee, canceled her meeting with Kavanaugh as well.
Hirono referred to Kavanaugh's expressed view of expansive executive authority. According to the Washington Post, Kavanaugh "has argued that presidents should not be distracted by civil lawsuits, criminal investigations or even questions from a prosecutor or defense attorney while in office."
Democratic Minority Leader Chuck Schumer of New York asked Kavanaugh about these views. In a speech on the Senate floor, Schumer said Kavanaugh "would not say that the president must comply with a subpoena." He continued:
The sequence of those two events — Judge Kavanaugh's refusal to say that a president must comply with a duly issued subpoena, and Michael Cohen's implication of the president in a federal crime — makes the danger of Brett Kavanaugh's nomination to the Supreme Court abundantly clear. It's a game changer. Should be.

 

A president, identified as an unindicted co-conspirator of a federal crime – an accusation made not by a political enemy but by the closest of his own confidants – is on the verge of making a lifetime appointment to the Supreme Court. A court that may someday soon determine the extent of the president's legal jeopardy.
Schumer went on to ask the Judiciary Committee to delay its scheduled hearing.
"At the very least," Schumer said, "it is unseemly for the president of the United States to be picking a Supreme Court Justice who could soon be, effectively, a juror in a case involving the president himself."
The top Democrat on the Judiciary Committee, Dianne Feinstein, released a statement demanding a delay.
"The possibility of criminal wrongdoing by the president, combined with existing doubts that Brett Kavanaugh believes a president can even be investigated, demand further review of this situation," Feinstein said.
Sen. Richard Blumenthal (D-CT), also a member of the Judiciary Committee, echoed the call to delay Kavanaugh's hearing after also noting Trump is an unindicted co-conspirator.
Another member of the Judiciary Committee, California's Kamala Harris, called for a delay, saying, "Americans don't want a president who is an unindicted co-conspirator in a crime to have the power to appoint someone to the Supreme Court."
New Jersey's Cory Booker, also a committee member, did not call for a delay of hearings but for an outright rejection of Kavanaugh's nomination.
"Trump's personal lawyer has sworn under oath that POTUS directed him to commit a federal crime," Booker said. "The Senate must reject any SCOTUS nominee from a president who is an alleged criminal co-conspirator—especially when that nominee may rule to protect Trump from any accountability."
Sen. Jeanne Shaheen (D-NH) joined the growing chorus calling for a delay, demanding "all necessary records related to Kavanaugh's nomination, particularly those that indicate his views on executive power."
As Democrats call for a delay, a spokesperson for Sen. Chuck Grassley, the Republican chair of the Judiciary Committee, announced the hearing will go forward as planned.
Thus far, Republicans have stymied efforts to provide senators with all relevant documents related to Kavanaugh's previous work in the White House under George W. Bush.
Republicans hold a slim 51-49 majority in the Senate, and changed Senate rules last year so a Supreme Court nominee cannot be filibustered by the minority.
Whereas Republicans denied a hearing to President Obama's nominee, they may seek to jam through Trump's nomination even as Trump is implicated in multiple felonies.
Published with permission of The American Independent.