#EndorseThis: Seth Meyers Takes A Closer Look At Trump's 100 Days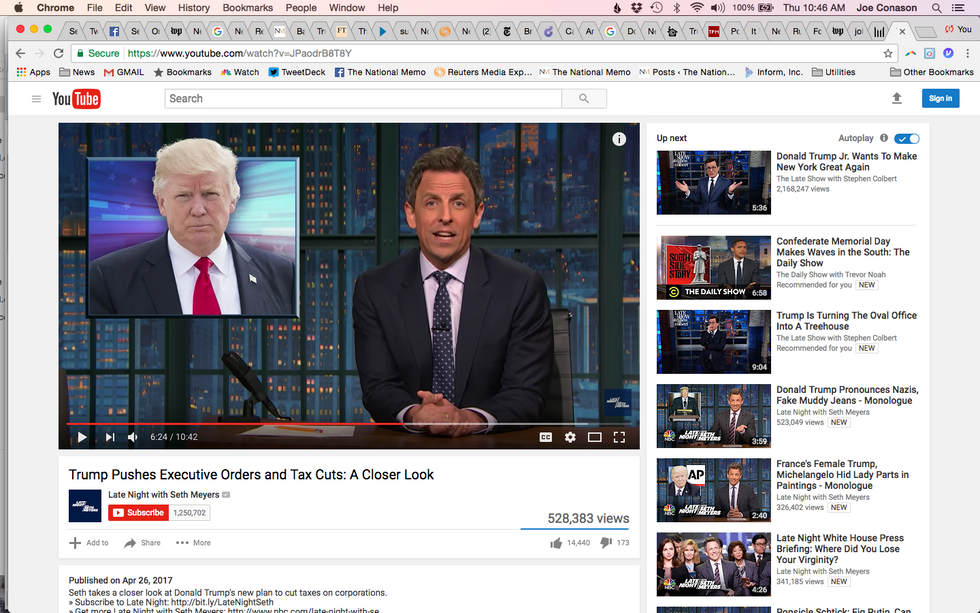 Seth Meyers offers a closer look at Trump's "desperate" quest for positive accomplishments in his first 100 days — and finds a presidency that resembles a juvenile session of Mad Libs.
Unable to pass legislation, despite Republican majorities in Congress, Trump is touting the executive orders he has signed — a tactic he memorably denounced as a disaster under his predecessor, whom he accused of wanting to quit work "and play golf."  Lickspittle Chris Christie, whose low approval numbers in New Jersey rival Trump's dismal ratings, praised the executive orders as well — although he too  excoriated Obama as a "dictator" and "a petulant child" for the same presidential maneuver.
To his long list of broken promises and guarantees, the Late Night host adds Trump's recent backpedaling on the construction of his vaunted border wall. But if Trump fans like Rush Limbaugh are disappointed and distressed, they can take comfort in one vow he may fulfill: to cut taxes for corporations, adding some big special tax benefits for the wealthiest Americans, such as the abolition of the alternative minimum and estate taxes.
Now who could possibly benefit from that? Hint: Their name rhymes with dump, and they just adore that classy gold plating.