Shameless Trump Accuses Obama Of Knowing About Attack: 'He Gets It Better Than Anybody Understands'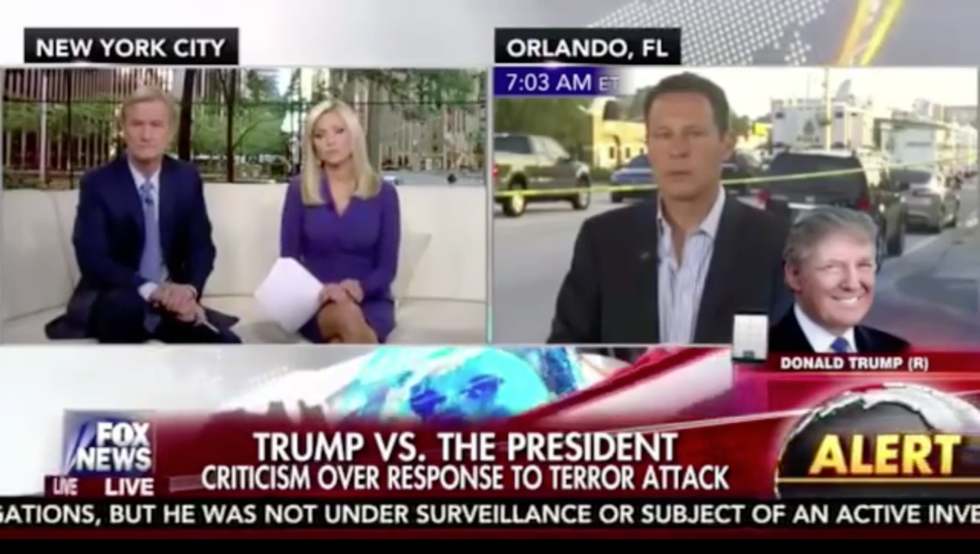 Donald Trump, the most famous figure in the "birther" movement — an attempt to delegitimize the president of the United States by saying that his father was an illegal immigrant and that he doesn't love America — used the worst mass shooting in American history to accuse the president of knowing ahead of time that the attacks would happen.
All emphasis is added by the author:
"He doesn't get it, or he gets it better than anybody understands," Trump told Fox & Friends this morning, the show where his birtherism was originally given a platform.
"It's one or the other, and either one is unacceptable, number one, and number two," Trump said.
Let's be clear: Donald Trump is saying that there are two possibilities: Either the president is too clueless to know about the possibility of an attack, or he did know that the attack was coming and let it happen.
Later in the interview, Trump emphasized the point again: "Look, we're led by a man that either is not tough, not smart, or he's got something else in mind. And the something else in mind… you know, people can't believe it. They cannot believe that President Obama is acting the way he acts."
Trump is following a very familiar playbook, one that he used to delegitimize the president in a months-long racist attack on his background. Trump also distracted the media from the multiple class-action lawsuits facing Trump University, his allegedly fraudulent wealth seminar program, by calling into question Judge Gonzalo Curiel's allegiance to America by calling him a "Mexican," though Curiel was born in the United States to immigrant parents. Trump's mother was an immigrant.
Later, in an appearance on the Today show, Trump again repeated the accusation:
"Well there are a lot of people that think maybe he doesn't want to get it," Trump said. "A lot of people think maybe he doesn't want to know about it. I happen to think that he just doesn't know what he's doing, but there are many people that think maybe he doesn't want to get it. He doesn't want to see what's really happening. And that could be."