Shanahan Withdraws Following Disclosure Of Domestic Violence Charges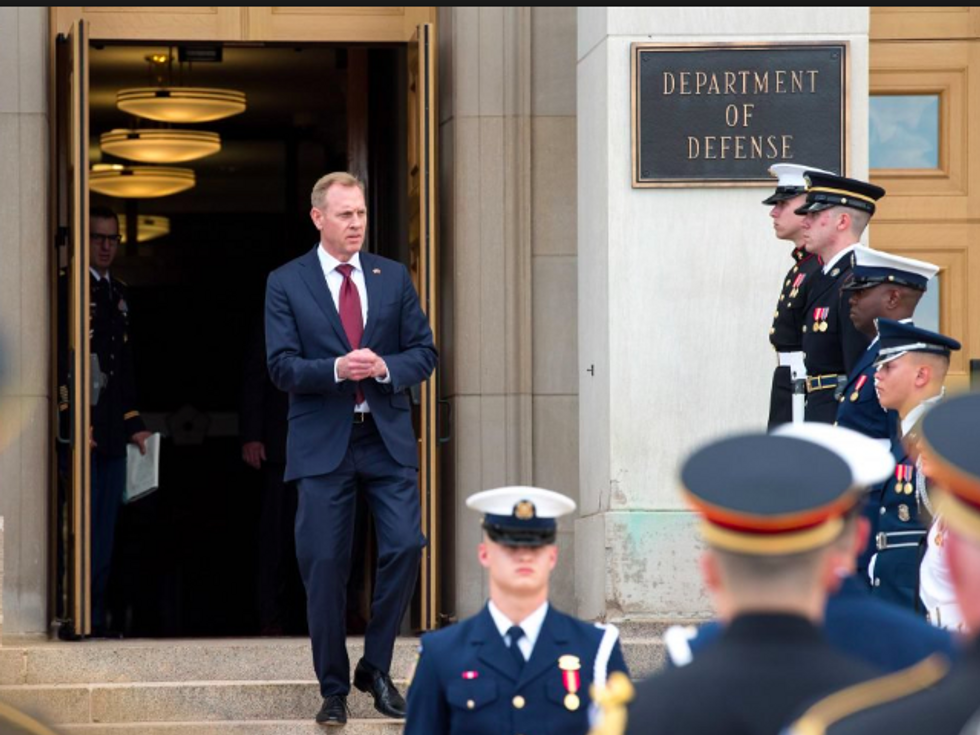 Trump's pick for defense secretary, Patrick Shanahan, has withdrawn from consideration and will step down as acting defense secretary after a family domestic violence scandal surfaced.
It's been 168 days since former Defense Secretary James Mattis left the Trump administration in protest on January 1 — and the nation will have to wait even longer for a new permanent defense secretary. Shahanan's exit also means that the Department of Defense doesn't have confirmed nominees in four of the five top posts, according to the Military Times' Leo Shane III.
"Acting Secretary of Defense Patrick Shanahan, who has done a wonderful job, has decided not to go forward with his confirmation process so that he can devote more time to his family," Trump tweeted on Tuesday afternoon. "I thank Pat for his outstanding service and will be naming Secretary of the Army, Mark Esper, to be the new Acting Secretary of Defense. I know Mark, and have no doubt he will do a fantastic job!"
According to USA Today, the FBI has been looking into a 2010 incident between Shanahan and his ex-wife. Shanahan reportedly told police that his ex-wife, Kimberly, had punched him, while Kimberly told police that Shanahan had punched her. The Washington Post also reported that Shanahan's son seriously injured Kimberly by beating her with a baseball bat, and that Shanahan defended his son because his mother "harassed him for nearly three hours before the incident."
Shanahan is the latest Trump Cabinet nominee to be felled by a domestic violence scandal.
Andrew Puzder was forced to withdraw from consideration as Trump's nominee to head the Department of Labor thanks to a domestic violence scandal. And others have been forced to leave the administration after domestic violence incidents from their past emerged, notably former White House staff secretary Rob Porter.
It's yet another instance of poor vetting by the Trump administration, which USA Today reports did not know about the domestic violence incident before nominating Shanahan to be deputy secretary of defense in 2017, nor when Trump decided to promote Shanahan to the Pentagon's top role earlier this year following Mattis' departure.
Trump, for his part, has already faced criticism for how long he's left such an important administration role vacant.
But that criticism is likely to grow. Shanahan's withdrawal from consideration comes as the Trump administration is escalating tensions with Iran, and days after Shanahan approved an additional 1,000 troops to be deployed to the Middle East.
Trump's inability to nominate a competent person for such a vital role is a scary thought, especially as the worst voices in his orbit like national security adviser John Bolton push Trump toward conflictwith hostile nations.
Published with permission of The American Independent. 
IMAGE: Acting Defense Secretary Patrick Shanahan at the Pentagon, May 6, 2019.