She Thanked God, And The Debate Rages On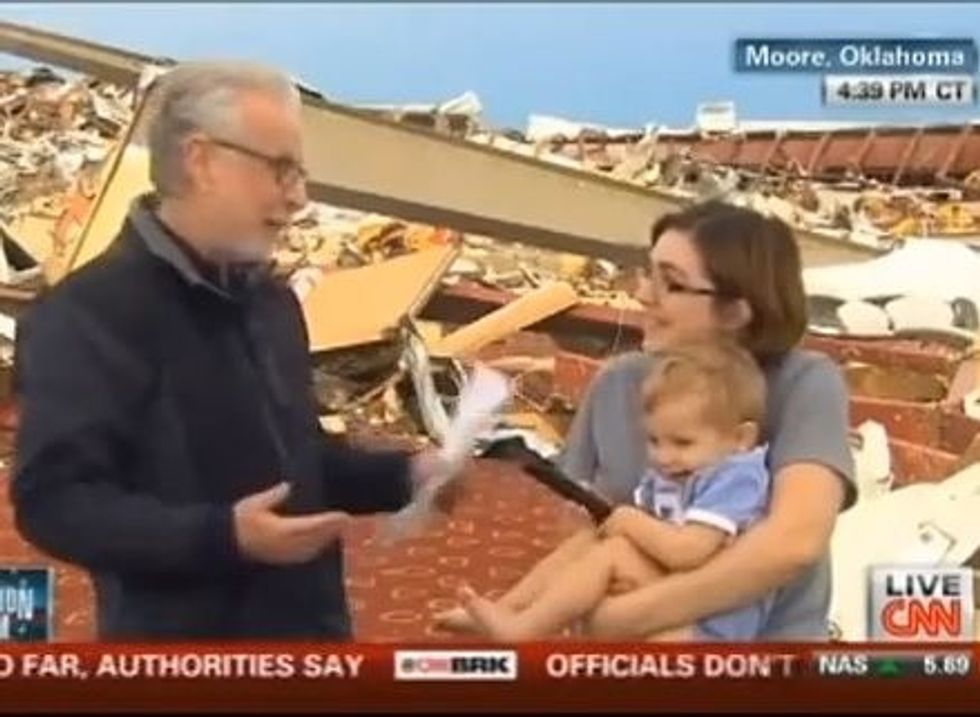 It was a flash of joy against a relentless backdrop of despair. So, of course, the video of Barbara Garcia's happy news went viral.
Just as predictably, her breathless moment of gratitude sparked debate on virtually every site I could find that posted the video.
Garcia mentioned God. That's all it takes.
The interview clip starts with the elderly Garcia, her face dirty from debris, standing next to the pile of rubble that used to be her home in Moore, Oklahoma. Garcia describes to CBS News correspondent Anna Werner how she hid in the bathroom Monday and held her dog tightly as the tornado roared through her neighborhood. As soon as she mentions her pup, it's clear who's missing in the video.
"I hollered for my little dog, and he didn't answer, or didn't come," she says. "I know he's in here somewhere."
Seconds later, it happens. Off camera, a woman says: "The dog! The dog! Hi, puppy!" Garcia turns, and the camera zooms in on the dusty face of Garcia's terrier.
"Oh," Garcia says. "Oh, Bowsie. Oh, Bowsie. Bless your little-bitty heart." She reaches for the dog and asks for help to rescue him from the rubble. "Oh, Bowsie," she says again, breathlessly. Then she says "oh" nine more times before standing up, closing her eyes and smiling.
"God," she whispers. Then she speaks directly to the reporter. "I thought God just answered one prayer, to let me be OK," Garcia says. "He answered both of them, because this was my second prayer."
On most sites, including a public Facebook page on which I host discussions, the majority of people saw the video clip and shared Garcia's moment of bliss. She had just lost her home, but her beloved dog was alive.
Just as quickly, the contrarians showed up, some of them outraged by Garcia's claim that God had intervened. What of the 24 people who died? What of all the people who weren't so lucky, so blessed? What kind of God cherrypicks who gets to live and who has to die?
As a person of faith, I don't feel the outrage, but I do share the inquiry. I was overjoyed that Garcia had found her dog. She can praise God all she wants.
I do, however, wince at claims of divine intervention during tragedies. Think of all the people who are wondering why their prayers went unanswered. This is so hard.
Sometimes the media get in the act, too, offering their own mystical take on a tragedy. Just three weeks ago in Cleveland, where I live, three young women made international news after they escaped a decade of captivity in a house on the city's west side. Lots of photo captions and headlines declared their rescue a "miracle." God is good, friends and strangers declared.
I am a deeply flawed Christian. I want to know where God was during the past 10 years. If this had happened to my daughter, I'd want to ask God, "What were you thinking? What was the plan?"
I mean no disrespect, and I feel guilty even asking. In my heart, I accept the mystery. In my head, the questions persist. I draw some comfort in the words of the late Rev. William Sloane Coffin: "Christ came to take away our sins, not our minds." Perhaps I am forgiven for questioning what I cannot understand.
Another post-tornado reference to God burned up the Internet this week. This time, it's courtesy of CNN's Wolf Blitzer, who joined the parade of cable and network anchors who couldn't resist getting their own mug shot in the middle of other people's misery. Blitzer was interviewing a woman named Rebecca, who held her 19-month-old son, Anders, as she described her decision to drive away from the tornado.
Her husband, who was away, told her to stay in the house, but her instincts kicked in. She grabbed the baby and ran barefoot to the car, and off she went. She returned 45 minutes later to the house, where her husband was searching the rubble for her and their baby.
"We just burst into tears," she told Blitzer. "It was awesome."
"Well, you're blessed," Blitzer said, clearly delighted that she and her son were alive. "Brian, your husband, is blessed. Anders is blessed. .?.?. We're happy you're here. You guys did a great job, and I guess you got to thank the Lord, right?" Wolf wondered.
"Yeah," Rebecca said softly.
Blitzer pressed: "Do you thank the Lord for that split-second decision?"
She smiled shyly. "I-I-I'm-I'm actually an atheist," she said.
"Oh, you are?" Blitzer said. "All right, don't thank the Lord."
(I just did.)
Connie Schultz is a Pulitzer Prize-winning columnist and an essayist for Parade magazine. She is the author of two books, including …and His Lovely Wife,"which chronicled the successful race of her husband, Sherrod Brown, for the U.S. Senate. To find out more about Connie Schultz (con.schultz@yahoo.com) and read her past columns, please visit the Creators Syndicate Web page at www.creators.com.