Shep Smith Quits Fox — After Barr Visits Murdoch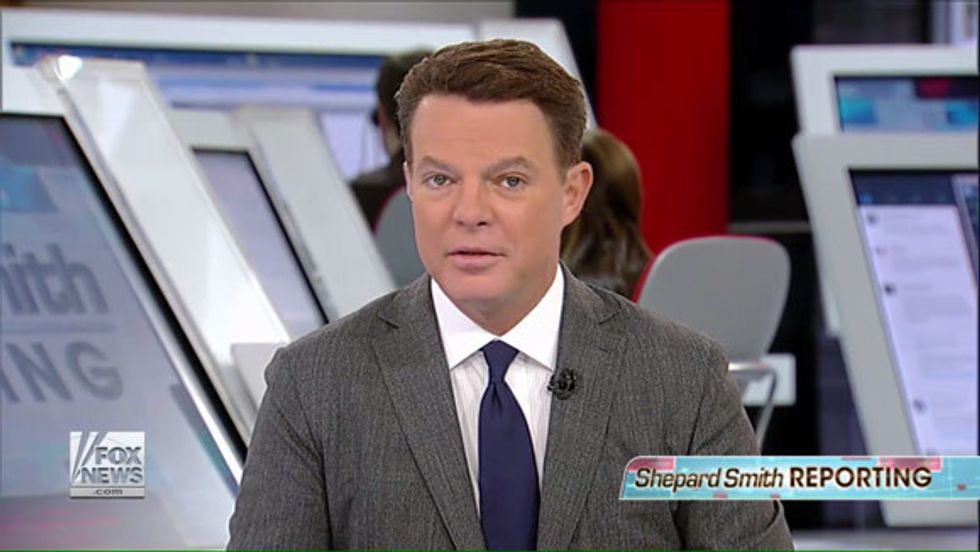 Reprinted with permission from Alternet
Full video: Shepard Smith's final sign off from Fox News pic.twitter.com/5fgyM81Gbj

— Jon Passantino (@passantino) October 11, 2019
Fox News host Shep Smith, one of the most prominent Trump-critical voices at the network, is leaving his position, he announced on Friday.
"This is my last newscast here," he said at the end of his Friday show."It's been an honor and my pleasure."
"Even in our polarized nation, it's my hope that the facts will win the day," he added.
Neil Cavuto, another Fox host, was apparently surprised by the development. He audibly said the word "whoa" as Smith was handing off, according to the Washington Post's Erik Wemple.
This comes just days after Attorney General Bill Barr met with Rupert Murdoch, the founder of Fox News' parent company News Corp, according to the New York Times. President Donald Trump has been vocally critical of Fox News in recent days and has long despised Smith for his critical coverage.
Smith said that he had recently asked Fox if he could leave. He said the company initially resented, but then "obliged." Smith had previously feuded on-air with host Tucker Carlson.
"Shep Smith cared deeply about having a newscast on Fox that countered the opinion shows that dominate the network," said CNN media correspondent Brian Stelter. "He felt he was doing something critically important. Now he's suddenly walking away. And we haven't heard the half of it yet."