Shoppers Flood Walmart As Protests Raise Awareness Of Workers' Struggles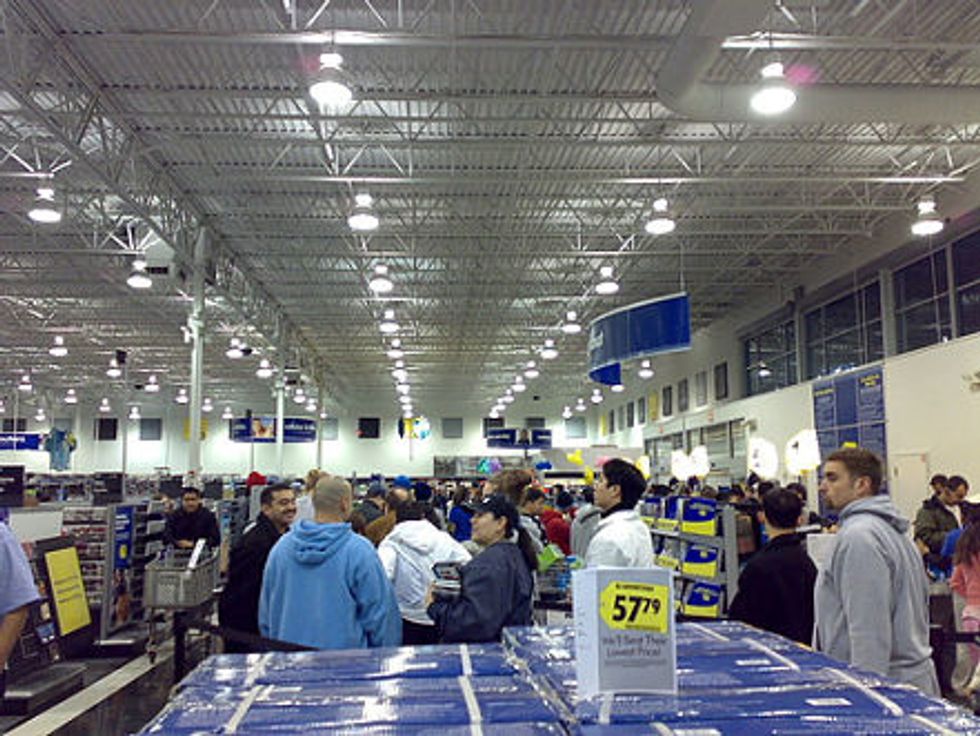 Walmarts in 46 states saw strikes on Black Friday, according to organizers. The estimated 1,000 protests made national news, bringing attention to low wages and the retaliation that Walmart workers claim to suffer when they speak out.
However, the chain reported a "best ever" Black Friday, with almost no impact from the protests.
Dan Schlademan, director of the lobby group Making Change at Walmart, said "hundreds and hundreds" of Walmart workers joined the protests, which were mostly made up of union members and those sympathetic to the labor movement.
Consumers still dodged the protesters to grab the bargains that have made the day after Thanksgiving one of the biggest shopping days of the year.
Walmart CEO Bill Simon disputes the number of protests organizers are reporting. Even if hundreds and hundreds of workers did walk out, that would only be a fraction of the the 1.3 million who work for the world's largest retail company.
"Only 26 protests occurred at stores last night and many of them did not include any Walmart associates," Simon said in a company statement. "We estimate that less than 50 associates participated in the protest nationwide. In fact, this year, roughly the same number of associates missed their scheduled shift as last year."
This either suggests workers are happy with their jobs paying wages averaging out at $8.81 an hour — so low they often have to seek government assistance. Or… Walmart effectively limits protests by making employees fear the consequences of protesting.
"If an associate speaks out, they retaliate by taking their hours, not giving them full-time hours, they write them up, they can 'coach' them,'" Venanzi Luna, a deli manager at the Walmart in Pico Rivera, said.
Walmart says they have strict policies against retaliation.
OUR Walmart, the group helping to organize the protests, isn't trying to unionize Walmart workers, but advocating for workers' rights so that the company will seek to improve the treatment of employees on its own.
Though Walmart's Black Friday sales weren't hurt, its image may be tarnished by the coverage of the actions, which are scheduled to continue throughout the holiday season.
"This is the way you get a fair shake. You've got to fight for it. You've always had to," said Charlie May, a member of the Industrial Workers of the World who attended a protest in Lakewood, Colorado.
Photo credit: tshein via Flickr