Showing Resolve, Obama Pushes Republicans Toward Surrender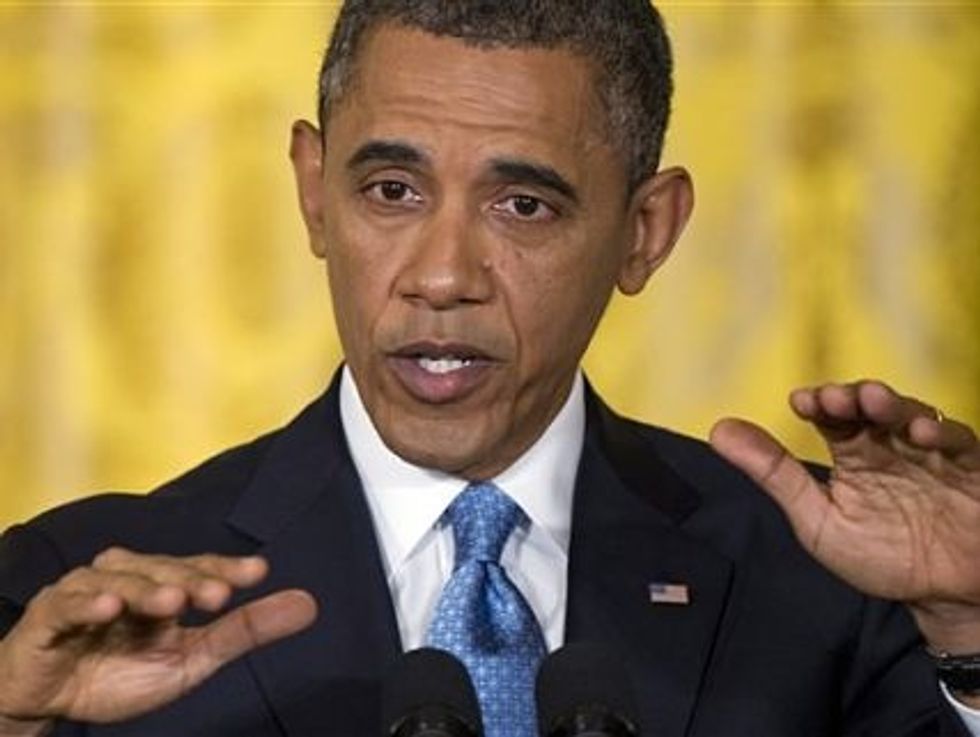 Watching his Republican adversaries in the House of Representatives tiptoe gingerly away from another destructive confrontation over the debt ceiling just before his second inaugural celebration, President Obama must feel a measure of satisfaction. Yet this is a beginning, not a conclusion.  The hopes of the nation that re-elected him depend on whether he understands why he is winning – and how he can continue to prevail.
The formula for success was simple enough:  He wouldn't relinquish fundamental positions on taxes and spending. He stopped pretending that the old bipartisanship is currently possible on Capitol Hill. He refused to negotiate under threat from the Republicans. And he called their bluff on the fiscal cliff and the debt ceiling.
Adopting those firm positions, he persevered despite the usual deluge of complaint from commentators, politicians, editorial boards, and other Beltway sages, who predictably roasted him for behaving as if he meant what he said during last year's campaign. Not surprisingly, however, the popular majority admires him and ignores his critics.
Of course, there is nothing new here: Americans prefer a political leader who displays a touch of grit, even if they don't fully agree with that leader's views or actions.  Establishing a determined and principled persona is vital; compromise can come later. 
Certainly Obama's power has been enhanced by his election victory — a victory achieved by stiff resistance to the Republican agenda and willingness to fight back. Except for the second debate, when he reverted to old habits of vacillation and diffidence, the president showed steel during the campaign. And since Election Day, he has remained consistently decisive.
The rewards of steadfastness can be seen in the polls. Gallup shows a 7-point climb in his approval rating since last August, from 46 percent then to more than 53 percent last week. Rasmussen shows a climb of roughly 10 points during the same period, with a corresponding decline in disapproval. In the CNN/Time surveys, the president's margin of approval has risen from 3 points last August to 12 points today. The latest ABC News/Washington Post poll finds that 61 percent regard him as a "strong leader," 58 percent agreed with his view of the debt ceiling – and 67 percent say that congressional Republicans haven't done enough to compromise with him on important issues. In all these polls and others, the public voices an exceptionally low opinion of Congress — and especially of congressional Republicans.
The Republicans still mutter threats about the budget, but their slow-motion surrender resulted directly from a growing perception of Obama's resolve. He should continue to stare them down, unblinking, unless and until they abandon the Tea Party tactics of obstruction and blackmail. 
Photo credit: AP/Carolyn Kaster