Sister Simone Campbell Urges Senators: "Stop This Destruction Of Healthcare In Our Nation"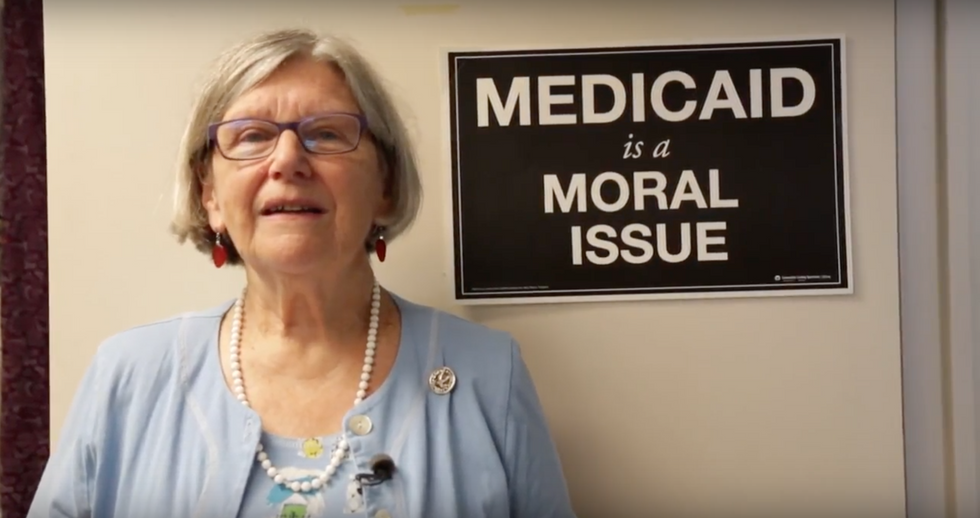 Sister Simone Campbell — executive director of NETWORK, a Catholic social justice lobby based in Washington, D.C. — on Thursday released a series of videos urging a handful of relatively moderate Republican senators to vote against repealing the Affordable Care Act.
In addition to targeted appeals — to Senators Bill Cassidy (LA), Shelley Moore Capito (WV), Rob Portman (OH), Jeff Flake (AZ), and Dean Heller (NV) — Sister Campbell released another video in which she reads from a letter signed by 7,150 Catholic Sisters representing all 50 states and sent to the entire U.S. Senate earlier this week.
As Catholic women religious, we have witnessed firsthand the moral crisis of lack of quality, affordable healthcare in this country. We have seen early and avoidable deaths because of lack of insurance, prohibitive costs, and lack of access to quality care. We fought for the expansion of coverage in the Affordable Care Act because we saw the life-giving value of crucial healthcare programs such as Medicaid. This program covers over 70 million Americans, including children, pregnant women (and nearly half of all births in this country), people with disabilities, people struggling to get by, and senior citizens. Further, some of our fellow women religious rely on Medicaid in nursing homes when we can no longer care for our sisters at home.
Watch below and find the full letter — and 100 pages of signatures — here: