Small Minnesota Town Will Pay Up To $12,000 For New Residents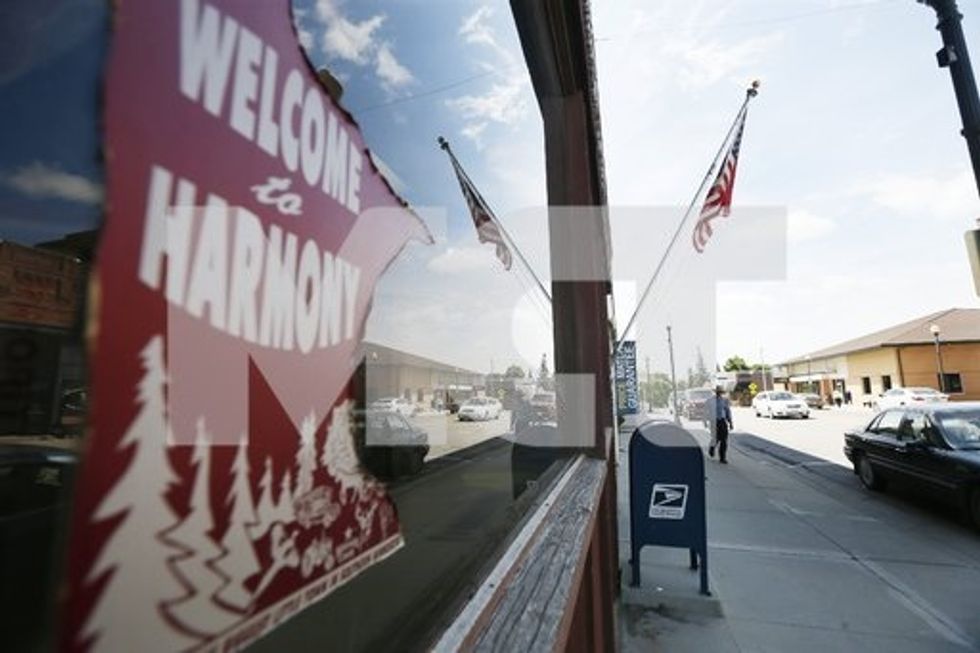 By Jenna Ross, Star Tribune (Minneapolis)
HARMONY, Minn. — In an empty, grassy lot bordered by cornfields stands a red sign: "Up to $12,000 CASH to Build in Harmony!"
This southeastern Minnesota city, population 1,020, wants you to live here. So much so that it will pay you $5,000 to $12,000 if you build a house.
Officials began the rebate after sorting the dozens of cities in the area's three counties by residents' median age and income. Tiny Harmony landed at the far ends of the 2013 data. Age: 51 years old, the highest. Household income: $32,985, the lowest.
After interviewing employers and families, officials learned that they were losing young professionals to other cities. The problem? Old homes that need work.
"The younger people coming here, they don't want to live in their grandmother's house," said Steve Cremer, president of Harmony Enterprises, which manufactures trash compactors and recycling equipment. Cremer estimates that 95 percent of his employees live outside of Harmony, in cities such as St. Charles, Rushford, and Rochester.
Cities and counties, looking to boost property tax revenue, fill schools, and rejuvenate Main Street businesses, have long tried creative ways to lure residents — with mixed results. In the 1980s, a few Minnesota towns gave away cash and groceries. Some have offered free residential lots to people who promise to build. Last month, Watertown announced that to combat "sluggish new home starts," it would waive water, sewer, and stormwater fees — a value of $9,500, the Carver County city said.
This new round of incentives speaks to small-town economic development officials' efforts to recruit people in addition to industry, sometimes family by family.
But some researchers say such carrots often don't work. Ben Winchester, a University of Minnesota Extension research fellow, studied housing incentives in a handful of Minnesota counties and found "they did not appear to make a significant difference," he said. Rather than attracting new residents, the programs were used mostly by people already living there.
The view from Harmony's Main Avenue looks just fine. Storefronts are filled with restaurants, shops, Amish furniture stores. There's a law office, a corner hardware store, a bank. The JEM Movie Theatre's classic marquee advertises a first-run film, "How to Train Your Dragon 2." Prices are old-fashioned, though: $5 for adults.
Thanks to Amish communities nearby as well as a state park and trails, tourism is strong, said Chris Giesen, vice president of the Community and Economic Development Associates, the organization working with Harmony on the new rebates. "The question is: How do we diversify off that and get people to live here?"
Single-family houses on the market might cost $60,000 but then require $50,000 of work, said Christopher Skaalen, head of the Harmony Economic Development Authority. Meanwhile, he said, young professionals want move-in-ready homes.
"We do have homes like that, but they never go on the market," said Skaalen, president of First Southeast Bank. Instead, they're snapped up privately, without ever being listed.
Harmony's offer ranges from $5,000 to build a house worth $125,000 to $12,000 for a $250,000 home. The city boasts at least 15 lots that are "basically shovel-ready," priced around $14,000, Skaalen said. Lots with dilapidated, vacant homes could also qualify.
Given the rebate's structure, the first people who might build homes in that price range "are probably already here," Skaalen acknowledged. "This may take a few years. But if we can get another 10 to 15 of these houses built, then it frees up some of the other stuff."
The program's $65,000 price tag comes from a tax-increment financing district that was decertified. The city expects that it will take five years to make a $12,000 reward back in property taxes.
Five years is too long, said Charles Marohn, a planner and president of Strong Towns, a nonprofit based in Brainerd, Minn. "That's five years of free services — snowplowing, police protection, fire protection — that everyone else in an otherwise really poor town is going to subsidize."
Young professionals are "not a group that is having difficulty finding homes right now," he added. "There is an excess of housing in this state in the $180,000 to $250,000 range.
"They're competing in a saturated market."
Harmony is eyeing Stewartville, a city of 5,900 just south of Rochester, which in 2013 began offering $5,000 to build a house or $7,500 to put up a commercial, industrial, or multifamily residential building. More than a dozen people have taken advantage of the program, said William Schimmel Jr., the city administrator.
Stewartville is in the midst of quantifying its results, Schimmel said, including adding up new property tax revenue.
"It's worked — very much so," he said. "I know that some think, 'Oh, those folks were going to build anyway.' But we've seen new investment."
Photo: Minneapolis Star Tribune / MCT / Jerry Holt
Interested in national news? Sign up for our daily email newsletter!