Why Is A Small Montana Town A Hotbed Of Far-Right Activity?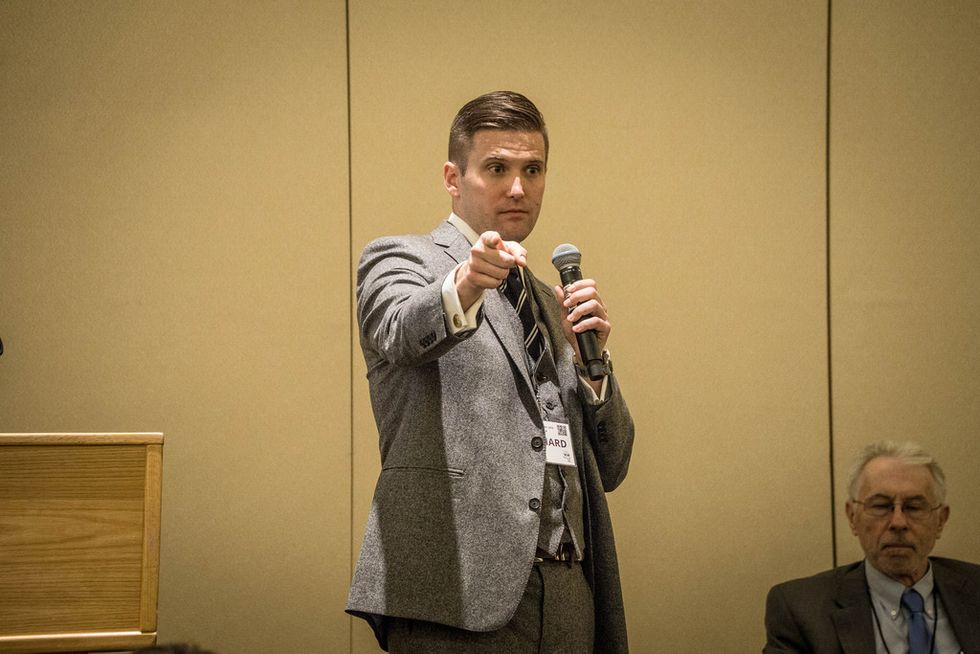 Reprinted with permission from AlterNet.
Something fishy is going on in Whitefish, Montana. The small town of 6,500 is in one of America's most rural regions, but it has occupied a lot of media space this year. Since the beginning of 2017, the town's name has popped up repeatedly in stories about the far right. Whitefish is the home base for Trump's potential private spy agency, as well as the tiny company contracted to restore power in Puerto Rico, and early in the year, the town drew media attention as the proposed meeting point for an anti-Semitic rally. On the surface, these may not seem related. But on closer examination, all three are clearly linked to the Trump White House.
Let's begin with Whitefish Energy. After Hurricane Maria hit Puerto Rico and left the island without power, a tiny company based in Whitefish, operating for less than two years, was contracted to restore power for a hefty fee of $300 million. The Puerto Rican government opposed the Whitefish Energy deal and it ultimately fell through, terminating November 30. The FBI has since launched an investigation into the contract.
It was through the Puerto Rico story that many first learned of the Trump administration's ties to Whitefish. Secretary of the Interior Ryan Zinke grew up in Whitefish and has personal and business ties to the energy group contracted for the work in Puerto Rico, leading many to suspect that Zinke had ulterior motives for choosing the firm over larger, more experienced competitors. The Washington Post reported that Whitefish CEO Andy Techmanski and Zinke are acquainted, "but only, Zinke's office said in an email, because Whitefish is a small town where 'everybody knows everybody.'…Zinke's office said he had no role in Whitefish securing the contract for work in Puerto Rico. Techmanski also said Zinke was not involved."
Special favors among powerful business owners and local politicians, while unethical, aren't anything new, and once the relationship between Zinke and Whitefish Energy was revealed in full, Puerto Rican officials called for the contract to be voided. Actually, the company continued work through Novemberuntil it claimed it was owed over $80 million in fees by the government. According to Slate, "Under the contract, subcontractors made as much as $462 per hour, racking up high costs for PREPA, which was already billions in debtbefore the Hurricane struck."
But that wasn't the last we would hear of Whitefish, Montana.
Most recently, Buzzfeed reported that Trump was considering launching a new intelligence agency that some are calling a "private CIA." Amyntor Group, the company that submitted the proposal, is a private contractor that provides intelligence and militia manpower to governments and corporations, and is based in Whitefish. Buzzfeed says there's "no known relationship" between Amyntor and Whitefish Energy, but both groups have connections to the Trump administration. In addition to Zinke's tie to Whitefish Energy, Amyntor has an advocate close to the president: Erik Prince, brother of Betsy DeVos and a vocal proponent of the American government's use of private contracted militias (like his own, Blackwater). Prince is one of the key figures pushing the Trump administration to employ private spies, and Trump is allegedly tempted as he's frequently expressed his disdain for both the CIA and the FBI. Prince is a former Navy SEAL—as is Ryan Zinke.
Simmering beneath these suspicious White House deals is the well-documented tradition of white supremacy and neo-Nazism in the town of Whitefish. The town is home to white supremacist leader Richard Spencer and Chuck Baldwin, a radical-right extremist minister who preaches Islamophobia, anti-Semitism and homophobia among other strains of hate. Buzzfeed News looked into the remarkable growth of white supremacism in this isolated region, and explained the trend of neo-Nazis moving to the area as follows:
"Flathead County, population 96,000, is one of the whitest places in the nation (95.2%). There are other allures for people at odds with mainstream American culture: the large pockets of open space, the ability to live off the grid, the lack of restriction when it comes to gun ownership. The Montana political ethos—some mix of libertarian, conservative, and 'don't f**k with me'—is inviting that way. As a local pastor put it, 'It's a place where people can feel safe when they say outrageous things.'"
Neo-Nazis in Spencer's camp planned to march on Whitefish around the same time as the Women's March earlier this year, in a rally targeted "against Jews, Jewish businesses and everyone who supports either." The Daily Stormer promised around 200 skinheads would invade the town "carrying high-powered rifles" to defend Spencer's honor. In response, counterprotesters gathered, local residents handed out matzoh ball soup and the skinheads never showed up.
The Whitefish city government has repeatedly denounced Spencer and his presence in their town. The mayor said in a public statement last year, "The city of Whitefish repudiates the ideas and ideology of the founder of the so-called alt-right as a direct affront to our community's core values and principles. The city of Whitefish rejects racism and bigotry in all its forms and expressions."
The wave of right-wing hate in Whitefish is also connected to Trump's cabinet; here again, Interior Sec. Zinke's name emerges. Last year, Raw Story reported on Zinke's connections to white supremacists in Whitefish and the surrounding area. Zinke endorsed a white nationalist candidate for Montana statehouse in 2016, who ended up losing but later thanked Zinke for helping him appear more mainstream. This year, journalist Wayne Madsen reported that Zinkes' two sons "were friends of former Whitefish resident Richard Spencer," and that part of the reason Spencer moved his headquarters to Washington, D.C., after Trump's election was to be closer to the Zinkes, as well as his friend Stephen Miller.
Madsen said via email that he "was told by those who've been to Whitefish that the Zinke boys ran with Spencer and his crowd."
In case your head is spinning, here's a recap: Whitefish Energy's CEO knows Zinke; Zinke served in the same elite military branch as Erik Prince, who is now pushing Trump to contract a private militia based in Whitefish, which has emerged as a white nationalist hotbed in recent years and was the setting for a personal relationship between far-right extremists and Zinke's own family. So much for the excuse that Whitefish is just a small town where "everyone knows everybody." There are too many suspicious ties for Zinke's PR team to get away with that one. Smells fishy to us.
Liz Posner is a managing editor at AlterNet. Her work has appeared on Forbes.com, Bust, Bustle, Refinery29, and elsewhere. Follow her on Twitter at @elizpos.