Smugglers Defy Conflict-Diamonds Ban In Central African Republic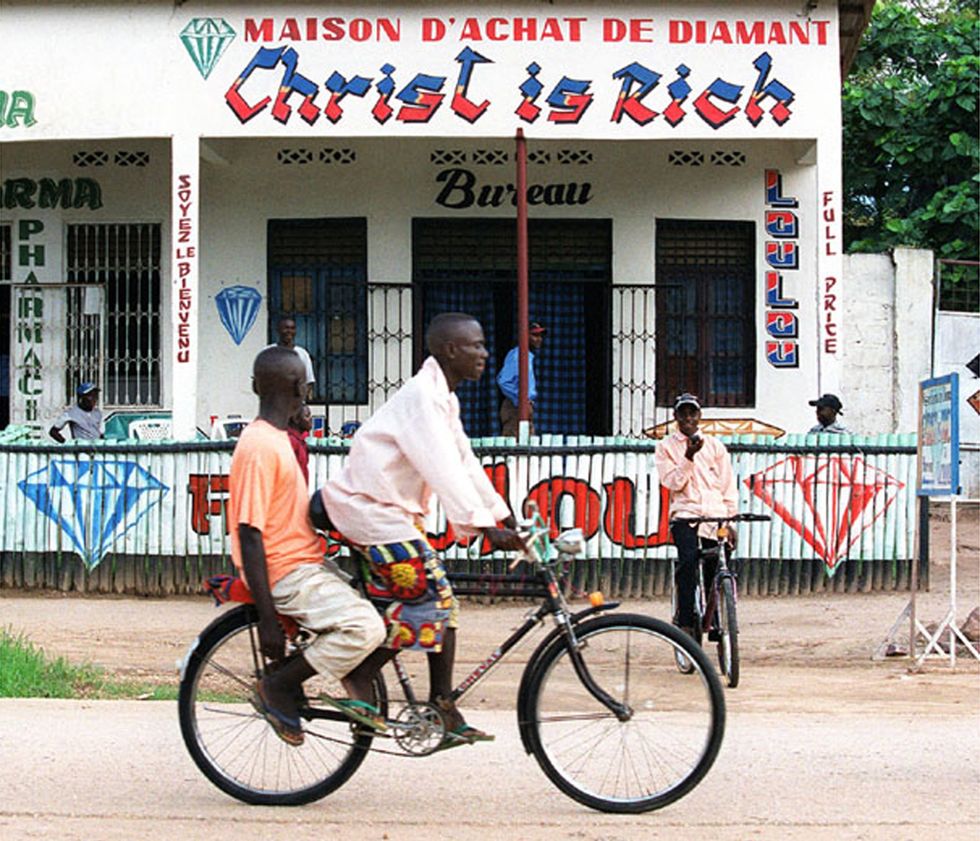 By Ilya Gridneff, Bloomberg News (TNS)
Diamond smuggler Akani Natacha Glawdys tilts a tiny gem in her palm and smiles as a sparkle ripples through the rough yellow rock.
"See?" she asks excitedly in a room at the Relais des Chasses hotel in the Central African Republic capital, Bangui. "A bit cloudy, so not the best, but still good." If it were clearer, the stone could fetch as much as $2,000 from local traders who export to buyers in Europe, she explained. The gem's opacity means it will only fetch $700.
Gladwys, 34, is part of a trafficking network that unashamedly flouts a diamond-trading ban imposed on her country by the Kimberley Process, a global gem-verification group formed to halt the outflow of precious stones from conflict zones. It's a sign of the complete chaos in Central African Republic, the only country among 22 diamond producers to be covered by a ban.
The embargo was imposed in May 2013, two months after an alliance of mainly Muslim militias known as Seleka overthrew President Francois Bozize, a Christian. The takeover was marked by the widespread killing of civilians and other crimes, Human Rights Watch says. The United Nations says more than 2.5 million people need urgent humanitarian assistance.
The Kimberley Process banned the trade in Central African Republic gems because, the group said, there was no way to determine whether conflict diamonds had been eliminated from the country's shipments. The Kimberley Process represents 81 countries, including the U.S., the European Union, Russia, China, and South Africa.
Even before the ban, millions of dollars' worth of diamonds left Central African Republic via the black market. High taxes on diamonds — 12 percent compared with 3.25 percent in neighboring Democratic Republic of Congo — led to about 30 percent of output being smuggled to Cameroon or Sudan's Darfur region, according to the International Peace Information Service, or IPIS, an Antwerp, Belgium-based research group.
The illegal diamond trade continues to flourish, according to a UN panel of experts on Central African Republic. Since the ban was introduced, at least 140,000 carats of diamonds valued at $24 million have been smuggled out of the country, said Aurelien Llorca, coordinator of the UN panel.
Illicit diamond revenue is used to buy arms, pay soldiers, and enrich rebel leaders of the main militia groupings: Seleka and a mostly Christian force, Kasper Agger, a Central African Republic analyst with the Washington-based conflict-resolution group Enough Project, said in an email.
Diamonds in Central African Republic, which ranked as the world's 1tenth-biggest producer by value in 2012, have funded successive military regimes since the country gained independence from France in 1960. Rulers have treated the industry as a "cash cow," imposing high taxes on exports and demanding a share of production to help sustain political support, according to IPIS.
Under the rule of Jean-Bedel Bokassa, who seized power in January 1966 before proclaiming himself emperor with a diamond-encrusted crown a decade later, production plunged by more than half to about 290,000 carats, according to IPIS.
The diamond and gold industry in Central African Republic relies on as many as 100,000 informal, or artisanal, miners. At least 600,000 people — about 13 percent of the country's population — depend at least partly on the industry for their income, according to the International Crisis Group, a Brussels-based advocacy group.
The country's diamond trading has traditionally been run by Muslims, who have used their shared religion and Arabic language to create networks in neighboring countries such as Sudan and Chad, Thierry Vircoulon, Central African Republic project director for ICG, said in Nairobi, Kenya.
Bozize's October 2008 purge of the industry, in which diamonds, cash, and equipment were confiscated, pushed many disgruntled Muslim traders and diggers to join rebel ranks, he said. That ultimately led to the government's downfall five years later when Seleka fighters seized Bangui.
"Significant quantities" of cheap Chinese-made grenades and Chinese, Sudanese, and European arms and ammunition have poured into Central African Republic since the war began, according to a December report by Brussels-based Conflict Armament Research.
The Kimberley Process in June issued a statement urging diamond-trading countries to "exercise enhanced vigilance" and "ensure that diamonds produced in Central African Republic are seized and are not allowed to circulate in legitimate trade."
The appeal came after an operation in May, highlighted in an October report by the UN panel, in which Belgian federal authorities seized rough diamonds worth $1.7 million. They said the stones probably originated in Central African Republic and were smuggled from that country via the Democratic Republic of Congo and then Dubai.
In its report, the UN said that the seized diamonds had been sent to Kardiam, the Antwerp branch of Bangui-based Bureau d'Achat de Diamante en Centrafrique, or Badica. The UN also alleged that Badica had funded Seleka, the rebel group that carried out the 2013 coup. The Dubai Diamond Exchange said in July the diamonds came from the Democratic Republic of the Congo with a valid certificate.
Kimberley Process Chairman Bernardo Campos didn't respond to two emailed requests for comment and no one answered emails sent via its website.
Abbas Abdulkarim, a Badica administrative director, denied smuggling diamonds or supporting Seleka rebels. He blamed competitors that he didn't identify for the accusations.
"The UN experts didn't speak to us," he said in English learned from growing up in Canada. "The diamond field here is pretty rough. There are four main companies fighting, so it's in their interest to say we are financing Seleka, smuggling."
Revenue has fallen as much as 90 percent since the ban was introduced, he said, opening a white envelope filled with hundreds of tiny yellow and green diamonds.
"This is one month we've collected," he said. "It's probably about $50,000 worth. But we can't just keep collecting them, we need to sell at some point."
Glawdys said diggers who strike it lucky sell their diamonds in the closest town or trading center to intermediaries, who in turn sell the precious stones to buyers in Bangui. The smugglers then use an international network of dealers in countries including Nigeria, France, and Cameroon who supply them to jewelry manufacturers around the world.
"The diggers are very happy with people like me," she said. "They bring the stones to me and I give them the money."
Photo: Jose More via Chicago Tribune/TNS