SNL: Alec Baldwin Returns As Trump In Argentina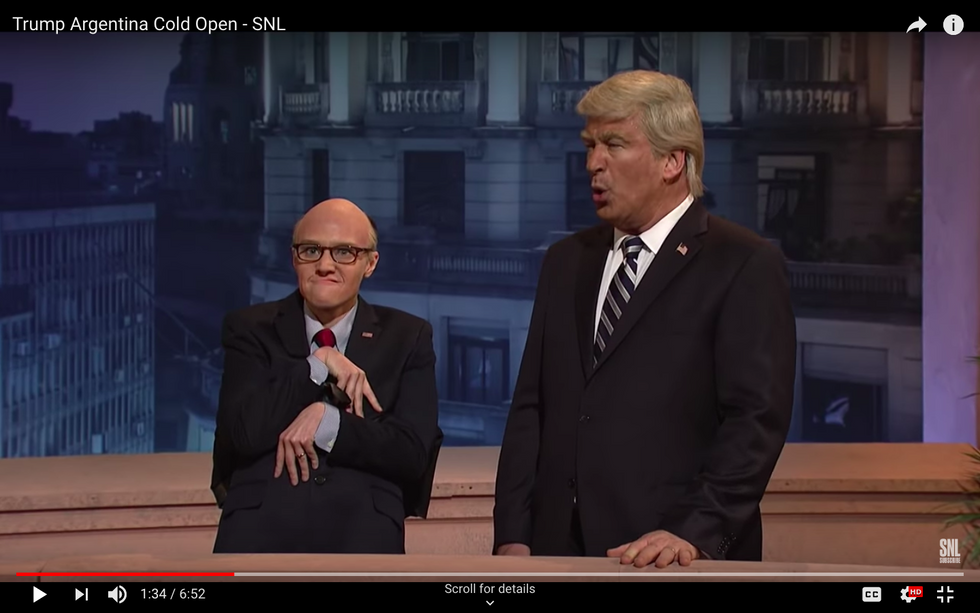 Alec Baldwin returns to Saturday Night Live as Donald Trump this week, standing on the balcony of the Park Hyatt in Buenos Aires. When Melania (Cecily Strong) comes out to see what's wrong, she asks whether the problem is Argentina.
"I love Argentina," he replies. "There are a bunch of old German guys who are really into what I'm saying there."
It's the Mueller investigation that's keeping him awake.
Melania disappears, but Rudy Giuliani (Kate McKinnon) surprises Trump. "I was hanging upside down under the balcony," explains the batty attorney.
When Rudy departs, offering little solace, Trump is still desperate. He dials Michael Cohen (Ben Stiller) who answers: "Michael Cohen. I'll tell you anything you want."
As they reminisce about good times past, Trump says he's sorry Cohen is going to jail because "you were like a son to me."
"Then why'd you make me do so much illegal stuff?"
"Because you were like a son to me. Goodbye Michael," he barks and hangs up.
Putin (Beck Bennett) shows up along with his new BFF Mohamed bin Salman (Fred Armisen), who mock their patsy Trump. "You won't be seeing me for a while, Donny," sneers Putin. "I like presidents who don't get indicted."
The star-packed sketch concludes with Trump and the cast belting out a very special version of "Don't Cry For Me, Argentina."