SNL Cold Open Features Migrant Caravan Panic On Fox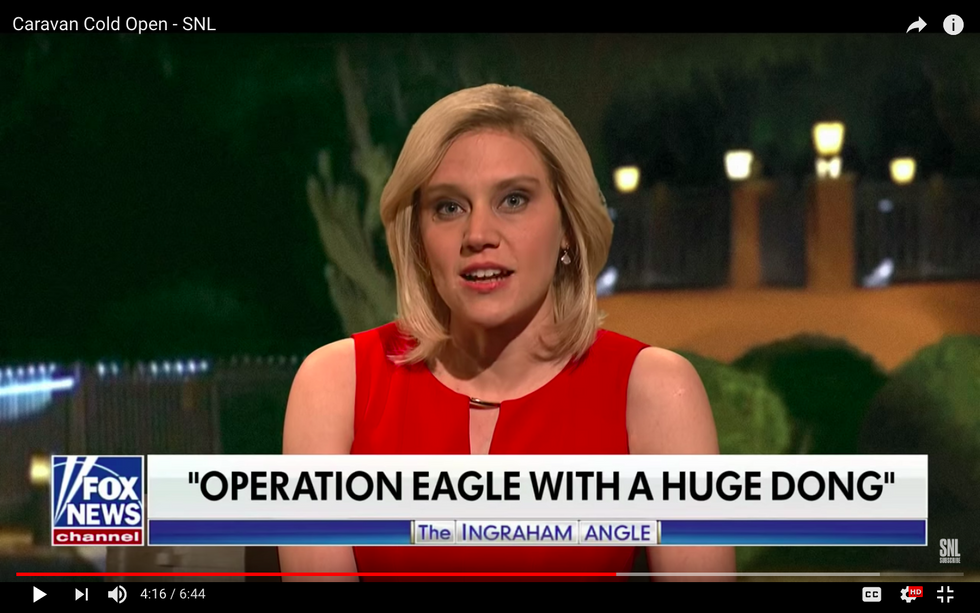 Returning live this week without Alec Baldwin, the SNL cold open brings us borderline hysteria on Fox News Channel, with the wonderful Kate McKinnon as frothing host Laura Ingraham.
She joins us "live from the Arizona border, where a vicious caravan of dozens, maybe millions of illegal immigrants is headed straight for you and your grandchildren."
Ingraham quickly introduces the even loonier Judge Jeanine Pirro (marvelously parodied by Cecily Strong), who presents exclusive footage of the migrant caravan that looks suspiciously like Black Friday shoppers bursting into a department store.
"Who is in this caravan?" inquires Ingraham.
"Everyone you've ever seen in your nightmares, Laura," barks Pirro. "Guatemalans, Mexicans, ISIS, the Menendez brothers, the 1990 Detroit Pistons, Thanos, and several Babadooks." And of course plenty of menacing Middle Easterners, who flew over to Guatemala with their elephants disguised as "service animals," which they "rode straight into Mexico."
She shows frightening footage from the 2013 zombie film World War Z as proof of the imminent Central American swarm. "Is that Brad Pitt?" asks Ingraham. "Yes, that's right" replies Pirro. "We believe he's actually dating the caravan, which people have labeled Bradavan."
"That's top-notch reporting, Jeanine!"
How can we disagree? Just click for the full SNL cold open.