#EndorseThis: SNL Cold Open With Lovebirds Joe And Mika (And 'John Miller')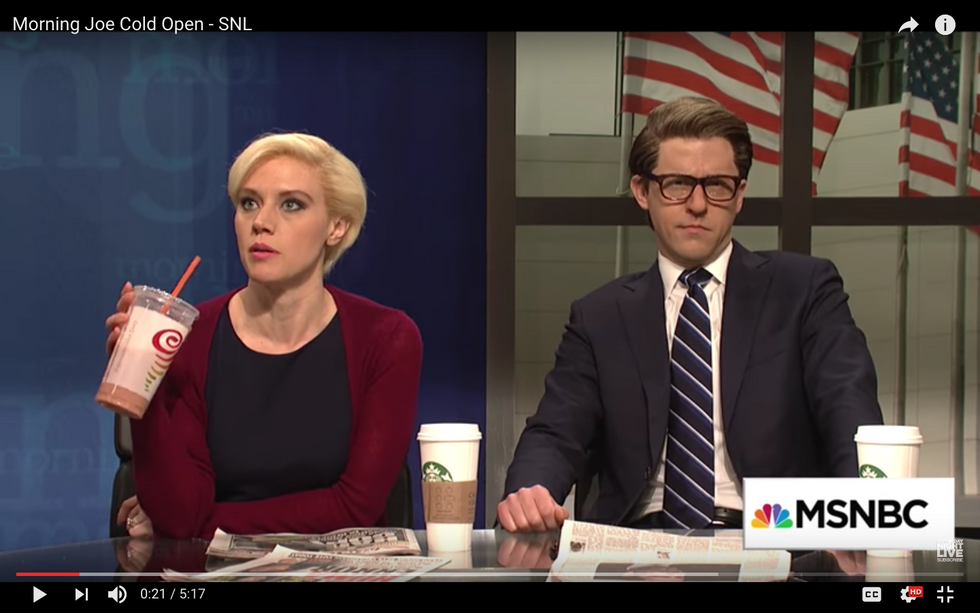 We almost let this Saturday Night Live spoof pass as too personal, but just couldn't resist.
The latest SNL cold open features the Morning Joe crew, a gesture to celebrate co-hosts Joe Scarborough and Mika Brzezinski, who recently announced their engagement after years of fending off rumors and gossip.
In this sketch's highlight, the MSNBC early-morning duo field a phone call from "John Miller," a fake identity formerly used by Donald Trump to place gossip items about his own sexual prowess and other fake news, voiced by the great Alec Baldwin.
Kate McKinnon's lockjawed Mika is pretty funny, as is her overheated flirting with Alex Moffat's gruff Joe. But what will make you laugh out loud are the reactions of the Morning Joe regulars, especially Bobby Moynihan as Mike Barnicle and Beck Bennett as Mark Halperin. It's too much information and they can't quite handle the lovebirds.