Sobbing Roseanne: 'I Didn't Know' Jarrett Is Black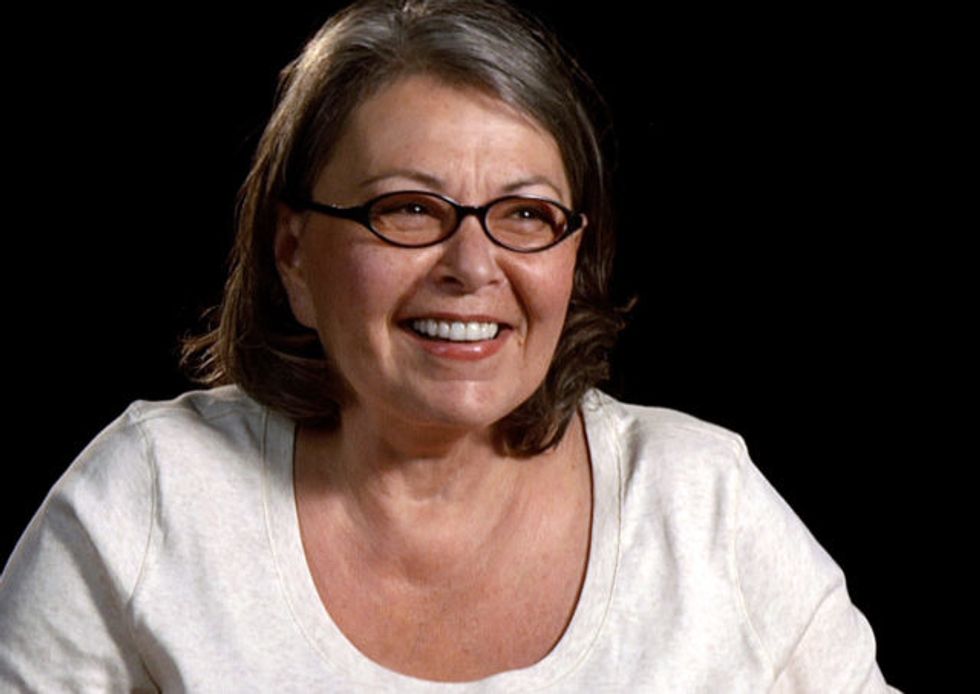 Reprinted with permission from AlterNet.
Comedian Roseanne Barr tried to defend herself—again—after a series of racist tweets prompted the cancellation of her highly-rated ABC sitcom, insisting she "didn't know" former Barack Obama adviser Valerie Jarrett is black.
"When ABC called me and said, 'What is the reason for your egregious racism?,' I said, 'Oh my God, it is a form of racism,'" Barr told Rabbi Shmuley Boteach, her spiritual adviser, in an interview posted to Soundcloud on Sunday. "I guess I didn't know she was black, and I'll cop to it, but I thought she was white."
Barr said she "horribly [regrets]" her racist tweet about Jarrett, who she said resembles what a person would look like if "[the] muslim brotherhood & planet of the apes had a baby."
"It's really hard to say this but, I didn't mean what they think I meant," she said. "And that's what's so painful. But I have to face that it hurt people. When you hurt people even unwillingly there's no excuse."
Barr added she apologizes to "anyone who thought, or felt offended and who thought that I meant something that I, in fact, did not mean."
"It was my own ignorance, and there's no excuse for that ignorance," she continued. "But I didn't mean it the way they're saying I meant it. And that's really weird too because if I don't speak for myself, who will speak for me."
Barr also noted that she has black children in her family and would never say "they are a monkey."
"I just wouldn't do that," Barr insisted. "I didn't do that."
"I horribly regret it," the comedian said. "Are you kidding? I lost everything, and I regretted it before I lost everything. And I said to God, 'I am willing to accept whatever consequences this brings because I know I've done wrong. I'm going to accept what the consequences are,' and I do, and I have. But they don't ever stop. They don't accept my apology, or explanation. And I've made myself a hate magnet. And as a Jew, it's just horrible. It's horrible."
Listen below, via Soundcloud:
Elizabeth Preza is the Managing Editor of AlterNet. Follow her on Twitter @lizacisms.