Soccer-Playing Robot Gives Obama A Break In Japan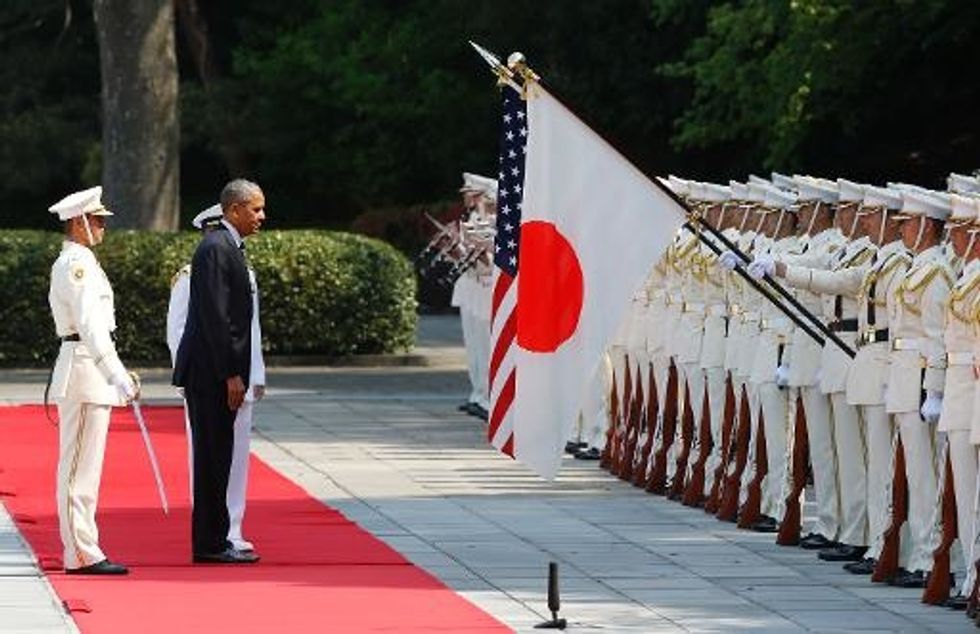 By Christi Parsons, Tribune Washington Bureau
TOKYO — During a long day in the coded world of Japanese diplomacy, President Barack Obama's easiest conversation Thursday was with a robot.
"I can kick a soccer ball," said the Honda humanoid to the president.
"OK, come on," replied Obama, who caught the kick with his foot and complimented the metallic athlete. "That was pretty impressive."
Besides offering the least complicated interaction of the day, the demonstration at the National Museum of Emerging Science and Innovation also had Obama in a comfort zone, focusing on science, technology and the opportunity for collaboration with a top American ally and trade partner.
The rest of his eight-day trip to Asia is not shaping up to be quite so simple, as is evident in ways both big and small. On Thursday Obama had multiple opportunities to navigate the politics of the Asian bow, which — after past criticism back home that he bowed too deeply and deferentially — he now executes with a slight nod of the head.
He sidestepped questions about the controversial shrine favored by his host, Prime Minister Shinzo Abe, making a more subtle shrine-related statement by visiting the one dedicated to the 19th century emperor Meiji, supporter of a more modern, western Japan. Abe riled critics this week by sending a tribute to a shrine honoring Japanese war dead, including some war criminals.
When in Asia, every interaction for Obama is fraught with the opportunity to offend either his host or someone else in the region, especially China. Obama on Thursday tried to finesse the task.
He publicly affirmed the U.S. security treaty with Japan, an assurance that the Americans will stand against Chinese provocation of its neighbor, but he quickly emphasized the need for Japan to work to resolve territorial differences in a peaceful manner.
"Not escalating the situation, keeping the rhetoric low, not taking provocative actions, and trying to determine how both Japan and China can work cooperatively together," Obama said, characterizing the advice he gave Abe behind closed doors. "And I want to make that larger point. We have strong relations with China. They are a critical country not just to the region, but to the world."
The politics of protocol will only get tougher as the trip goes on.
In Malaysia, Obama will face questions about his decision not to meet with Anwar Ibrahim, the country's main opposition leader. Ibrahim was sentenced to five years in prison on charges of sodomy, a conviction critics say is an attempt to block his run for office.
Ibrahim is not currently on Obama's schedule when he visits Malaysia later this week.
When Obama gets to the Philippines and delivers his big address of the week, he is expected to speak more sharply about China's provocative actions against its neighbors.
All along the way, though, the president is planning cultural visits designed to leaven things a bit. On Thursday, that included a display of archery on horseback, which he watched from a viewing stand with Caroline Kennedy, his ambassador to Japan.
Afterward, he visited the science museum for a tour that began with a presentation highlighting U.S.-Japan cooperation in space. The latest collaboration between NASA and the Japanese space program is a satellite capturing precipitation measurements never before seen.
Japan and the U.S. have cooperated on a timeline of innovations that runs from calculators to smart phones, Obama told a group of students at the museum.
Later, in a toast to the Japanese emperor at a state dinner, Obama praised the longevity of the Chrysanthemum throne — and the potential of future collaboration.
"I stand here as the 44th president of the United States," he said. "Your majesty is the 125th emperor of Japan."
"We create and build together, sparking new innovations for a changing world," he said. "We go to space together to understand the mysteries of the universe … May we never give up hope, may we always take care of each other, and may we continue to live strong together."
AFP Photo/Shizuo Kambayashi