How Social Change Comes In Twos, And History Rhymes
@JamieStiehm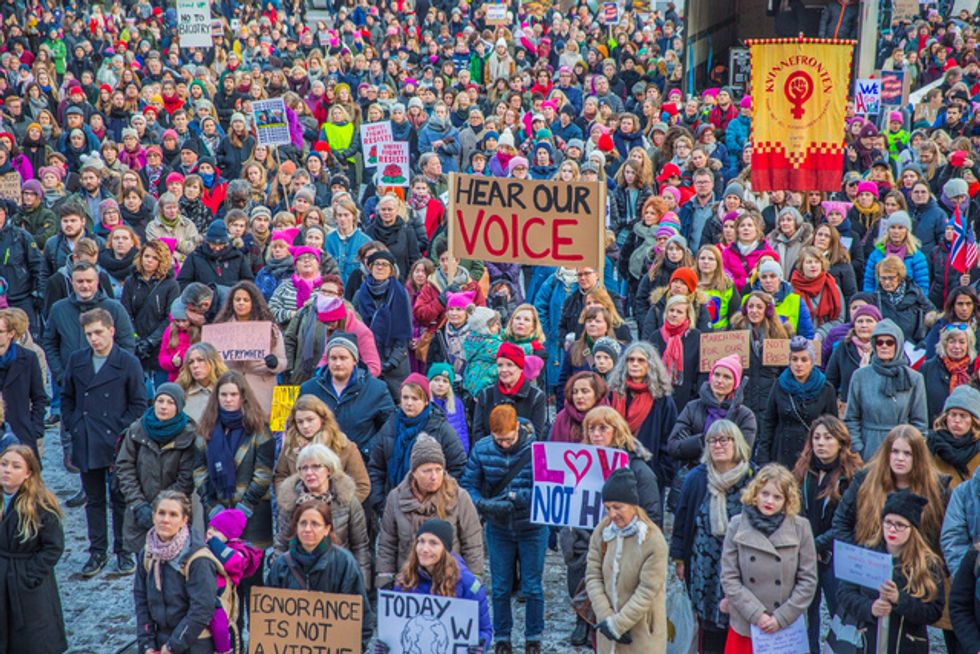 Reprinted with permission from Creators.
Go down, Harvey Weinstein, down to Alabama and campaign for cowboy Roy Moore, the Republican rocking Washington the way you roiled Hollywood. The dirty river of sexual harassment finally rose to claim and name each of you — and more. Comedian Louis C.K., you can go, too.
Masters of the universe are shattered at how swiftly the rules of the game changed. How unfair; how unfortunate. They're gobsmacked that the world takes women seriously now. They're just women, after all. Or girls, as the case may be.
You wonder why the change came in a twinkling, with sexual harassment victims speaking out, tales tumbling like dice. Weinstein may be charged with rape by the New York police department. The sheer numbers of powerful men brought down became a breaking point in a short time. From Bill O'Reilly of Fox News to Washington literary lion Leon Wieseltier, the list is long.
The answer is clear. The Black Lives Matter protest movement was strengthened in Baltimore on an April Sunday in 2015, when several police officers chased after a young man, Freddie Gray, and broke his spine while taking him into custody. Revolutions often come in twos to the ark of moral justice.
Gray died of trauma injuries, setting off riots in Baltimore and sympathetic stirrings around the nation. City after city — including Ferguson, Missouri. and Cleveland, Ohio — had witnessed police brutality against black men — and boys.
Outrage grew when the dots connected, when white people finally saw the ugly pattern of police abuse of power. Black men and youths do get harmed for doing nothing. Gray was doing nothing that Sunday morning in his neighborhood. He was no violent criminal.
The militarization of city police forces since the Sept.11 terrorist attacks — along with Pentagon tanks and weapons — has made policing even more hostile. The ACLU found that Baltimore police made hundreds of thousands of arrests in a city of 640,000 in one year. Across the nation, even with a black president, black men bore the brunt of police violence. Author Ta-Nehisi Coates, a Baltimore native, hit nerves in the reading public's consciousness of the state of race.
Progress happens in fits and starts, not a straight line. But one can observe the influence of one movement on another. The sexual harassment wave is kin to Black Lives Matter, like a sister/brother tie. In both gathering storms, violence and abuse unseen by the public eye finally surfaced and came to light. Exposing the abuse and anguish inflicted by alpha men (armed with guns or power) on blacks and women was nothing short of shocking.
The Freedom Riders and civil rights movement of the 1950s and 1960s, similarly, was the forerunner of the women's movement of the early 1970s. For participants, one social movement led naturally to the other. "Women's lib" emerged to take stands on Ms., Title IX and sex discrimination. Gloria Steinem and Billie Jean King were standard-bearers. Ivy League doors opened to women.
The original brother/sister human rights model is the American anti-slavery society, started in Philadelphia in 1833. Many abolitionist women decided to work for their own emancipation as citizens, too. The women's rights movement was launched in 1848 by leading Quaker abolitionist Lucretia Mott, present at the creation of the anti-slavery society. It doesn't take that many brave people to crack the world.
Cracked, but we're not going back. I must say, now that misogyny is a household word, a few glib men are now experts. Women will speak for themselves in this national conversation.
But hey now. Senate Republican Leader Mitch McConnell, R-Ky., has undergone a reformation. "I believe the women," he said of Moore's accusers. That wasn't his stance on Anita Hill's testimony, on how Clarence Thomas viciously harassed her, at his Supreme Court confirmation hearing.
Fruits of privilege are never surrendered without a fight or a scene. But the fact such confrontations and scenes are happening is a good thing. And then we move on from victimhood.
The Irish poet Seamus Heaney wrote, "hope and history rhyme." That's absolutely true when it comes to African-American and women's rights.
To find out more about Jamie Stiehm and read features by other Creators Syndicate writers and cartoonists, visit creators.com