Solar-Power Amendment On Florida's Ballot A 'Wolf In Sheep's Clothing'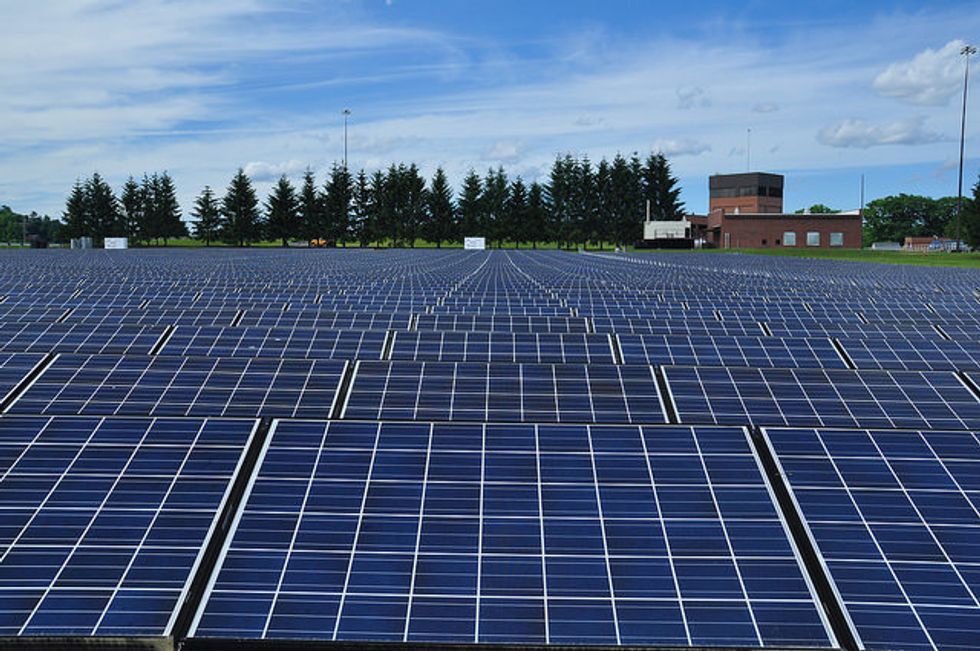 Let the scum shine.
The solar-power amendment on Florida's ballot is a slick, oily fraud. Promoted as a way to expand solar energy and protect residents who want it, Amendment 1 would do just the opposite.
All you need to know is who's bankrolling the massive advertising campaign: Florida Power & Light, Duke Energy, Tampa Electric Co., Gulf Power, and a few nonprofits funded heavily by Exxon Mobil and a pair of right-wing billionaire brothers named Koch.
When is the last time they all banded together to do something wonderful for the average consumer?
These are not fans of broadening our energy choices. These are politically powerful utility and oil interests seeking to restrict and monopolize the burgeoning solar industry. The last thing they want is free-market competition. The prospect worries them so much that they've forked out almost $22 million to push for Amendment 1.
Their political committee calls itself "Consumers for Smart Solar." The PR wiz who came up with that name must have gotten a good laugh, because consumers would be the long-term victims of this measure.
From its beginning, the secret strategy for selling Amendment 1 was to deceive Floridians into believing it was a populist, pro-solar movement. Last week, reporter Mary Ellen Klas of the Herald obtained a devastating audiotape of a presentation made by an executive of a Tallahassee think tank that provides "research" to the state's big electric utilities.
On the tape, Sal Nuzzo of the James Madison Institute is heard praising Amendment 1 as "an incredibly savvy maneuver" that "would completely negate anything they (pro-solar groups) would try to do either legislatively or constitutionally down the road."
After Nuzzo's comments became public, JMI hastily issued a statement saying he "misspoke" during the industry conference at which he was recorded. But the damage was done, Nuzzo's confident remarks confirming what opponents of Amendment 1 (including the Florida League of Women Voters) have been saying all along. The whole idea is to screw solar providers that could some day compete with the major electric companies.
The amendment was word-crafted with the sole intent of trickery. The first item supposedly gives electricity consumers a "constitutional right" to own or lease solar equipment "for their own use."
Guess what? We've already got that right — no amendment necessary.
The second part of the ballot item is the trapdoor: "State and local governments shall retain their abilities to protect consumer rights and public health, safety and welfare, and to ensure that consumers who do not choose to install solar are not required to subsidize the costs of backup power and electric access to those who do."
That language opens the way for municipalities and the state to hit local solar providers with fees and regulations that could prevent them from selling low-cost electricity to customers, which would basically defeat the whole purpose of the technology.
Planting the fear that non-solar users might be forced to "subsidize" grid access for solar customers is a groundless and sleazy scare tactic that exposes the cold desperation of the big power companies.
FPL and Duke Energy are investing heavily in solar, and they don't want to compete with smaller firms that might offer lower rates to people.
Meanwhile, mulling their huge investments in coal and petroleum, the ever-meddling Charles and David Koch have been waging war on solar power all across the country. They've taken a particular interest in smothering that industry in sunny Florida.
Solar is an extremely popular concept here. Many families and business owners like the idea of clean, abundant, affordable energy.
"Solar polls very well," remarked chatty Sal Nuzzo to his audience of power-company players last month.
No wonder, then, that Amendment 1 has been disguised as a pro-solar, pro-consumer initiative. Otherwise it wouldn't have a prayer of passing.
"A wolf in sheep's clothing," wrote Florida Supreme Court Justice Barbara Pariente in her dissent, when the court voted 4-3 to allow the measure on the ballot.
Because changing the Florida Constitution requires the approval of 60 percent of voters, "Consumers for Smart Solar" has been pulling out all the stops, including buying top advertising positions on the Google search engine.
The TV commercials and "Yes on 1 For the Sun" all-media campaign radiate admiration for the rooftop-panel technology, while promising to protect you and me from unspecified "ripoffs" and "scams."
But the biggest scam of all is Amendment 1 itself. Florida's electric monopolies are counting on all of us to fall for it.
Vote no. Show them the light.
Carl Hiaasen is a columnist for the Miami Herald. Readers may write to him at: 1 Herald Plaza, Miami, Fla., 33132
Photo: Solar panels at the Pittsfield Waste Water Treatment Facility (Massachusetts Department of Environmental Protection/Flickr)