Somali-American Fights Militant Islamist Recruiters In U.S. Heartland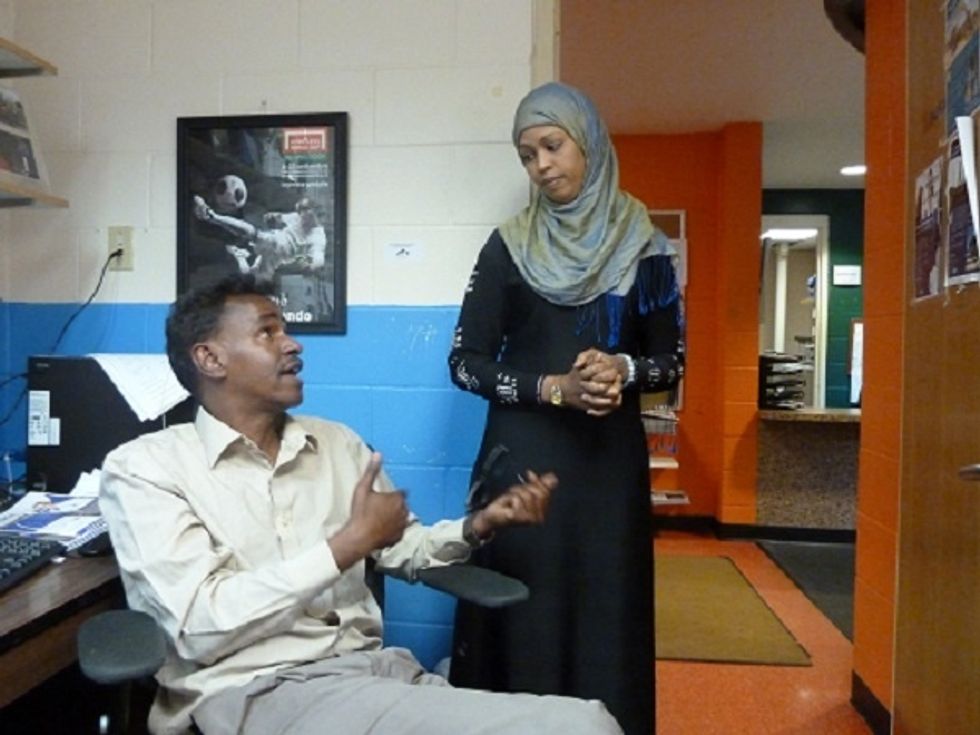 MINNEAPOLIS — For seven years, youth leader Abdirizak Bihi has waged a personal battle against an elusive foe: religious extremists using sophisticated online tactics to lure young Somali Americans abroad as militant foot soldiers and suicide bombers.
Many of those idealistic volunteers are dead now, including Bihi's nephew.
Burhan Hassan was 17 in 2008, when he was lured by a recruiter he met in a Minneapolis mosque to go to Somalia to join the militant Islamist group al-Shabab. The skinny teenager, who had planned to apply to Harvard, was killed under mysterious circumstances as his family made a desperate attempt to bring him home.
Bihi suspects that Burhan was killed by his al-Shabab allies because he wanted to leave Somalia. But he will never know for sure.
Burhan is one of more than two dozen Somalis between the ages of 17 and 35 who abandoned their lives in the Twin Cities to join Islamic radicals across the Middle East and North Africa. The latest is a St. Paul teenager who left her family in August for Syria to assist the Islamic State.
For thousands of Somali parents here, all of this has created a pervasive and escalating fear of government, law enforcement, the media, and especially of losing their sons and daughters to outsiders bent on waging holy war.
For Bihi, the blow of losing his close relative to this troubling trend has hardened his resolve to combat the presence of distant Islamist battles in the heart of the American Plains.
"He was just a good kid," Bihi said. "He wanted to be a doctor like many of his cousins. He was our future."
At 49, the slender, bespectacled father of five is used to a good fight. He fled Somalia as a young man with his father, a businessman and political activist who became a government target. "He had a big mouth and so do I," he said. "We speak our minds."
Bihi works from a cramped cinder-block office in a community center that serves the needs of a Somali neighborhood called Cedar-Riverside — where working-class families pack into crowded high-rises, where women in bright African prints and colorful scarves shop at the many Somali-owned businesses, and rent the latest movies from Mogadishu.
His homegrown mission against militant Islam centers on helping young people play sports as a way to resist savvy recruiters whose appeals have become sophisticated. They flood Twitter and smartphone apps that take conversations offline. "The concept is to create a positive alternative to these extremists," Bihi said. "I'm in competition with these recruiters. They want my kids."
The task isn't easy: The region's 50,000-member Somali community faces high unemployment, with few after-school programs. Bihi says that his neighborhood center has one after-class program for a community of 7,500 Somalis — with more refugees arriving every day.
Local Somali activist Omar Jamal says few outsiders have paid attention to the growing exodus of young Somalis, leaving the community to tend to its own emotional wounds. "People were in denial about our crisis," said the director of the American Friends of Somalia. "It seemed so farfetched that kids would drop their schoolbooks to go fight for extremists abroad. But nobody is denying the problem now."
Bihi says the government's help is long overdue.
Since 2007, Bihi has gone door to door for donations to buy used equipment and uniforms, and to rent soccer fields and basketball courts, often without success. "For years, I've told these kids that help will come, but they say, 'You're a good guy, but people don't care about us. We're just a bunch of poor Somali kids.'"
He and a few other center organizers work without pay. Bihi, who is two months behind on his rent, does translation work to help support his family. But most of his time is spent in his tiny office, dreaming up ways to help vulnerable Somali youths here.
Every week, he says, he has to prevent one of the coaches he works with from quitting because of a lack of resources. Pointing to a punctured soccer ball on the floor, Bihi tells of how he even went online last month to appeal for funds. His response was met with just over $500, money he has already spent.
His neighborhood's plight demonstrates the cultural challenges as officials try to protect often-isolated ethnic communities like Minnesota's Somalis. Experts say that officials face challenges in connecting with Somali residents who fled their unstable homeland, carrying with them the emotional scars of war.
Some Somalis here, as distrustful of government as they are of the media, see conflicting signals from U.S. officials. While agencies promote dialogue with the community, a bill proposed by Rep. Michele Bachmann, R-Minn. seeks to revoke passports and reentry privileges of Americans suspected of fighting overseas for Islamic militants.
Somali families fear that such a law would mean they might never again see their missing children. And many are reluctant to report disappearances to the FBI, fearing that they themselves would become the subjects of criminal investigations.
As the FBI investigates the recruitment pipeline, several Somalis — including parents of missing teenagers — have been subpoenaed to appear before a federal grand jury, activists say.
"Parents live in fear of that scenario," said Bob Fletcher, a former Ramsey County sheriff who fosters youth mentoring and parent coaching in the Somali community. "If a child disappears, the last people they want to call are the FBI."
Kyle Loven, a chief division counsel for the FBI in Minneapolis, said the bureau had worked hard to foster relations with Somalis. "There are always going to be trust issues," he said.
Bihi has been approached by numerous Somali mothers who are petrified about their children's welfare. "Their kids have dropped out of sports and changed their behavior," he said, responding to a cellphone that won't stop ringing. "The parents don't know who to trust."
Even mosques are suspect. Several Somalis who fled Minnesota for the Middle East or North Africa attended a Bloomington mosque, which in June banned a man who had preached extremism. In a statement, the Al Farooq Youth and Family Center said it "vigorously opposes the recruitment of any persons to participate in violent or extremist activities."
On Nov. 4, 2008, Bihi's sister, a single mother of four, called to say that her third-eldest son was missing. Hours later, Bihi's phone rang again. "This time my sister said, 'He's gone,'" he said. The nephew, who didn't speak Somali and had showed little interest in politics since arriving in the U.S. at the age of 4, had taken his passport and computer.
MCT Photo/John M. Glionna
Interested in more national and political news? Sign up for our daily email newsletter.