Sony Seeks To Delay Earnings Over 'The Interview' Cyberattack
@AFP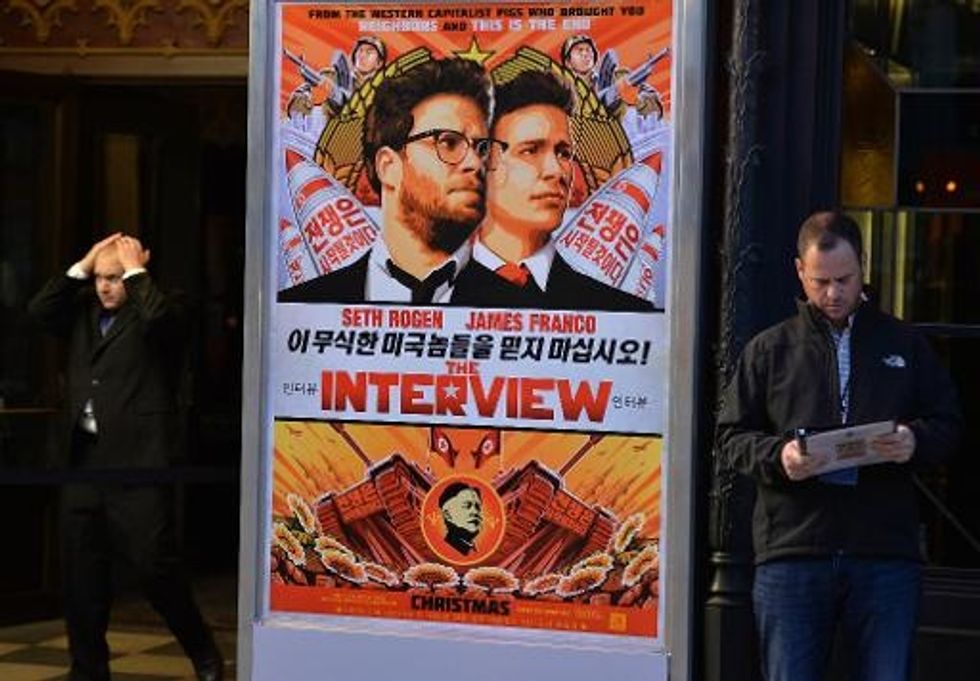 Tokyo (AFP) – Sony said Friday it was asking Japanese regulators for permission to delay its earnings release next month after a cyberattack at its Hollywood film unit compromised "a large amount of data".
The Japanese firm said its US-based Sony Pictures Entertainment (SPE) subsidiary will not have time to put together its financial statements after the attack, linked to its controversial North Korea satire The Interview, which has been widely blamed on Pyongyang.
The Tokyo-based firm, which was due to publish its earnings for the fiscal third quarter on February 4, said the hack attack was unlikely to have a material impact on its financial results.
But it now wants to extend the deadline to file the numbers until the end of March.
The company said it still planned to issue a press release and hold an earnings conference on the originally scheduled date.
This was to provide updated forecasts of its results "to the extent reasonably possible, based on the information available on that date".
The Interview was scheduled for a Christmas Day release before Sony became the target of the biggest cyberattack in US corporate history.
Threats made by hackers prompted Sony to initially cancel its theatrical release. It was eventually screened in select arthouse cinemas, and released on the Internet and via cable TV providers.
Washington has blamed North Korea for the hack on Sony — a claim Pyongyang has denied while still strongly condemning the film, which features a fictional plot to assassinate leader Kim Jong-un.
The Interview, which had a $44 million budget, has since become Sony's highest-grossing online film ever, reportedly making more than $40 million on the Internet and other small-screen formats.
"Serious disruption"
The cyberattack caused "a serious disruption of SPE's network systems… including the destruction of network hardware and the compromise of a large amount of data," Sony said, adding that it was forced to shut down its entire network after the hack.
It affected most of the subsidiary's "financial and accounting applications and many other critical information technology applications," which will not be functional until early February, it added.
The company said its film unit has since "worked aggressively" to restore those systems.
While the film division has been one of the vast company's best-performing businesses, Sony announced a whopping $109.1 billion yen ($923 million) six-month loss in October and said it was on track to lose 230 billion yen in the fiscal year through March, more than four times its earlier forecast.
Sony has struggled in the consumer electronics business that built its global brand, including losing billions of dollars in televisions over the past decade as fierce competition from lower-cost rivals pummelled the TV subsidiary's finances.
The company is undergoing a huge restructuring, including job cuts and the sale of its Manhattan headquarters, is it tries to drag itself out of the red.
As part of the shakeup, Sony sold its personal computer business, announced it would cut its smartphone unit's global staff by 15 percent — about 1,000 jobs — and said it won't pay dividends for the first time since its shares started trading in Tokyo in 1958.
AFP Photo