Sorry, Liberals. We Have To Talk About Economics — And Race.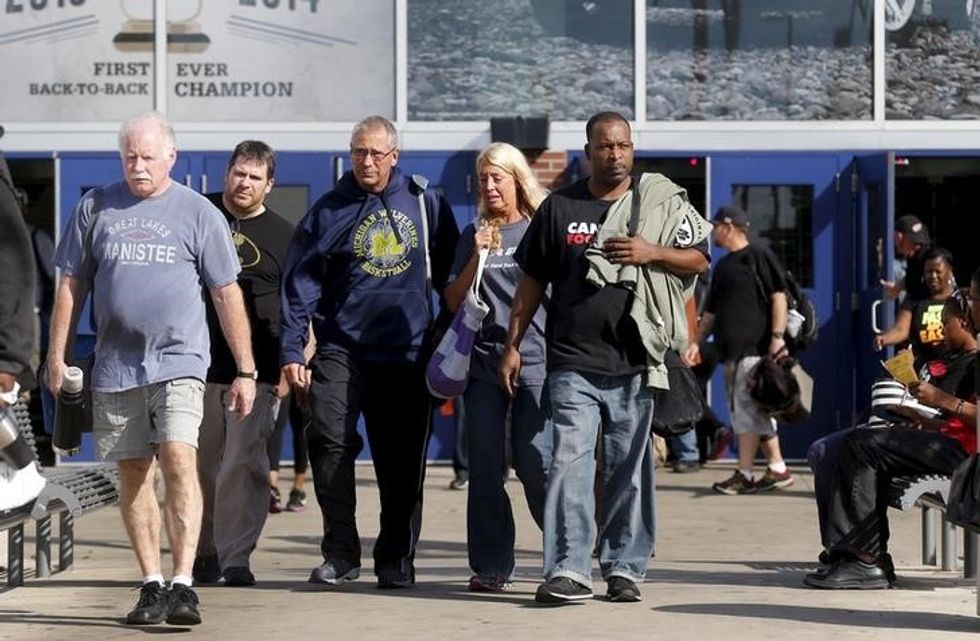 Two conclusions about Donald Trump's highly offensive and obviously effective campaign for president are undeniable.
He was the first Republican in decades to compellingly speak to the economic concerns of at least some workers, though he did so by making heartbreakingly impossible promises and with a plan no economist, in a recent survey of experts, believes will help the middle class. And he played to white identity politics in an unabashed way that dragged the old, barely coded racial appeals of "law and order" and "the silent majority" into the 21st century — while updating them with attacks on immigrants and Muslims that once would have gotten you banned from a decent message board.
Some on the left want Democrats to ignore the racial appeals implicit in Trump's campaign and focus almost entirely on a populist economic agenda that will help all workers, as the Democratic agenda did effectively for generations. There have been several variations on the theme but they're probably best summed up by the headline for a column David Paul Kuhn wrote in the New York Times: "Sorry, Liberals. Bigotry Didn't Elect Donald Trump."
But to insist that Trump's fans must be blazing bigots for race to have been a deciding factor in the 2016 election plays exactly into the right's strategy of hollowing out the middle class. According to IanHaney-López, UC Berkeley law professor and author of the essential Dog Whistle Politics, that strategy uses identity politics to generate "broad popular support for politicians and policies that transfer our nation's wealth to the new robber barons."
It's a "false choice" to suggest Democrats must chose between "pocket book" issues and so-called "identity" politics, Haney-López argues: "To say that racial aggrievement fuels American electoral politics is not to say that America is a country of bigots."
We "play into conservatives' hands," he writes, when we let them get away with the notion that "racism must look like a Klan hood and burning cross."
Trump never used racial slurs and was, for instance, forced to back off explicitly racial attacks on Judge Curiel's Mexican heritage. He hastened to add "Some, I assume are good people," immediately after suggesting that millions of Mexican immigrants were rapists and criminals. Those hedges reveal that there was a method to what some Democrats called his madness.
"When progressives understand race solely in terms of bigotry — or shy away from talking about racism because it's a fraught conversation —they play into conservative [strategies]," Lopez says. We can't deny that "Trump made race a cornerstone of his appeal," even if there are examples of Obama voters becoming Trump voters.
"Focusing on the Obama-Trump voter is less a successful rebuttal than a form of denial," Haney says, noting that the phenomenon ignores factors like sexism and voters' tendency to vote for the "change" candidate. Most importantly that voter represents "a tiny slice of the electorate," likely less than 7 percent, which is almost irrelevant compared to Trump's success at mobilizing white voters who hadn't turned out in previous elections and Democrats' failure to mobilize non-white voters who had.
Even Kuhn acknowledges that racism "appeared more concentrated among Trump voters," while assigning Trump's success to other factors.
Understanding how Trump and the GOP effectively use race requires seeing that the right is "waging a culture war around gender, elitism, and especially race, using coded and not so coded terms to trigger strong resentments." This is specifically designed to persuade white voters to cast ballots that are not only against their interests but suicidal for the middle class.
Yes, the economic anxiety many Trump voters felt is real and must be addressed. But addressing that anxiety exclusively would be a big mistake, according to Haney-López, because "it assumes that economic pain comes first, and so, it implies that finances are more fundamental than scapegoating."
Racial resentment has made the rigged economy we all live in now possible.
The parties have not switched their polarities from the North to the South, and the GOP didn't become a party that is 90 percent white with 98 percent white elected officials by accident, Haney-López notes.
So how do we begin to change this?
Ignoring racism and focusing solely on economics helps the GOP, and that won't even be an option considering whom Trump's policies will target, Greg Sargent argues.
But Haney-López asserts that the Democratic Party presenting itself as "a coalition of minorities, each with discrete identities but united by a few shared interests" won't reverse the trends that have fed massive inequality either.
Instead, we need to tackle the right's white identity politics for what it is: a scam against the entire American working class.
"To regain control of government, progressives must directly address the divide-and-conquer politics employed by the right," Haney-López says. "This doesn't mean blaming white men for being racist or sexist, nor does it mean neglecting economic issues."
It puts the burden on the left to invest in outreach that speaks to economic pain and explains explicitly how the right's agenda is a scam to pit workers of all races against each other, while millionaires and billionaires suck up all the growth of the economy and almost exclusively benefit from Trump's agenda, starving the American Dream.
Watch the income distribution in America change pic.twitter.com/WS80BT2UlT

— Conrad Hackett (@conradhackett) December 18, 2016
"Democrats must re-tell the story of the last 50 years, emphasizing how race and other culture-war issues have been used to divide and conquer,"  Haney-López says. "This is fundamentally a story of shared interests and a common enemy."
He's been making this argument for years. But now that Democrats have seen and all of America will soon see the destructiveness of unchecked white identity politics, maybe we'll all start to listen.
Sorry, but we can't afford not to.