Lawyers Slam Controversial Republican Attack Ad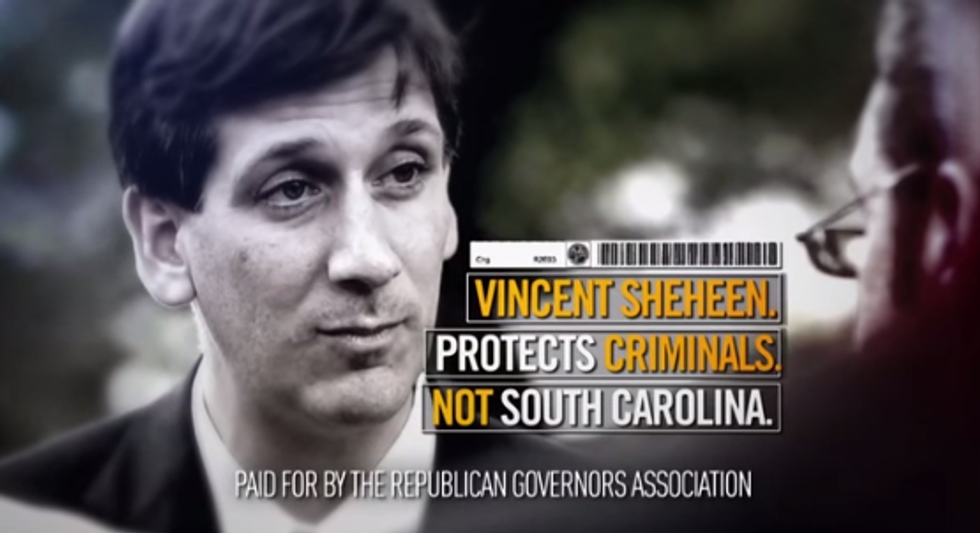 The South Carolina Bar Association has condemned an ad that brutally attacks Vincent Sheheen, the Democratic candidate for governor in South Carolina, for legal cases he took on during his time as a criminal defense attorney.
The Republican Governors Association released an ad on Monday, saying, "Sheheen defended violent criminals who abused women, and went to work setting them free. So next time Sheheen says he'll protect women from violent criminals, ask him: What about the ones who paid him?"
That angered South Carolina Bar Association President Alice Paylor, who expressed her disapproval in a Tuesday press release.
"The political season has blossomed, and a few people are again attacking the Constitutional principles that are essential to a free society," she said. "Every day lawyers step up to the plate and ensure that each citizen is afforded the rights guaranteed to us all and essential to protect our liberties. It would be refreshing to see comment on the merits of positions rather than attacks seeking to evoke a gut response."
"The truth is that each and every one of us has a professional duty to ensure that justice is not rationed but is available to everyone," Paylor added. "It is the job of a criminal defense lawyer to ensure his or her client has a fair trial, not to defend the crime."
The South Carolina Bar Association is a non-partisan organization and typically does not intervene in political races. The RGA ad, however, triggered Paylor to announce the launch of a website — sclawyerfacts.org — which is aimed at "refut[ing] the misinformation that is being spread and provid[ing] education about the legal profession and the service provided by lawyers to the citizens of South Carolina."
The RGA continues to defend the ad and refuses to take it off air.
New Jersey governor Chris Christie (R), the RGA's current chairman and a lawyer by trade, hasn't personally commented on the ad. But a lawyer representing the Christie campaign and the New Jersey Republican State Committee during the federal investigation into "Bridgegate" has criticized the spot, calling it a "disgrace."
"The people who talk incessantly about American exceptionalism ought to demonstrate some understanding—and some respect—for what makes our system truly admirable: That includes the willingness of lawyers to stand up for their clients no matter how ugly the allegation. But a lawyer is only ever an advocate; he's not a co-conspirator or an enabler," Robert D. Luskin of the law firm Patton Boggs told The Huffington Post.
Incumbent governor Nikki Haley (R) has said that her Democratic opponent certainly had a right to represent the accused, but added: "Just like South Carolinians have the right to know exactly who Vince is and who he chose to represent when they vote for governor."
Watch the RGA ad here:
h/t:The Maddow Blog
Screenshot: YouTube