South Carolina Sideshow Deepens As Challenger Labels Graham 'Ambiguously Gay'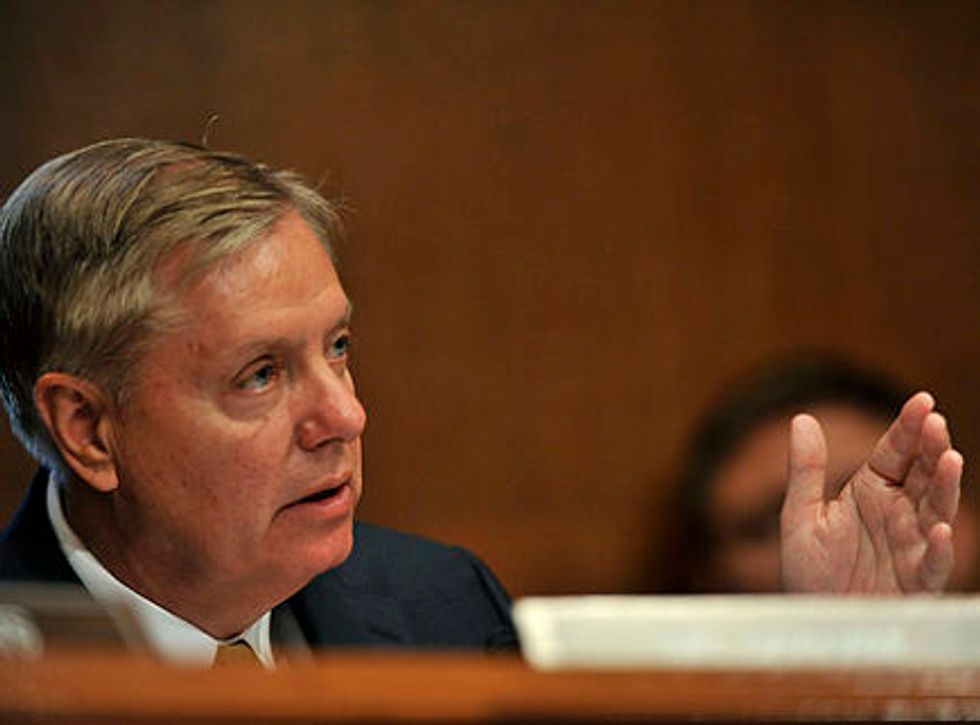 Dave Feliciano, a fringe challenger to Senator Lindsey Graham (R-SC) in South Carolina's 2014 Senate race, made it clear on Thursday just how poor a job the Tea Party did in finding a serious candidate to oppose the two-term incumbent.
In a news conference announcing an alliance between all four of Graham's Republican challengers, Feliciano used his time at the podium to challenge Graham's sexual orientation.  "It's about time that South Carolina [says] hey, We're tired of the ambiguously gay senator from South Carolina. We're ready for a new leader to merge the Republican Party. We're done with this. This is what it's about, all of us coming together and saying, one way or the other, one of us is going to be on that ballot in November."
This gaffe may well sum up the seriousness of Graham's Tea Party challengers: at a formal press conference launching a united front against the incumbent senator, they couldn't resist a gay joke.
Moments like this help to explain why Graham is crushing all his primary challengers in the polls. A recent Winthrop University survey shows Graham with 45 percent support from likely voters. Challenger Lee Bright — who is extreme, even for South Carolina — poses the greatest risk to Graham with 9 percent support. He is followed by Nancy Mace, Bill Conner and Richard Cash, who all garner between 3 and 4 percent. Dave Feliciano's support among likely voters didn't register in the survey.
But his homophobic statement probably did register on the South Carolina's Tea Party's radar. Feliciano is not the first right-winger to question Graham's sexual orientation.
William Gheen, head of the anti-immigration group Americans for Legal Immigration PAC (ALIPAC), said in 2010 that homosexuality is "a secret Graham has."
"I hope this secret isn't being used as leverage over Senator Graham, so today I think Senator Graham, you need to come forward and tell people about your alternative lifestyle and your homosexuality," Gheen told supporters at a Tea Party rally in South Carolina. "Barney Frank is more honest and brave than you," Gheen added.
The far right's failure to find a serious candidate in South Carolina is especially embarrassing considering how ferociously critical the Tea Party has been of Senator Graham for years now. Graham's work on foreign policy issues has made him an easy target for the isolationist-minded Tea Party. Joe Dugan, executive producer of the South Carolina Tea Party Coalition Convention, explained this discontent to Breibart News. "Huckabee is praising Graham on Benghazi? Has that been resolved while I wasn't looking? Wasn't it Graham that wanted to arm the Muslim Brotherhood in Egypt and have us rush into Syria?"
As the poll numbers indicate, however, all of this discontent is not manifesting itself in the polls. But, if Graham's challengers successfully force a runoff election, it may cause the senator another headache. If he does not receive above 50 percent of the popular vote in the primary, he will face the second-place finisher in a two-week runoff election, which would provide an outside chance for his challenger to consolidate enough support to pull an upset.
But as Thursday's event illustrated, Senator Graham shouldn't be too concerned about beating anyone who emerges from the South Carolina Tea Party's absurd primary.
Photo: Secretary of Defense via Flickr