Southern California Water Wholesaler Plans To Ration Water To Cities, Districts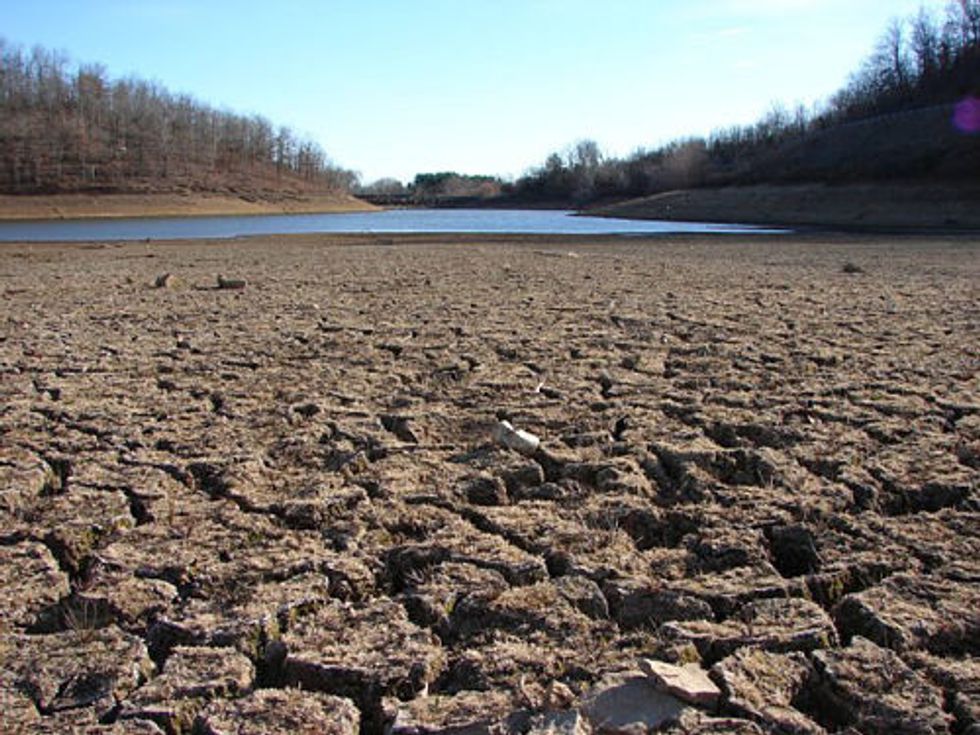 By Bettina Boxall, Los Angeles Times (TNS)
LOS ANGELES — Southern California's water wholesaler is planning to wield its powerful hammer to force more urban conservation this year by cutting water deliveries.
Faced with dwindling regional reserves and a fourth year of drought, the Metropolitan Water District of Southern California is expected to vote next week to ration imported water that it supplies to 26 water districts and cities, something the agency has done only twice before.
The cuts, which would take effect July 1, were in the works well before Gov. Jerry Brown imposed a 25 percent mandatory restriction on urban water use last week. But they are expected to provide a powerful incentive for local agencies to curb demand and help meet the governor's conservation goals.
Local agencies that need more water than the MWD allocation will be required to pay punitive surcharges of up to $2,960 an acre-foot for the extra deliveries.
For purchases well beyond the allocation, that would increase the price of fully treated MWD water by roughly four times.
The MWD board, made up of 37 representatives of the agency's member districts, will decide the size of the cutback, which could range from 10 percent to 20 percent, or 200,000 to 400,000 acre-feet less than MWD typically delivers. An acre-foot of water is enough to supply two households for one year.
The effects will vary from area to area. Cities that have already been conserving, such as Los Angeles, will probably feel fewer impacts. In areas that have been slow to conserve, water districts will have to strengthen restrictions and boost local rates to avoid financial penalties the MWD will impose on excess demand.
Metropolitan, which imports water from Northern California and the Colorado River, last rationed deliveries in 2009 and 2010, during the previous drought. Then, local districts responded so well that none had to buy high-priced water.
But because continuing conservation efforts have lowered water use in most parts of the Greater Los Angeles Area in recent years, districts may find it harder to stay within their allocations this time.
"The question is how much more can people squeeze out in conservation than they're already doing," said Dennis Cushman, assistant general manager of the San Diego County Water Authority.
The current drought is one of the most punishing in modern history. Irrigation deliveries have been slashed, forcing growers to idle more than 400,000 acres of cropland last year. Groundwater levels in some parts of the San Joaquin Valley have plunged to record lows as farmers drill more and deeper wells. Some small communities dependent on local sources have run out of water.
The levels of major reservoirs in Northern California are higher than they were a year ago. But the mountain snowpack that in a normal year provides the state with about a third of its water supply hit a record low for April 1.
Last week, Brown used a snowless Sierra Nevada meadow as the backdrop to announce the first statewide mandatory restrictions on urban use in California history.
Metropolitan customarily provides about half of the Greater Los Angeles Area's water supplies. The agency began the drought in 2012 with record amounts of water reserves stashed in groundwater banks and regional reservoirs. But as the drought lingered, the water wholesaler has drawn heavily from its backup supplies to meet regional demands. Some customers have raised concerns that the MWD is depleting its stockpile too quickly.
"It's a big number," Cushman said of the 1.1 million acre-feet Metropolitan pulled out of storage in 2014 — enough water to supply 2.2 million households for a year.
That left 1.2 million acre-feet in storage, down from a peak of 2.7 million acre-feet at the end of 2012. The MWD also maintains a supply of 640,000 acre-feet that it would only tap in an emergency, such as an earthquake that damages the state's major aqueducts.
"I get the concern about our storage levels," said Jeffrey Kightlinger, Metropolitan's general manager. "We are pulling them down. (But) it is what they're there for. It is for dealing with drought."
Reducing deliveries will slow, but not stop, the drop in reserves. Kightlinger said Diamond Valley Lake, the agency's big Riverside County reservoir, will probably fall this year to its lowest level since it was filled after construction more than a decade ago.
Still, Kightlinger said, "With prudent management, we're good for another two, three years of drought." If the drought persists beyond that, he said, his agency would have to make more draconian cuts.
Martin Adams, senior assistant general manager of the Los Angeles Department of Water and Power, said that if present trends continue, the city this summer will have reduced its water use by 10 percent since late 2013, putting it in a decent position to weather a cut from the MWD.
"The word's gotten out and the L.A. populace is really responding well," he said. "We hope that … is enough to get us through whatever (the MWD) does."
(c)2015 Los Angeles Times, Distributed by Tribune Content Agency, LLC
Photo via Wikimedia Commons