Spain Mourns World Cup Exit, More Victims In Line
@AFP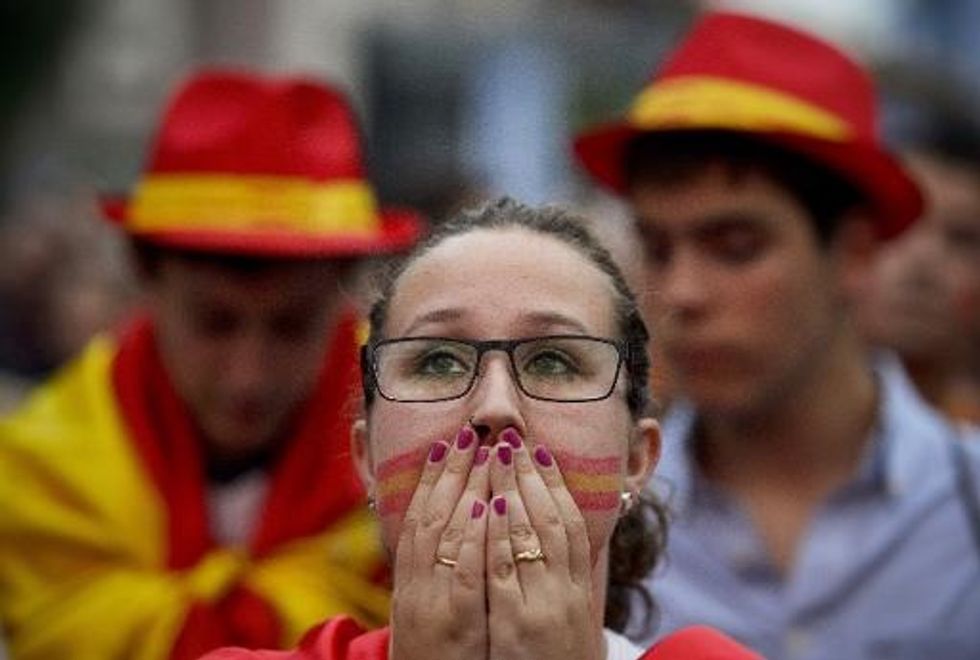 Rio de Janeiro (AFP) – Defending champions Spain slumped into mourning over their disastrous World Cup exit on Thursday ahead of a clash between England and Uruguay that could see another famous name fatally wounded.
A picture of midfielder Andres Iniesta, his head in his hands after the 2-0 defeat by Chile, symbolized the end of a golden run in which Spain won the World Cup and two straight European Championships.
The image dominated Spain's press on the day after the country's second straight defeat in Group B sparked soul searching into the failure.
"A terrible end to the most glorious era," said the Madrid sports daily Marca.
Spain's coach Vicente del Bosque said he would not be rushed into a decision on his future.
"When something negative comes out of such an important competition then of course there are consequences. I don't want to go into an analysis right now — there will be plenty of time for that," said the 63-year-old whose side also lost 5-1 to the Netherlands.
"We are not falling apart. We will take the time to do what is best for Spanish football — and I include myself there.
"We must not make snap decisions. We played two games and were not able to overcome our rivals — Holland and Chile were better than us on the day."
Del Bosque acknowledged his side were poor in the second half where they fell to pieces against the Dutch and in the first 45 minutes against a Chilean side who scented blood from the outset.
"But we mustn't make excuses. We are out, we were inferior and we must look to the future," he insisted.
Captain and goalkeeper Iker Casillas, who has come in for heavy criticism, said: "The level of commitment was not what we wanted it to be."
"We didn't deserve to go through to the next round. We have been beaten by superior teams," added Casillas, 33, who will be one of the golden generation whose places are now threatened.
Cameroon were also slammed after their 4-0 defeat by Croatia in Group A in which Alexandre Song was sent off for punching Croatia goalscorer Mario Mandzukic and Benoit Assou-Ekotto aimed a headbutt at teammate Benjamin Moukandjo after a dispute.
Coach Volker Finke called the behavior "disgusting" and "unacceptable".
Cameroon joined Spain in dropping out of Group B while Australia already know they are out in Group A.
Arjen Robben put hot form side the Netherlands ahead against the Socceroos in Wednesday's third game. But Australia then went ahead through through a spectacular Tim Cahill volley and a Mile Jedinak penalty.
Goals by Robin van Persie and Memphis Depay gave the Dutch a 3-2 win. Van Persie will miss Monday's match against Chile to decide who wins Group A after picking up a second yellow card of the tournament.
Meanwhile Steven Gerrard warned England's players they face a "terrible" summer if they lose to Uruguay on Thursday and crash out of the tournament.
The two former World Cup winners, both of whom lost their first Group D games, play in Sao Paulo at 1900 GMT. In Group C, Colombia play Ivory Coast and Japan play Greece.
Uruguay could bring back star striker Luis Suarez, heightening pressure on England in the crunch battle.
The England captain, who went through disappointing World Cup campaigns in 2006 and 2010 — when England lost 4-1 to Germany — said he underlined the high price of failure in a special address to the squad.
"Going into this game, (they have) to realize it could be a terrible long, frustrating summer if we don't get it right on Thursday," he said.
"There is no hiding place for a player when you go out of a tournament. You go home earlier than you expect. It can be tough as a player and it can take an awful long time to get over it."
After losing 2-1 to Italy, defeat to Uruguay would probably consign England to one of the earliest World Cup exits in their history.
Japan and Greece face a similar high stakes encounter in Natal at 2200 GMT. With Japan outmuscled by Ivory Coast 2-1 and Greece thumped 3-0 by Colombia on Saturday, defeat for either side is likely to be fatal.
AFP Photo/Dani Pozo