Special Olympics USA Kick Off At Joyous New Jersey Ceremony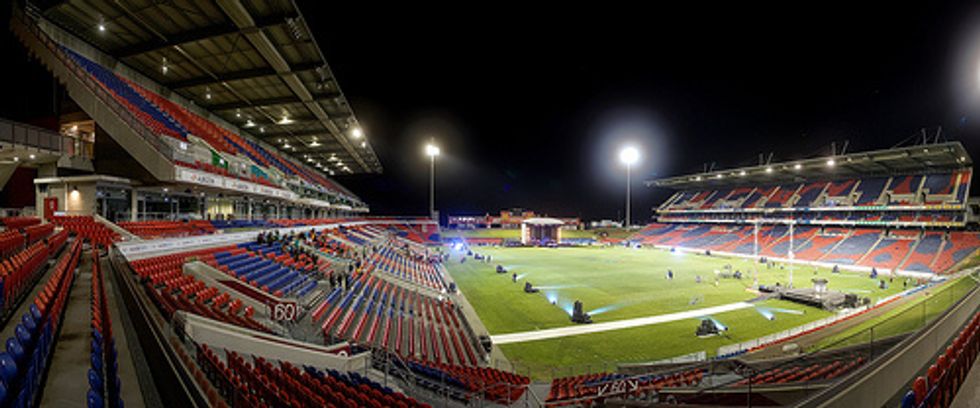 By Allison Pries and Linda Moss, The Record (Hackensack, N.J.)
NEWARK, N.J. — Athletes wearing colorful team uniforms proudly paraded through the arena Sunday before thousands of cheering spectators, including their families and friends.
With pomp and circumstance, the 2014 Special Olympics USA Games kicked off its week of competition — for the first time in New Jersey — at the Prudential Center in Newark.
Pro athletes, celebrities and business executives lauded the intellectually disabled participants as the true champions in the world.
"I'm excited to be here with all these champions," co-host Michael Carter-Williams, a point guard for the Philadelphia 76ers and the NBA's rookie of the year, told the crowd.
An estimated 18,000 people, including 3,500 athletes and 1,000 coaches, packed the Prudential Center for the four-hour opening ceremony of the Special Olympics, which comprises 16 individual and team sports.
The games' location this year in the New York metropolitan area is much higher-profile than prior sites — Iowa in 2006 and Nebraska in 2010. The Empire State Building was lighted in the Special Olympics colors, blue and red, on Sunday night.
There were representatives from all 50 states at the Prudential Center, and all were duly introduced. New Jersey's delegation received an especially loud cheer. These national games are important to North Jersey members of the group of athletes.
At the opening ceremony, there were pyrotechnics during a rock version of the national anthem and appearances by Glee actress Jane Lynch, as well as WWE Superstars Big Show and David Otunga. New Jersey Governor Chris Christie was supposed to appear, but he got stuck in traffic and arrived late, and had to leave to continue his planned schedule, a Special Olympics spokeswoman said.
The Special Olympics were founded in 1968 by Eunice Kennedy Shriver to empower people with intellectual disabilities and foster understanding and acceptance. It has grown to encompass 3.5 million athletes in 170 countries. Nearly 10,000 volunteers and 70,000 spectators are expected in New Jersey, which was selected in March 2011 to play host for the 2014 games.
"The model we presented was of having corporate America underwrite the games," said T.J. Nelligan, chairman and CEO of the games.
And big business stepped up. Toys "R" Us, ShopRite, PSE&G, 21st Century FOX, The New Jersey Sports and Exposition Authority, KPMG, the WWE and others have covered 90 percent of the $20 million cost of the games and companion activities. Previously, the games had been paid through government grants.
Photo: Stephentyler2 via Flickr