Specter Of U.S. Debt Default Looms At Asia Summit
@AFP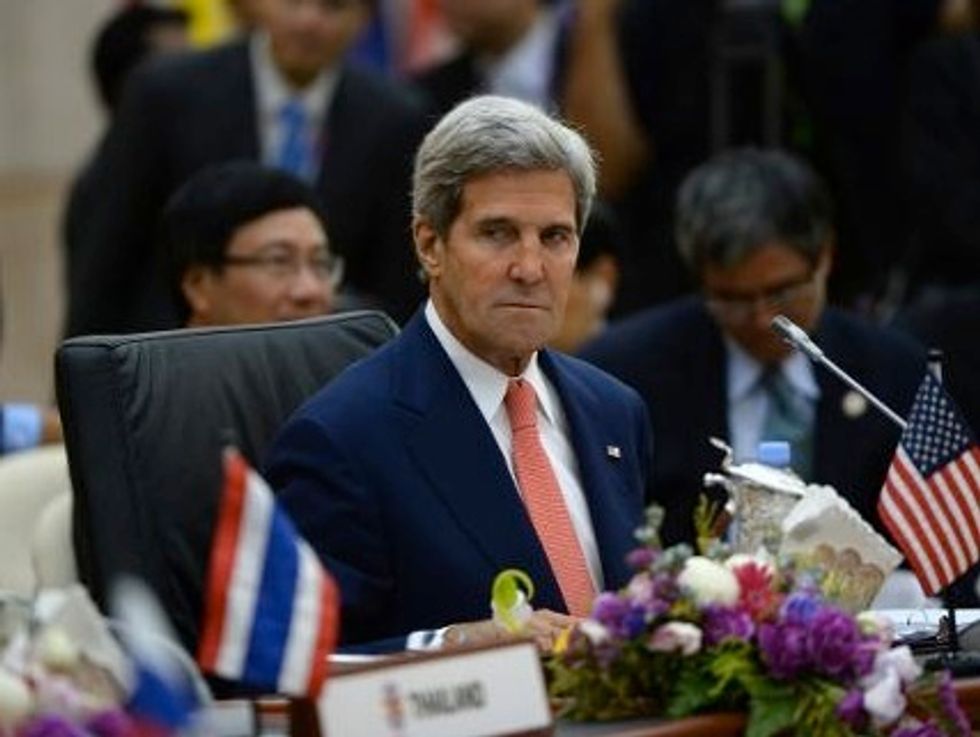 andar Seri Begawan (Brunei) (AFP) – U.S. Secretary of State John Kerry tried Thursday to reassure Asian leaders that Washington would end its political stalemate, after China voiced concern about a possible U.S. debt default.
The spectre of a calamitous default emerged as a major issue at an annual Asian summit in Brunei, held in the absence of President Barack Obama after he was forced to stay home due to the U.S. government shutdown.
China is the biggest foreign holder of U.S. Treasury bonds, worth a total of $1.28 trillion, and its Premier Li Keqiang expressed "concern about Washington's debt-ceiling problem".
Li conveyed that message in talks with Obama's stand-in, Kerry, late Wednesday in Brunei, China's official Xinhua news agency reported.
A US official travelling with Kerry confirmed Thursday that the debt ceiling was discussed, but added Li had vowed continued Chinese investment in the world's largest economy.
"Secretary Kerry made clear that this is a moment in Washington politics and reaffirmed the president's commitment to resolving the issue," the official told reporters.
They also agreed the U.S. economy was one of the world's strongest and pledged to continue the "close economic working relationship".
Kerry and Li joined 16 other leaders in Brunei on Thursday for the East Asia Summit — wrapping up nearly a week of top-level meetings that began in Bali at the Asia-Pacific Economic Cooperation forum's annual gathering.
As in Bali, Kerry sought to assure leaders in Brunei that Obama's no-show did not signal wavering U.S. interest in the region.
He stressed Washington's "continued commitment to the region" and offered verbal support to allies wary of China's territorial ambitions, according to a copy of his address to the summit.
The crippling budget standoff in Washington forced Obama to abandon plans to visit Asia, where he had hoped to tout his "pivot" towards the region at the back-to-back summits.
That plan took yet another knock on Thursday, when Kerry shelved a visit to the Philippines set for the following day, citing a tropical storm bearing down on the longtime U.S. ally.
Apart from reaching a budget deal to end a government shutdown, Congress must agree by October 17 to raise the $16.7 trillion U.S. borrowing limit.
Failure to do so could see the United States default on its obligations for the first time in its history and spark what the White House warns will be dire global economic consequences.
Emerging economies — which have already borne the brunt of recent market upheaval over the expected tapering of U.S. monetary stimulus measures — are particularly anxious to see a breakthrough.
"(If) the world's biggest economy turns belly-up, how can you actually protect yourself?" Philippine President Benigno Aquino told reporters.
"But I don't think that will happen."
With Obama absent from the Asia summits, China has wielded its growing diplomatic and economic clout in the region.
Li offered an olive branch Wednesday to Southeast Asian nations wary of its claims to most of the South China Sea, including waters near the coasts of its neighbours.
He called for peace in the sea — though China stands firm on its claims — and for expanded trade with the 10-nation Association of Southeast Asian Nations (ASEAN).
The Philippines, Vietnam, Malaysia and Brunei — all ASEAN members — have competing claims to parts of the sea, and Manila and Hanoi have in recent years repeatedly accused China of becoming more aggressive in the dispute.
China has struck a friendlier tone of late, agreeing recently to discuss a code of conduct with ASEAN aimed at preventing conflict in the sea. But some analysts view this as a stalling tactic while it builds up its power.
The US and its allies called in Brunei for accelerated work on the code, with Kerry appearing to prod China over its disputed claims.
"All claimants have a responsibility to clarify and align their claims with international law," his text said.
Aquino called for a resolution on the code of conduct "as soon as possible" while Japanese Prime Minister Shinzo Abe made similar comments.
Myanmar's President Thein Sein shook a ceremonial gavel presented to him as his country formally took on the chairmanship of ASEAN — and the task of hosting next year's ASEAN and East Asia summits.
The former general has earned international plaudits for reforms but some critics said it was premature to hand Myanmar the gavel, given ongoing rights concerns.
AFP Photo/Roslan Rahman