'Spotlight' Wins Top Oscar Prize On Night Of Racial Critique
@reuters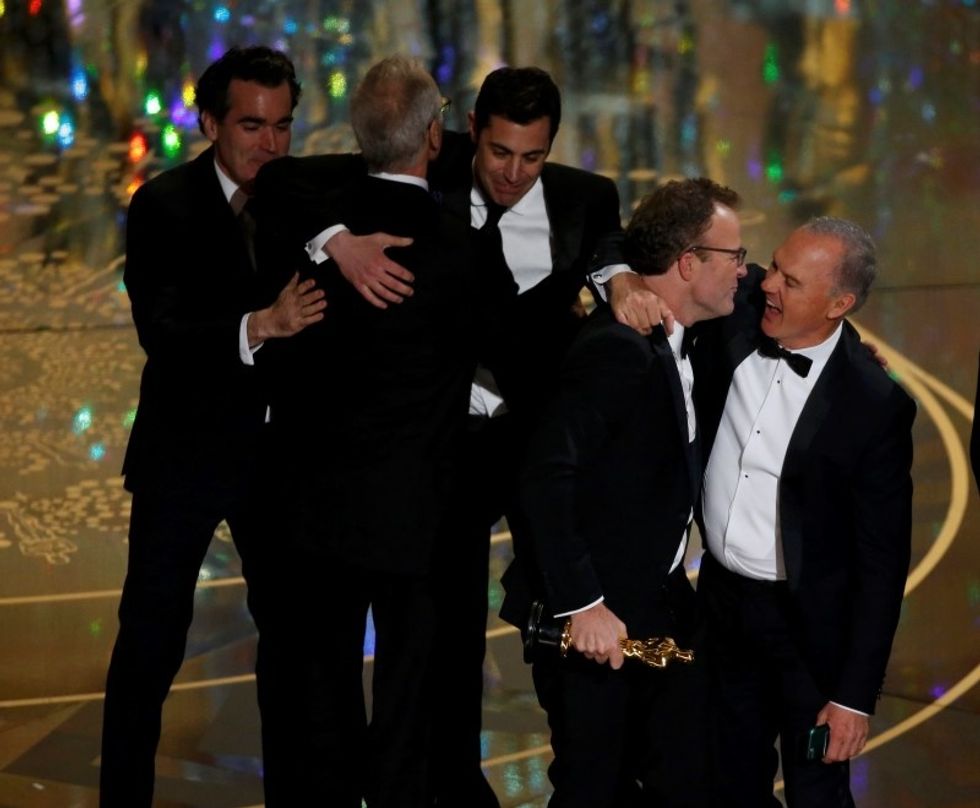 By Jill Serjeant
LOS ANGELES (Reuters) – Catholic Church abuse movie Spotlight was named best picture, the top award at Sunday's Oscar ceremony, after an evening peppered with pointed punchlines from host Chris Rock about the #OscarsSoWhite controversy that has dominated the industry.
Mexico's Alejandro Inarritu nabbed the best directing Oscar for The Revenant, taking home the trophy for the second straight year after winning in 2015 for Birdman.
The Revenant had gone into Sunday's ceremony with a leading 12 nominations, and was among four movies believed to have the best chances for best picture after it won Golden Globe and BAFTA trophies.
"I (am) very lucky to be here tonight but unfortunately many others haven't had the same luck," Inarritu said, expressing the hope that, in the future, skin color would become as irrelevant as the length of one's hair.
Leonardo DiCaprio got a standing ovation after finally winning his first Oscar for his leading role as a fur trapper left for dead in The Revenant and spoke out on climate change in his acceptance speech.
Rising star Brie Larson, 26, took home the statuette for best actress for her role as an abducted young woman in indie movie Room" to add to her armful of trophies from other award shows.
Racial themes and barbs about the selection of an all-white acting nominee line-up for a second year ran throughout the evening as black comedian Rock opened the show that he called "the white People's Choice awards."
Among the surprises, Britain's Mark Rylance beat presumed favorite and Creed actor Sylvester Stallone to win the Academy Award for best supporting actor for Bridge of Spies.
Swedish actress Alicia Vikander won the supporting actress Oscar for transgender movie The Danish Girl while documentary Amy, about the late and troubled British pop star Amy Winehouse was also a winner.
Open Road Films' (RGC.N) Spotlight, which traces the journalism probe of sex abuse in the Boston Catholic Church also won best original screenplay.
Warner Bros (TWX.N) Mad Max: Fury Road started the night with 10 nominations and the action-adventure won a slew of Oscars, including for costume, make-up, editing, and production design.
(Additional reporting by Nichola Groom, Lisa Richwine and Piya Sinha-Roy:; Editing by Mary Milliken)
Photo: Actor Michael Keaton (R) hugs director Tom McCarthy after their film "Spotlight" won the Oscar for Best Picture at the 88th Academy Awards in Hollywood, California February 28, 2016. REUTERS/Mario Anzuoni