Spring Election Hopes Dim For The Tea Party Movement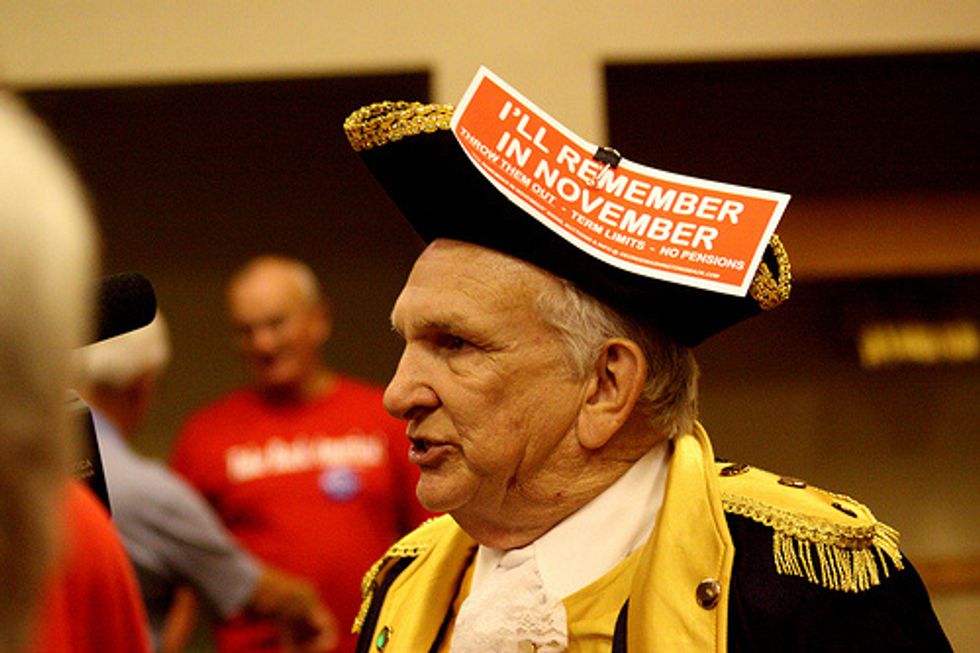 By David Lightman, McClatchy Washington Bureau
WASHINGTON — The tea party movement's 2014 prospects began to crumble in North Carolina this week, and more trouble appears to be on the way around the country in the next few weeks.
North Carolina House Speaker Thom Tillis crushed the tea party's candidate in Tuesday's Republican U.S. Senate primary in the state.
Next up is a Nebraska Senate primary Tuesday featuring more tea party hopefuls, with a bigger test for the party on May 20. Tea party candidates are running behind establishment figures in Senate contests in Georgia and Kentucky that day, and they trail incumbent Rep. Mike Simpson in Idaho.
The contrast with 2010 and 2012, when tea party hopefuls upset well-known Republican establishment figures, is stark. The establishment is now fighting back hard.
House Speaker John Boehner of Ohio easily defeated two tea party challengers in a Republican primary Tuesday. In Indiana, U.S. Reps. Susan Brooks and Larry Bucshon also beat tea party-backed opponents for renomination.
In North Carolina, with 97 percent of the vote counted, Tillis had 45.7 percent, more than tea party pick Greg Brannon and pastor Mark Harris combined. An array of Republican mainstream figures backed Tillis, including 2012 presidential nominee Mitt Romney, former Florida Gov. Jeb Bush and the U.S. Chamber of Commerce.
The Tea Party Patriots Citizens Fund and Sen. Rand Paul (R-KY) a tea party hero, supported Brannon. Former Gov. Mike Huckabee of Arkansas backed Harris.
Brannon was the first big 2014 victim of a series of trends that are plaguing tea party hopefuls this year, trends that also threaten candidates in other states.
The next closely watched Republican primary, Tuesday in Nebraska, is likely to produce a winner at least part of the tea party can embrace. But the result also might show the movement's fissures.
Midland University President Ben Sasse is endorsed by Tea Party Express, and he has a tough challenge from former state Treasurer Shane Osborn, who's backed by Tea Party Nation, and banker Sid Dinsdale.
Osborn is getting a boost from allies of Senate Republican leader Mitch McConnell of Kentucky. Dinsdale, stressing his long ties to the state, is thought to have momentum.
The involvement of McConnell allies is fresh evidence that the establishment is taking the insurgents seriously. Republicans have already embraced many key tea party principles, notably shrinking the size and scope of government, as well as a fervent insistence on repealing and replacing the 2010 Affordable Care Act.
The strategy is a change from 2010 and 2012, when Republican insiders figured that money and stature would easily boost their better-known candidates. Instead, many were upset by barely known figures who surged with the new grass-roots support.
The oldest political motivation of all also is hurting tea party candidates this year: a desire to win. Democrats often won general elections in which tea party figures proved too extreme for the general electorate.
Republicans, and for that matter tea party leaders, have been chastened. After Brannon's loss Tuesday night, Jenny Beth Martin of Tea Party Patriots Citizens Fund was conciliatory.
"While we obviously aren't happy with the outcome, we congratulate Speaker Tillis for his win," she said. "The important thing now is to pick up a U.S. Senate seat that's been in liberal hands for the last six years, and we hope all North Carolinians will make that a reality in November."
Republicans need a net gain of six seats to win control of the Senate. Seven seats now held by Democrats are in states Romney carried in 2012.
Photo: Gage Skidmore via Flickr