Spurs' Fifth Title Is One For The Ageless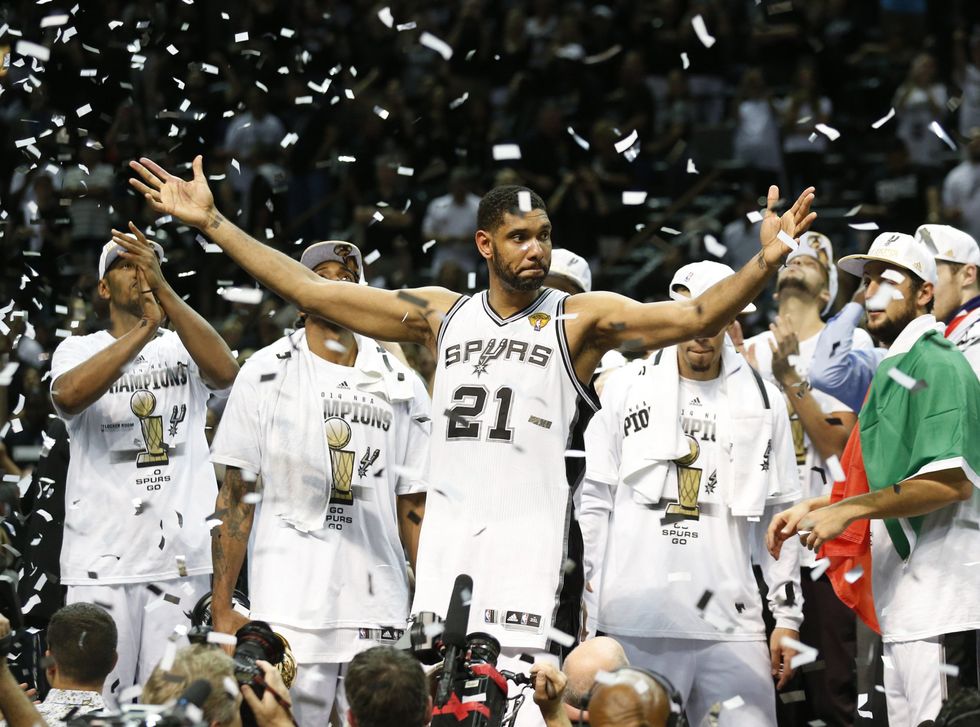 By Ben Bolch, Los Angeles Times
SAN ANTONIO — The healing began with about five minutes left in the third quarter, Manu Ginobili rising for a three-pointer that gave the San Antonio Spurs a lead simply too massive to overcome.
As a barrage of Patty Mills three-pointers accentuated the rout Sunday night, the decibels rose inside the AT&T Center to levels that hadn't been experienced here since 2007.
The Spurs were champions once again, a 104-87 victory over the Miami Heat in Game 5 of the NBA Finals giving them their first title in seven years and all but erasing the sting of last year's soul-crushing defeat against the same opponent on the same stage.
As black-and-silver confetti fell from the rafters, Spurs forward Tim Duncan embraced his children, teammate Kawhi Leonard accepted congratulatory pats all over his body for being named Finals most valuable player and coach Gregg Popovich tucked away his grumpy side to crack a wide smile.
"It makes last year OK," Duncan said in a televised interview on the court after becoming the first player to win a championship in three different decades, having also won titles in 1999, 2003, 2005 and 2007.
Winning Finals MVP on Father's Day may have also had a therapeutic effect for Leonard, the onetime Riverside (CA) King High star whose father was murdered at a Los Angeles-area car wash in 2008. The crime is unsolved.
"It is a very special meaning for me knowing that he's gone and I was able to win a championship on Father's Day," said Leonard, who finished with 22 points and 10 rebounds. The forward who turns 23 in two weeks became the second-youngest player to win Finals MVP behind Magic Johnson, who won it at 20 and 22, after averaging 17.8 points and 6.4 rebounds while shooting 61.2 percent in the series.
Unlike Miami's LeBron James, essentially a one-man operation with 31 points, 10 rebounds and five assists, Leonard had plenty of help. Ginobili finished with 19 points and Mills had 17, making four of five three-point attempts in the fourth quarter as the Spurs built a 22-point cushion.
Miami was unable to overcome the psychological toll of back-to-back blowouts on its home court in Games 3 and 4 as well as an equally disheartening 38-point turnaround in Game 5 after the Heat had seized an early 22-6 lead. The 70-point differential between the teams in the five games was the biggest in Finals history.
"They were the much better team," said James, now 2-3 in Finals after the Heat fell short in its three-peat bid. "That's how team basketball should be played."
Heat guard Dwyane Wade looked slow and old for a second consecutive game, finishing with 11 points on four-for-12 shooting. Miami's Chris Bosh, who had predicted victory in the morning shootaround, was also largely a non-factor with 13 points.
Duncan had 14 points and eight rebounds on the way to fulfilling his pre-series pledge that his team would avenge last season's Finals defeat. It was the fifth title for Duncan and Popovich and the fourth for the trio of Duncan, Ginobili and Tony Parker, who scored 16 points.
Miami started Ray Allen instead of the struggling Mario Chalmers in an effort to get off to a better start than it had in the previous two games, and the plan worked flawlessly in the early going.
Well, mostly because the Heat still had James on the court. He had 17 first-quarter points on five-for-seven shooting to go with six rebounds and an assist while acting as the primary point guard.
But an early 16-point lead was gone by late in the second quarter, the Spurs surging ahead, 47-40, by halftime and never trailing again.
James' lack of support was an ongoing issue throughout the series, triggering questions he quickly dismissed about whether he would opt out of his contract this summer.
As for the Spurs, with Duncan, Parker and Ginobili all under contract for one more season, they may not be finished with their championship tally.
"It's amazing to think about having done this five times," said Duncan, who called this title his sweetest. "The span between them, to still be in a situation where we can win or I can win another championship is just an amazing blessing, and it's not taken lightly."\
Photo via Al Diaz/Miami Herald/MCT