Sriracha Factory Hosts City Officials In Bid To Reconcile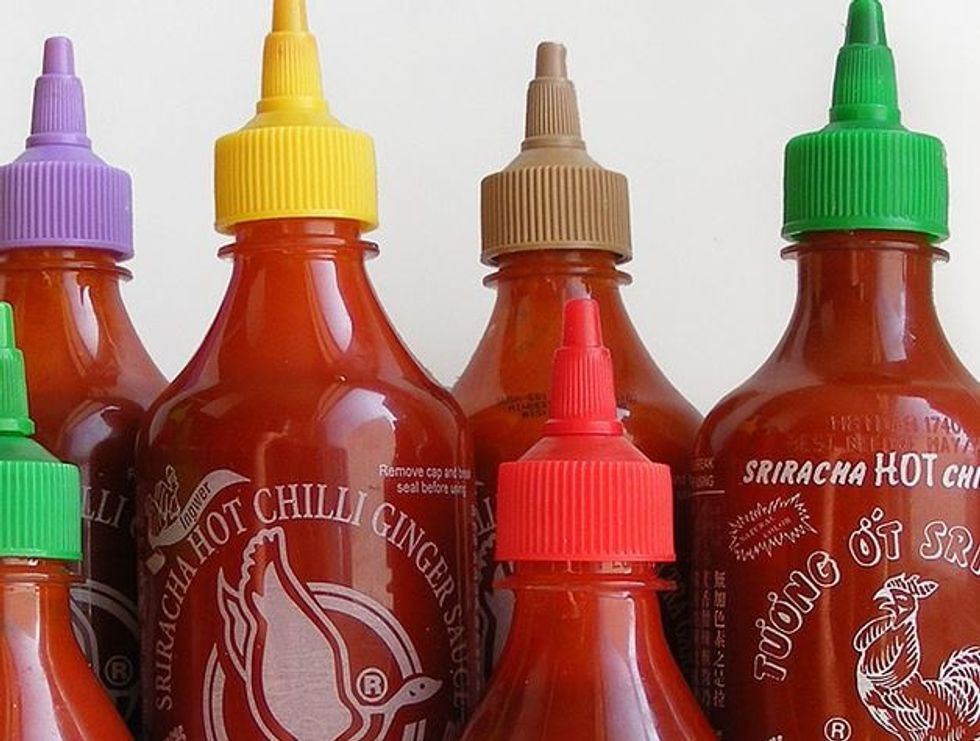 By Frank Shyong, Los Angeles Times
LOS ANGELES — Irwindale city officials toured the Sriracha hot sauce factory Tuesday morning in a possible sign of thawing relations between the city and the sauce company.
Sriracha maker Huy Fong Foods and Irwindale have been feuding in the courts and in headlines since Irwindale residents began to complain of a spicy odor last year. CEO David Tran has repeatedly asked city officials to visit the factory to no avail. But on Tuesday, City Manager John Davidson, Mayor Mark Breceda, and Councilman Julian Miranda donned hairnets and toured the factory with Tran as a dozen cameramen and reporters swarmed.
Both parties discussed a possible solution in a closed-door meeting afterward, but no specifics were offered. Two representatives from Gov. Jerry Brown's office sat in on the meeting and tour, they said, as observers. No attorneys attended the meeting.
The meeting comes one day before a council meeting in which Irwindale officials are expected to decide whether to declare the hot sauce factory a public nuisance. The city has also sued the hot sauce company in Los Angeles Superior Court, and the trial is expected to begin in November.
As the conflict drags on into the ninth month, politicians from all over the United States have also rushed to associate themselves with Tran, whose personal narrative lends itself to pro-business and anti-government regulation agendas. Tran, who said he was willing to move the factory, has also been wooed by municipalities across the nation, especially in Texas.
But after Tuesday's meeting, Breceda said, he expects that the city will drop both the lawsuit and the resolution declaring the hot sauce factory a public nuisance. He said the factory was "extremely clean" and even "beautiful," and expressed remorse that the conflict had gone on so long.
"We're looking forward to being partners for a long, long time," Breceda said. "We're almost sorry that this has gone on so long,"
Tran, who has in the past accused Irwindale of acting like a "local king," echoed Breceda's sentiments. "We understand each other, and we're going to be working together," Tran said.
Tran, Breceda and Davidson, in conversations after the meeting, even proposed that their families have dinner together.
It wasn't immediately clear what prompted this improvement in their relationship, but Breceda said that Tran had finally offered, in writing, to fix the problems that the council saw. Although Tran had months ago written a letter to the city offering do as much, Breceda said that this time Tran had given specific dates and named specific measures.
"We just needed it in writing," Breceda said.
The factory's air filtration technology hasn't changed much, but Tran said that's because it can't test odor-mitigation measures until the factory begins grinding peppers at the end of July. City officials plan to visit again once grinding season begins, Breceda said.
Aside from a brief shortage in January caused by new food safety regulations from state regulators, all of the attention seems to have worked out well for Sriracha hot sauce.
Since Tran threw open the doors of the factory for daily public tours in February, more than 600 people have taken part. The factory will experience another year of growth, and in the fall it will receive and grind more than 58,000 tons of peppers — 8,000 tons more than last year. The factory has grown to about 80 full-time employees, and Tran said the company expects to hire more than 200 seasonal employees when the pepper harvesting season begins.
But Tran also fears that he's lost market share because he has been forced to reveal so much about his production process. In addition to museum exhibits, themed nights at major league baseball games and political speeches, Sriracha's newfound popularity has also spawned imitators. Trader Joe's has long offered its own version of Sriracha hot sauce, and Tabasco recently began selling its version in an online store.
The Irwindale City Council is expected to table a resolution declaring the smell of hot sauce production a public nuisance on Wednesday. It has delayed a final decision on that resolution several times since it was proposed in April.
Photo: Robin via Flickr