Starbucks As Citizen: CEO Schultz Acts Boldly On Social, Political Issues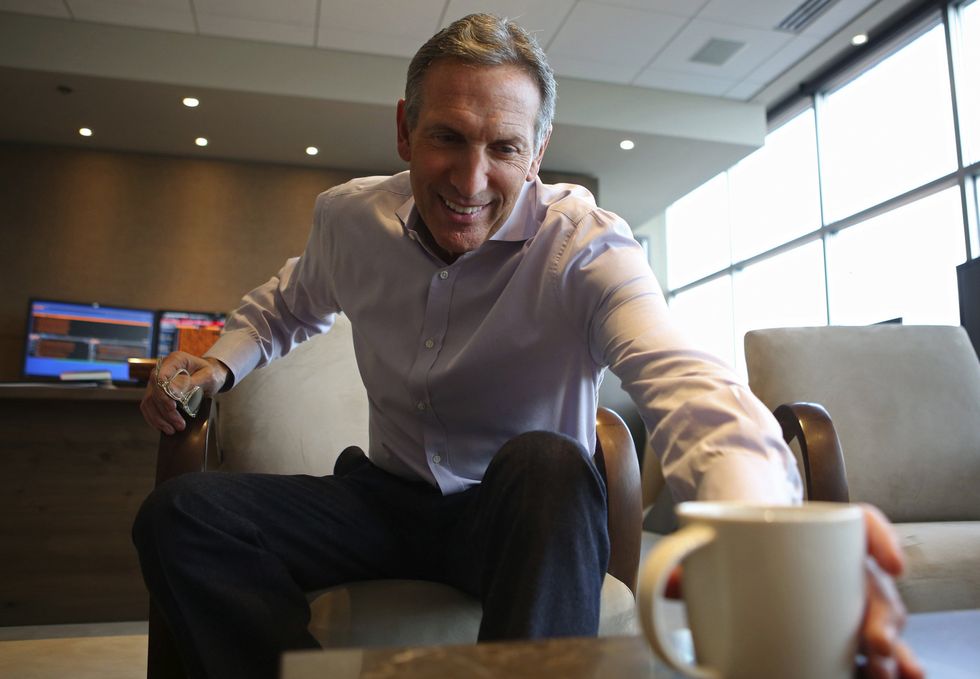 By Angel Gonzalez, The Seattle Times (TNS)
SEATTLE — When Starbucks hosted the cream of Wall Street analysts and investors at the coffee giant's headquarters here in December, the company did not kick off the gathering by highlighting its growing profits or its strategy for global conquest. It chose instead a video about the woes faced by the returning veterans of America's Middle Eastern wars.
"I realize that the video you just saw and the expression and our involvement in this issue is probably an unconventional way to begin an investor conference," CEO Howard Schultz told the audience. "But in fact, for all of us at Starbucks, it's who we are and what we believe in."
Such displays of social and political concerns are becoming increasingly common at Starbucks. Driving that is Schultz, a registered Democrat whose office is decorated with photographs of Martin Luther King Jr. and Bobby Kennedy.
As one of the largest and most profitable employers in the world of food retail, says Schultz, Starbucks has the heft to make its views carry influence.
"The size and the scale of the company and the platform that we have allows us, I think, to project a voice into the debate, and hopefully that's for good," Schultz said in an interview.
"We are leading (Starbucks) to try to redefine the role and responsibility of a public company," he said.
While many companies talk extensively about issues that directly affect them — some energy companies, for example, like to dwell on the environment and global warming — Starbucks stands out because many of the causes it's addressing have nothing directly to do with its core business.
In December, amid widespread angst about racial tension in Ferguson, Missouri, and New York, Schultz held an impromptu forum with staffers in Seattle to talk about race relations and followed up with a letter to all employees encouraging similar dialogues across the company. Since then open forums about race have taken place at Starbucks locations in Oakland, California, St. Louis, New York, Chicago, and Los Angeles. On Sunday, the company took out a full-page ad on the back of the front section of The New York Times that asked readers "Shall we overcome?" — a reference to an emblematic song of the civil-rights movement. Schultz is expected to devote a portion of his remarks at the annual shareholders meeting on Wednesday to race relations in the U.S. Similarly, in recent years the company has come out in favor of same-sex marriage and against political gridlock in Congress, and has dipped its toe into the red-hot gun-ownership debate by asking people not to openly carry guns into its stores. It also has sought to attract attention to growing income inequality.
So much for free-market economist Milton Friedman's maxim, embraced by corporate America in the 1980s, that a company's sole social responsibility is to make money for its owners without breaking the law.
Schultz acknowledged that the causes he takes on sometimes stress Starbucks staffers.
"I can tell you the organization is not thrilled when I walk into a room and say we're now going to take on veterans (issues)," just a month after decreeing that "we're going to do something no company has ever done before, we're going to create college education for people," Schultz said.
Of course, many of those political stands are easy to support and hard to oppose, running little risk of alienating most customers.
Republicans and Democrats alike can rally behind veterans, and most people hate political gridlock too. The same can be said for racism.
In many cases, too, Schultz's pleas — such as asking politicians to set aside their differences, or asking staffers to openly discuss race — fall short of proposing concrete solutions.
"I don't know where this will go," Schultz said during the employee forum on race relations in Seattle. "But I don't feel, candidly, that just staying quiet as a company and staying quiet in this building is who we are and who I want us to be."
Starbucks' engagement does draw considerable attention to these issues and helps position the company in the eyes of customers and actual or potential employees.
It also prompts questions about whether Schultz's ambitions go beyond the corporate sphere. In early February, Schultz was on the cover of Time magazine, which asked whether he intends to run for office. "I don't think that is a solution," Schultz told Time.
Devoting considerable CEO time and company resources to societal issues that have no direct bearing on earnings goes against decades of American corporate history and Wall Street's clamor for ever-improving quarterly earnings.
Schultz, however, says Starbucks can do both. Its size and enormous visibility make it a particularly noticeable player in what experts say is a growing trend. Some even say it may influence others to follow and give American capitalism a new flavor.
"At Whole Foods we call it conscious capitalism," says Whole Foods co-CEO Walter Robb, a friend of Schultz's for more than a decade. "Government has shown its limits, and its inability to act in many cases; it's really incumbent on business to step up to a broader view of responsibility."
To be sure, Starbucks' well-developed sense of righteousness is a double-edged sword. It creates expectations that companies can't always meet, says Nancy Kahn, a Harvard Business School professor who has long studied Starbucks.
"You're going to open the door to all kinds of people holding you up to all kinds of different standards," she said. "Very small things can trigger great rage."
Starbucks often draws fire for not meeting various critics' standards: not using organic milk, crowding out independent coffee shops, not paying its baristas enough. (Starbucks recently increased starting pay across the board for store staffers and contends that it offers benefits that are rare in the retail industry, such as health care for part-time employees, 401(k) plans and stock options.)
The company got a real zinger last August when a New York Times story described the stressful life of a Starbucks barista harried by unpredictable work schedules that were created with the help of software.
That story triggered quite a bit of embarrassed soul-searching at Starbucks, Schultz said. "We are better than that, and we care more."
As the story was hitting the newsstands, the company announced it would change its scheduling system to give workers more advance notice of their hours. "We are not perfect, we have a lot going on, and that was an area of weakness," Schultz said.
Schultz, whose father held unsteady, poorly paying jobs, has always contended that businesses' concerns should extend beyond the bottom line.
But Starbucks' political and social activism intensified after Schultz, who had stepped down as CEO in 2000, retook the helm of the company in 2008 in the midst of the global financial crisis.
In a few cases, the company's activist initiatives have shown some quantifiable results.
In 2011 the company helped launch an initiative to create and retain jobs threatened by the financial crisis — which yielded $105 million in loans to small businesses that saved 5,000 jobs, according to the company.
That summer, as bipartisan bickering about the federal budget deficit raged in Washington, D.C., Schultz urged his fellow captains of industry to stop campaign donations in order to pressure lawmakers into reaching a debt deal and get the American economy out of "a cycle of fear and uncertainty."
The move drew the support of more than 100 business leaders, according to Schultz, who listed 25 of them — including the CEOs of AOL and J.C. Penney — in an open letter. It didn't redraw the political landscape — but it brought attention to the role corporate money plays in politics, and to the frustration of businessmen with the D.C. stalemate.
Some other initiatives undoubtedly generate more press than pressure.
In December 2012, as congressional bickering went on, Starbucks launched another campaign — with baristas writing "come together" on customers' cups in Washington, D.C.
Sometimes a measure intended to strengthen Starbucks' own workforce is also a very public broadside on a charged social issue — such as when it decided last year to subsidize college for its U.S. baristas, in a well-publicized deal with Arizona State University.
The move served as a vehicle for Schultz to air concerns about growing inequality of opportunities and what he called the "fracturing of the American dream."
ASU President Michael Crow said he worked hard to vet Schultz in order to make sure it was not a self-serving scheme.
"In his case it comes from a very, very deep interest in making sure every person has an equal chance of success," Crow said. "Most corporate leaders, they believe the path to success is the narrowing of their calculus. Howard takes the opposite view."
Perhaps no issue has been embraced more tightly by Starbucks in the past two years than the well-being of the returning U.S. veterans.
Schultz says he first began thinking about the issue when giving a speech at West Point a few years ago, and his interest grew as former Secretary of Defense Robert Gates joined the Starbucks board.
Last March, Schultz committed $30 million of his personal fortune to research on post-traumatic stress and traumatic brain injury, as well as initiatives to help veterans transition to civilian life, such as Team Rubicon.
Starbucks has vowed to hire 10,000 veterans and military spouses by 2018. So far, it says, it has hired 3,300.
Schultz also wrote "For Love of Country," a book about veterans with Washington Post journalist Rajiv Chandrasekaran, published last year. Last month Chandrasekaran announced he would quit The Washington Post to found a media company in Seattle that would partner with Starbucks in order to tell stories about social issues, starting with veterans.
"If you can tell me somebody else has done more, I don't know who they are," said General Peter Chiarelli, the former Army Vice Chief of Staff, who took Schultz to Walter Reed National Military Medical Center in Bethesda, Maryland, last year.
Schultz is not the only CEO of a huge publicly traded company to dedicate a considerable amount of personal time — and company resources — to social responsibility. Unilever CEO Paul Polman is also an outspoken advocate for corporations standing for something other than profit.
Former Costco CEO Jim Sinegal, who has weighed in on the side of Democrats on issues such as economic inequality, said being a CEO "doesn't mean you have to abdicate your citizenship. You still have a right to voice your opinion on things. As a matter of fact, you have an obligation to voice your opinion on things."
What gives Starbucks, Costco Wholesale, and other companies the leeway to be outspoken is above-par results. Starbucks shares have outperformed the S&P 500 index by a factor of six since early 2009.
Schultz calls that performance "the price of admission" to be able to tackle policy issues and to pay for above-average perks.
Wall Street so far seems to accept that a Starbucks investment comes with a dose of political agitation.
"Everyone knows Howard Schultz has a view on a lot of things," says Andy Barish, an analyst with Jefferies who was present at the investor meeting in Seattle. The company has been doing well, said Barish, and "at the end of the day that's the most important part."
___
HOWARD SCHULTZ SPEAKS OUT
On taking stands:
"The divide between profitability and doing the right thing is collapsing…I also think there's a seismic shift in what an employee wants from a company today."
On Rudy Giuliani:
"I find Rudy Giuliani's vicious comments about President Obama 'not loving America' to be profoundly offensive to both the president and the office, and yet another example of the extreme rhetoric that continues to divide our country."
On gay marriage:
To a shareholder critical of the company's support for same-sex marriage: "Sell your shares."
Photo: Ken Lambert via Seattle Times/TNS