In Some States, Tax Cut Promises Collide With Budget Realities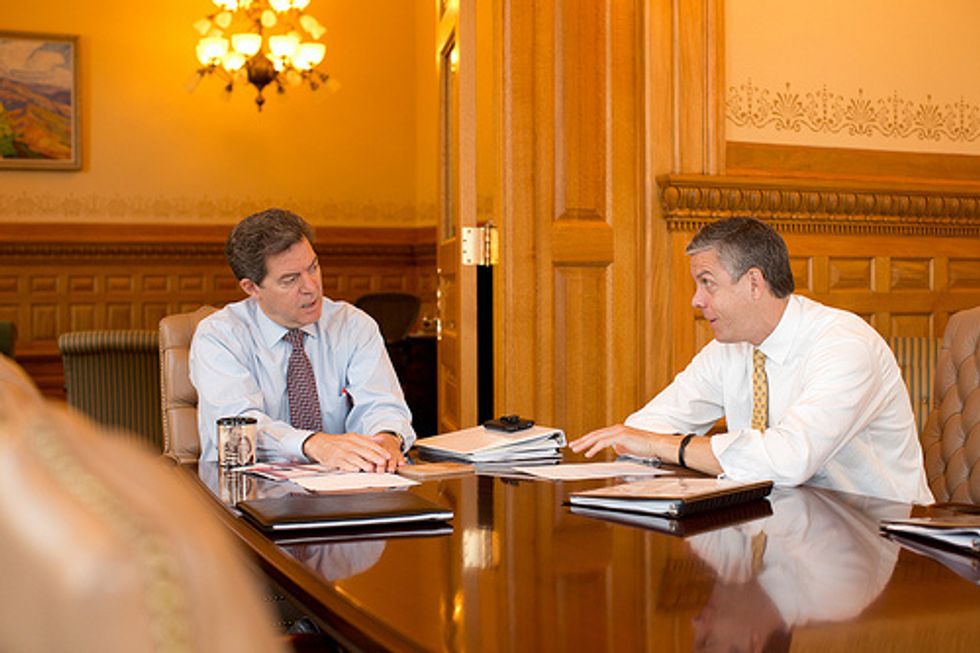 By Elaine S. Povich, Stateline.org (TNS)
WASHINGTON — Many newly elected and re-elected Republican governors stormed into office pledging to cut taxes. Now, in the face of lower-than-expected revenues, some are in a predicament that might remind movie buffs of the 1972 film The Candidate, in which Robert Redford's character won a U.S. Senate seat only to ask, "What do we do now?"
Some governors are being forced to reconsider their tax cut promises, while others are contemplating budget cuts to bring state balance sheets into equilibrium. Most states are in better fiscal shape this year than in the recent past, but in 20 of them, revenues for the current fiscal year are coming in under projections, according to the National Association of State Budget Officers (NASBO).
Overall, state revenues are projected to be $748.3 billion in fiscal 2015, a roughly 3 percent increase over the $726.1 billion states collected in fiscal 2014. But when those numbers are adjusted for inflation, state revenues still are 2 percent below the pre-recession peak, according to NASBO Executive Director Scott Pattison.
"There's stability, growth, but overall a lackluster picture," Pattison said. "We are not seeing significant growth."
There are now 31 Republican governors, up from 29. Seven of them are new: Asa Hutchinson in Arkansas, Doug Ducey in Arizona, Bruce Rauner in Illinois, Charlie Baker in Massachusetts, Larry Hogan in Maryland, Pete Ricketts in Nebraska, and Greg Abbott in Texas. Hutchinson, Hogan, Rauner and Baker seized governors' offices previously held by Democrats.
During their campaigns, all of the new Republican governors made some kind of "no taxes" pledge, either promising to freeze taxes or cut them. But those promises are bumping up against budget realities, including looming deficits and unmet needs stemming from the recession. When adjusted for inflation, states' fiscal 2015 spending will be about 2.7 percent lower than it was in fiscal 2008, according to NASBO.
Education spending, which is a large chunk of state budgets, is a vivid example. Per student, at least 30 states are spending less in inflation-adjusted dollars than they did before the recession hit, according to the Center on Budget and Policy Priorities, a left-leaning think tank. CBPP said most states are spending more per student than they did a year ago, but not enough to make up for the cuts in past years. Many governors, including some who have promised lower taxes, are proposing increases to education spending.
"It makes it difficult to contemplate additional tax cuts when your state is struggling to pay for past ones," said Michael Leachman, director of state fiscal research at CBPP. "In a state like Arizona, they cut the heck out of their educational system. If they are going to compete in the future, they need to invest. It's a very difficult situation."
Ducey, Arizona's new Republican governor, swept to victory on a platform of tax cuts, economic growth and an overhaul of education funding. But the former CEO of Cold Stone Creamery now faces a possible $520 million deficit this fiscal year and a $1 billion shortfall in the coming year. The state's fiscal 2015 budget totals $9.2 billion.
David Burton, an economic policy fellow at the conservative Heritage Foundation, said lower taxes usually mean lower spending — a good thing, in his estimation. "Can spending hypothetically go so low that essential services aren't being provided? Sure, but we're nowhere near that in any state I'm aware of," Burton said.
In traditionally "blue" states, combining tax cuts with spending cuts will be a tough sell for newly elected Republican governors.
During his successful campaign, Maryland Gov. Hogan pledged to cut taxes, particularly income taxes, and to get rid of what Republicans call the "rain tax," a wildly unpopular tax on runoff and wastewater to fund the Chesapeake Bay cleanup. But those promises will be difficult to keep in light of new budget projections showing a deficit of about $1.2 billion in fiscal 2015, out of about a $16 billion general fund budget.
Hogan got an assist from outgoing Democratic Gov. Martin O'Malley. Shortly before leaving office, O'Malley required state agencies to absorb a 2 percent cut over the next six months, part of a plan to cut $400 million from this year's budget to bring it into balance. However, Hogan will still have to deal with the projected fiscal 2015 deficit. He said he is still planning tax cuts, but did not provide details in his first news conference as governor.
Hogan "always said that we need to get spending under control first, before we begin trying to roll back taxes," said spokeswoman Erin Montgomery. "He acknowledges that the current budget deficit is a huge factor in accomplishing this goal, but he stands by his promise to make Maryland more affordable for people to live, work and retire. And that still means cutting taxes as soon as he possibly can."
State Sen. Richard Madaleno, Jr. is skeptical. "While I think there's a desire to cut taxes, I don't think there is room to cut taxes and I think the new governor knows that," the Democrat said. A fight in the Democratic-controlled legislature is looming.
In Massachusetts, new Republican Gov. Baker rode into office on a pledge to lure more businesses to the state by lowering corporate income taxes. But after the election, outgoing Democratic Gov. Deval Patrick identified a $329 million gap in the state's $36.5 billion budget, though some analysts pegged the figure higher.
Baker has not said where he will find the money to plug that hole. During his campaign, Baker promised not to cut aid to cities and localities and not to raise taxes. He continued this theme in his inaugural address, but did not provide specifics.
"We will hold the line on taxes — we're already demanding enough from hard-working people. And we will protect cities and towns and fulfill our promise to end the cuts to local aid. Otherwise, every line item will be looked at," Baker said.
The situation in Illinois, where there is a deficit of about $5 billion in the state's $36 billion budget, is particularly complicated and dire. Former Democratic Gov. Pat Quinn late last year proposed making permanent a "temporary" income tax increase, but the legislature refused to go along, so the tax reverted to 3.75 percent on Jan 1.
During the campaign, Rauner hammered Quinn over the tax increase. More recently, Rauner has said he would "work with" the 3.75 percent rate, but refused to be specific about what he might cut or how he might redraw to the state's tax system to balance the roughly $36 billion budget. He also did not rule out hiking taxes in the future.
The budget trouble is especially stark in Kansas, but Republican Gov. Sam Brownback, who has pushed through $1 billion in tax cuts since 2011, is not backing away from his tax-cutting philosophy. In November, Brownback defeated Democrat Paul Davis by 3 percentage points in an election widely viewed as a referendum on his fiscal policies.
Last month, Brownback was forced to cut funding for most state agencies by 4 percent and take $95 million from the state's highway fund and $40 million from the public employees' retirement fund to address a projected $279 million shortfall in the budget for the fiscal year that began in July. State revenue is expected to decline by another $436 million next fiscal year. Kansas' total budget is about $5.9 billion.
"I think that Gov. Brownback does consider that … he has the approval of the voters to push ahead here," said Burdett Loomis, a political science professor at the University of Kansas. "More tax cuts will go into place in January and there will certainly be substantial cuts in spending."
Loomis said exit polls showed that by a 53 percent to 41 percent margin, Kansas voters thought that Brownback's tax cuts were harmful to the state, but they re-elected him anyway. "Tax cuts were not popular but Obama was less popular," Loomis said. The latest deficit numbers were released a few days after the election.
GOP successes in November suggest voters around the country want lower taxes, Loomis said. "Kansas is distinctive but not alone," he said. "Kansas may be a slightly cautionary tale, with voters saying 'we don't want to go that far that quick,' but everyone is looking at it. We have a potential train wreck here."
In some states, however, it will be far easier for GOP governors to keep their tax-cut promises.
Arkansas, for example, had a nearly $300 million surplus in the last fiscal year. Democrats would like to spend more money on education, but Hutchinson wants to lower the income tax rate for "middle-class" Arkansans (defined as those earning between $34,000 and $75,000 annually) from 7 percent to 6 percent. Hutchinson wants to take the rate for those making between $20,400 and $34,000 even lower, to 5 percent.
In Oklahoma, where Republican Gov. Mary Fallin was easily re-elected to a second term, most taxpayers will see a cut in their state income taxes in 2016, because revenues have hit a preset target. State Secretary of Finance Preston Doerflinger said the tax will drop to 5 percent, while most agencies will see small cuts in appropriations.
And in Florida, GOP Gov. Rick Scott's pledge to cut taxes and fees got easier when state economists said in December that the budget has a surplus of $958 million. Scott narrowly won re-election in November. "I look forward to working with the Legislature to cut taxes by $1 billion over the next two years and increase K-12 per-pupil funding to the highest level in our state's history this coming year," Scott said in a statement.
On Jan. 12, he set that figure at $7,176 per student in 2015-16, the highest amount ever.
Photo: Secretary Arne Duncan meets with Governor Sam Brownback at the Capitol Building in Topeka, Kansas. (Official White House Photo by Chuck Kennedy)