Stats, Not Politics, Kept Schilling Out Of Cooperstown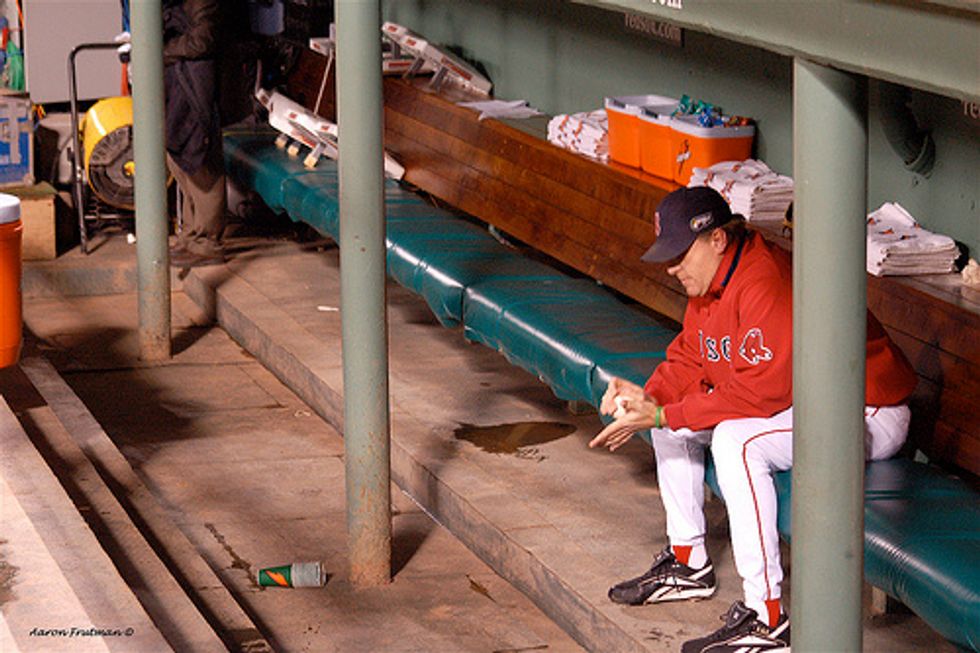 The announcement of the newest National Baseball Hall of Fame class took a political turn when pitcher Curt Schilling asserted that his support for the Republican Party kept him out of Cooperstown. This past week, Schilling told a Boston radio station that John Smoltz, who was elected in his first year of eligibility, won support through his Democratic leanings, while Schilling's conservatism cost him votes. Of course, there's no reason to believe that the Baseball Writers' Association of America is a left-wing organization. Furthermore, it is unclear how Schilling determined that Smoltz, who once campaigned for Ralph Reed and compared same-sex marriage to bestiality, is a Democrat. But, most important, it should be noted that Schilling fell short of induction because of his performance on the field, not his politics off it.
Schilling had a fine career with the Phillies, Diamondbacks, and Red Sox, but he was never a clear-cut Hall of Famer. Pitching from 1988 until 2007, he compiled a career record of 216-146, a 3.46 ERA, 3,116 strikeouts, and a 1.137 WHIP.  ERA+, a statistic that contrasts a pitcher's performance with the league average in a given season, places Schilling at a very solid 127 throughout his career. He finished with a total of 80.7 Wins Above Replacement. These numbers — particularly the strikeout totals — are undeniably strong, but leave him as, at best, a borderline candidate for the Hall of Fame.
To take this point further, compare Schilling's career statistics to those of his contemporaries whose Hall of Fame campaigns have gained less traction. Mike Mussina, for example, received 80 fewer votes this year despite putting together similar career numbers. While Schilling finished with more strikeouts, Mussina had more career wins. Their ERA, WHIP, ERA+, and WAR numbers are practically identical.
Baseball-Reference.com lists Kevin Brown as Schilling's most comparable player. Yet Brown appeared on only 2.1 percent of ballots cast when he was first eligible for Hall of Fame consideration in 2011 – few enough that he was removed from all future ballots. Mussina and Brown were never public about their political views. However, Mussina did appear in a documentary about crossword puzzles alongside Bill Clinton, a fact that should have helped his standing with the BBWAA, according to Schilling.
Schilling's supporters point to his success in the postseason as key to his Hall case, and he was an undeniably great playoff performer. He pitched to a 2.23 ERA as a central figure on three World Series-winning teams. And painful though it might have been for a Yankee fan, Schilling's bloody sock from the 2004 ALCS has gone down as one of the more indelible images in recent baseball history.
However, playoff performance, with its small sample size, is a faulty method for evaluating a player. Why should Schilling's 133.1 postseason innings trump the 3,261 he compiled in the regular season? What's more, plenty of players can point to their own moments of October glory. Brown, who led a mediocre San Diego Padres team to the 1998 World Series, and Mussina, whose excellent relief appearance helped the Yankees win Game 7 of the 2003 ALCS, were no slouches.
Ultimately, Jack Morris' stalled and controversial Hall of Fame candidacy makes the most apt comparison for Schilling's Hall of Fame odds. Morris' career numbers were good, but not great. Like Schilling, his case rested on his postseason success, especially his 10-inning, complete-game shutout in the 1991 World Series. Many so-called "baseball traditionalists" praised Morris as a legendary big-game performer, while the more statistically inclined argued that the small postseason sample size should not overshadow his somewhat pedestrian career numbers. In the long run, the stats won out and Morris' eligibility ran out after the 2014 ballot.
Schilling's Hall of Fame credentials are murky, and the fact that he does not believe in evolution is the least of his problems. While some voters may be swayed by his success in the postseason, several of his contemporaries were equally or more effective over their careers. Following the Morris example, Schilling should continue to face an uphill struggle to win the votes necessary for induction.
Stephen Abrams-Downey is a member of the Society for American Baseball Research. Readers can email him at sabramsdowney@yahoo.com.
Photo: Aaron Frutman via Flickr