Steelers Coach Tomlin Handed $100,000 Fine
@AFP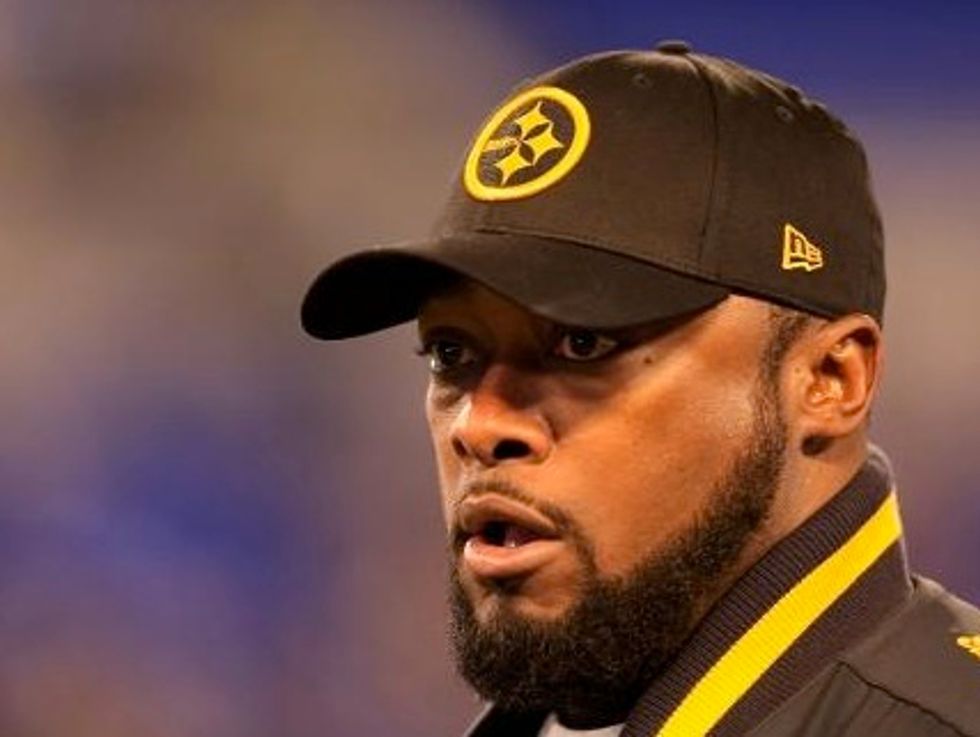 New York (AFP) – Pittsburgh Steelers coach Mike Tomlin was fined $100,000 by the NFL on Wednesday for interfering with a play in progress, and the team could lose 2014 NFL Draft picks as well.
The hefty fine was the result of a play from the Steelers' 22-20 loss at Baltimore last Thursday.
During a kick-off return by the Ravens in the third quarter, Baltimore's Jacoby Jones slowed as he was running down the sideline as a result of Tomlin being on the edge of the field with his back to the oncoming player.
Tomlin hopped out of the way before contact was made but, with his progress impeded ever so slightly by having to change his stride to avoid Tomlin, Jones was tackled from behind by Pittsburgh's Cortez Allen on a play that looked like it could have otherwise produced a touchdown.
No penalty was called on the play and the Ravens marched downfield for a field goal and ultimately won the game, but Tomlin admitted after the game he made a blunder and again took responsibility for his error on Wednesday.
"I take full responsibility for my actions, and I apologize for causing negative attention to the Pittsburgh Steelers organization," Tomlin said in a statement.
"I accept the penalty that I received. I will no longer address this issue as I am preparing for an important game this Sunday against the Miami Dolphins."
But that's unlikely to be the end of the matter.
The league said in imposing the fine that it will also consider taking draft choices from the Steelers or demoting them in the selection order once the final selection order for next year's NFL Draft has been decided.
Tomlin, who is one of three coaches on the NFL's nine-member competition committee, said he was watching the return on the giant screen in the stadium rather than watching the play.
"As head coaches, we're held to higher standards of conduct, and that blunder fell woefully short and in that vein I accept the repercussions of a blunder of that nature," Tomlin said. "With my position comes preserving the integrity of the game."
Tomlin denied the move was deliberate.
"I was wrong. I accept responsibility for it," he said. "I will take this unfortunate incident — this blunder on my part — and champion our game, and in particular the National Football League, and the integrity of that.
"The winning of any game is not important enough for me to jeopardize that."
AFP Photo/Rob Carr