#EndorseThis: Stephen Colbert Trolls (And Plays) Demented 'Performance Artist' Alex Jones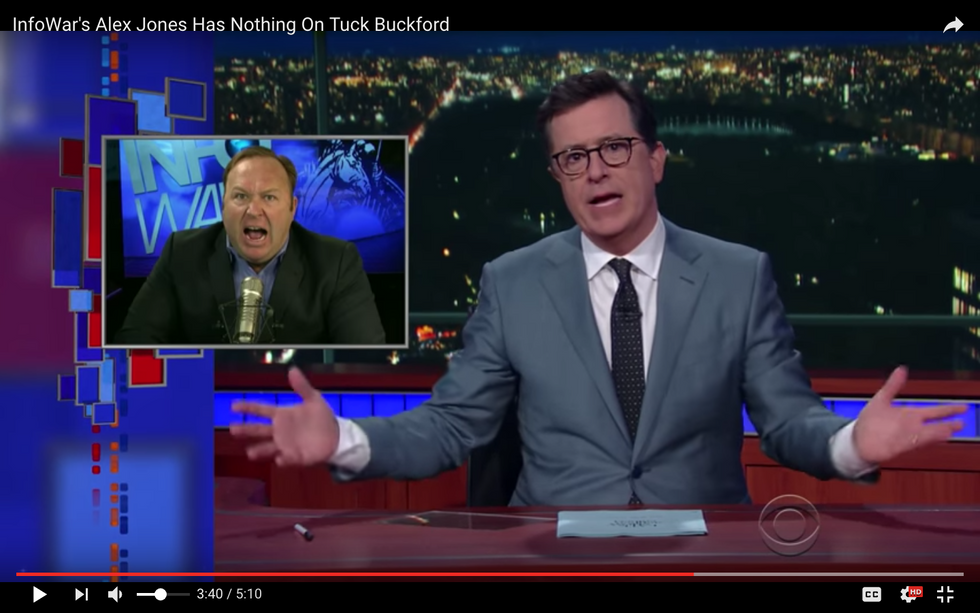 As satirists once made frequent sport of Rush Limbaugh and Bill O'Reilly, today's most tempting target is Alex Jones, the alt-right radio host and conspiracy fabricator who boasts millions of loony followers — and Stephen Colbert is on his case. And the Late Show host is especially intrigued by Jones' latest public embarrassment, revealed in a Texas court.
"The insane radio host is in a custody battle right now, so he's trying to prove that he's stable enough to care for children," notes Colbert. "Unfortunately he works in front of a camera." The Infowars clip that Colbert plays does indeed display a screaming, demented Jones sounding "like a coked-out football coach in a police stand-off."
It's not a good look for an aspiring parent, but Jones' attorney offers a creative explanation, saying his client is "a performance artist…playing a character" on his multi-media platforms.
Of course, not everyone realizes Jones is just a character, as Colbert points out — notably his biggest fan, Donald J. Trump, who appeared on Infowars during the 2016 campaign. "If Alex Jones is a character," says Colbert, "then Trump got phished hard."
It's all just an excuse for Colbert to introduce "Tuck Buckford," a nutty far-right radio jock with a striking resemblance to Jones, who shrieks: "I am a skeleton wrapped in angry meat! I am a warrior! I'm a king…Now, a word from our sponsors, self-lubricating catheters. Buy my vitamins!"