Sterling Furor Presents Test Of LA Mayor Garcetti's Leadership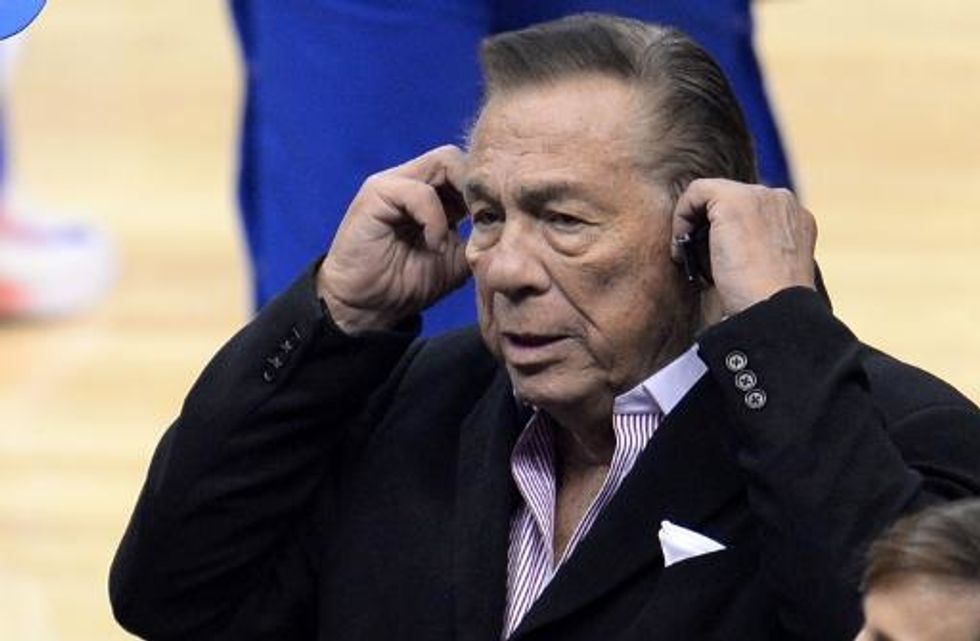 By David Zahniser and Michael Finnegan, Los Angeles Times
LOS ANGELES — Los Angeles Mayor Eric Garcetti stepped into the national media glare at a galvanizing moment for the city: Donald Sterling's remarks about blacks had just earned him a lifetime NBA banishment, just as his Los Angeles Clippers were competing in the playoffs.
The scene, before two dozen TV cameras on the steps of City Hall, offered a rare high-profile moment for a mayor who has spent much of his first 10 months in office stressing nuts-and-bolts city services. Flanked by NBA stars, Garcetti made the case for L.A. as a center of diversity, channeling the public's anger over remarks the NBA determined to be Sterling's and its relief over the league commissioner's stiff penalty.
Over four days, the Sterling scandal presented Garcetti with a test of leadership — how quickly and forcefully to respond to incendiary remarks attributed to the prominent owner of a major L.A. sports franchise.
In an interview Wednesday, Garcetti described the Sterling controversy as "a defining issue" for Los Angeles, one that required a strong response from elected leaders. "I wouldn't tolerate this just simmering," he said. "I wouldn't tolerate the city that I love being besmirched" by Sterling.
Garcetti said he hopes to remain involved in the Clippers' future, and has offered to help the NBA in completing a swift change of ownership, including encouraging other team owners to support a sale of the franchise, if necessary.
The Sterling controversy may have provided Garcetti "something of a mayoral moment," said Raphael Sonenshein, executive director of the Edmund G. "Pat" Brown Institute of Public Affairs.
"Sometimes, being mayoral is simply knowing that the moment to speak and appear in public is there," Sonenshein said. "Garcetti gets a lot of criticism because people want him to do things like this all the time. … But if you're doing it all the time, it's not a mayoral moment."
Garcetti first denounced Sterling's remarks on Saturday, calling the statements "despicable" and demanding quick action from the NBA. By Monday, he was urging a change in ownership and the stiffest punishment available to the league. After NBA Commissioner Adam Silver announced his decision, Garcetti said "justice has begun to be served."
Garcetti was not the first or only L.A. politician to seek action on Sterling's remarks, which were disclosed by the celebrity news site TMZ. Councilman Bernard C. Parks quickly called for a City Council vote denouncing Sterling and City Council President Herb Wesson sought an outside legal review of Sterling's dealings with the team.
Political consultant Eric Hacopian said Garcetti is not likely to see a political benefit from his public stance because it carried no significant risk. "The mayor is taking a position that most rational, sane people would take," said Hacopian, who worked for mayoral candidate Jan Perry in last year's election.
Earl Ofari Hutchinson, president of the Los Angeles Urban Policy Roundtable in South Los Angeles, offered a similar view, saying Garcetti followed up on complaints raised by other elected officials and community groups. He complained that Garcetti's administration took months to respond to his organization's assertion that the city's planning department has discriminatory hiring and promotional policies.
"It's always easy to beat up on someone else and ignore problems that you have to address," Hutchinson said. "So there's no goodwill as far as I'm concerned."

Garcetti spokesman Jeff Millman said a high-level Garcetti aide has already met with Hutchinson on the issue and the mayor himself plans to meet with Hutchinson in May. More than three-fourths of the new hires at the planning department in 2013 were nonwhite, Millman said.
The Sterling scandal played out as Garcetti has sought to shore up his standing among African-American voters. Predominantly black neighborhoods were among Garcetti's weakest areas of support in last year's election.
The mayor suffered a bout of bad publicity in the African-American media this year after the Obama administration bypassed South Los Angeles and designated areas around Hollywood and Koreatown as a "Promise Zone" eligible for extra federal aid to fight poverty.
Garcetti has been aggressive since then about highlighting his other efforts to assist poorer sections of South Los Angeles. Speaking out on the Sterling remarks was a way for Garcetti "to say that as a city, 'This has the highest level of attention and we want to do something about it,' " said Jewett Walker, a Los Angeles campaign consultant.
Wesson, who joined Tuesday's news conference, said Garcetti's response reflected a long-standing commitment to civil rights. "I think this is who he is inside and out, in his bones and in his blood," Wesson said.
Garcetti said he doesn't know if his statements this week will affect his standing among African-American voters. "I know racism when I hear it. And I know that it requires, from all the work I've ever done in my life, the strongest response immediately," he said. "And that's what all this was about."
The seeds of Tuesday's news conference outside City Hall were planted by Sacramento Mayor Kevin Johnson, who represented the NBA players' union as it responded to Sterling's statements. Johnson began texting with Garcetti after his initial remarks demanding action from the NBA, according to a mayoral aide.
The two continued to communicate as Garcetti reached out to others in the NBA, including Clippers coach Doc Rivers. On Monday, the same day that Garcetti spoke with Silver, Johnson recommended that both mayors give their response outside L.A. City Hall.
"I think he understood it was the voice of L.A. that had to respond," Garcetti said.
Before facing the media, Garcetti, Johnson and NBA figures such as Steve Nash and Kareem Abdul-Jabbar gathered in the mayor's office and watched as the league's commissioner announced the Sterling ban in New York. The room broke into applause.
AFP Photo/Robyn Beck