WATCH: Steve King Brings White Supremacy Back Into The Mainstream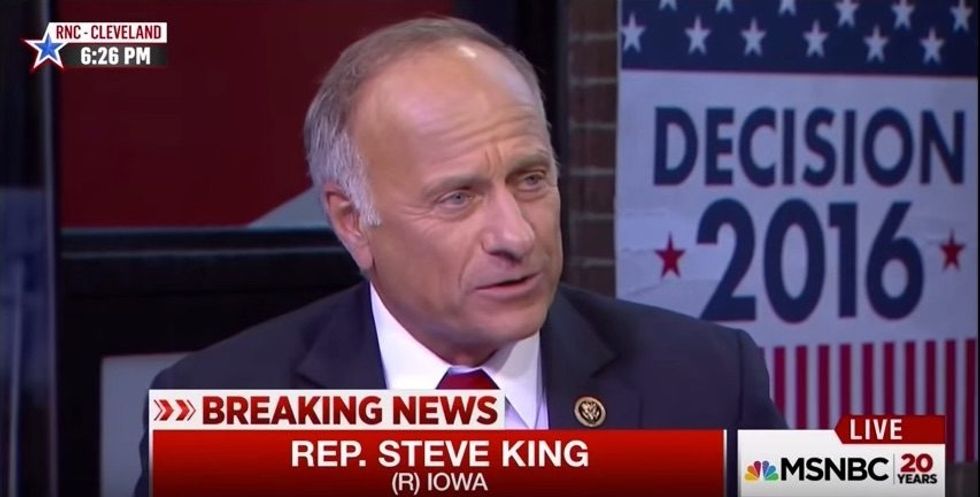 Rep. Steve King is making America racist again.
In a panel discussion during MSNBC's coverage of the Republican National Convention on Monday, the Iowa congressman suggested that white people have done more for humanity than any other "subgroup".
Pushing back against fellow panelist Charles Pierce's comments regarding the lack of diversity in the GOP, King says, "Where did any other subgroup of people contribute any more to civilization?" later clarifying that he indeed meant  "Western civilization itself, that's rooted in Western Europe, Eastern Europe, and the United States of America, and every place where the footprint of Christianity settled the world."
While the clip has already drawn plenty of attention, it wasn't the first time that King — who is known to keep a Confederate flag on his desk — has tried to bring white supremacy back into the mainstream of American politics.
Earlier this summer, King drew controversy for proposing an amendment that would block putting Harriet Tubman on a new design for the $20 bill, arguing that it was racist and sexist to put someone on currency on the basis of their identity.
"This is liberal activism on the part of the president that's trying to identify people by categories, and he's divided us on the lines of groups," King told Politico. "It's not about Harriet Tubman, it's about keeping the picture on the $20."
He's also gone after undocumented immigrants, notoriously saying in 2013 that "for every one who's a valedictorian, there's another 100 out there who weigh 130 pounds and they've got calves the size of cantaloupes because they're hauling 75 pounds of marijuana across the desert."
A true Trump supporter, King has spoken before Congress about the importance of building a wall on the U.S.-Mexico, going so far as to compare the people that would try to climb over it with cattle.
"It would simply be a discouragement for them to be fooling around with it," King says. "We do that with livestock all the time.
As with his comments on racism, King has a history of comparing immigrants to animals, saying in 2012 that the immigration process was like picking "a good bird dog."
Photo: Screenshot via YouTube