Steve King's Statements Are Outrageous, But His White Nationalist Policies Are Even Worse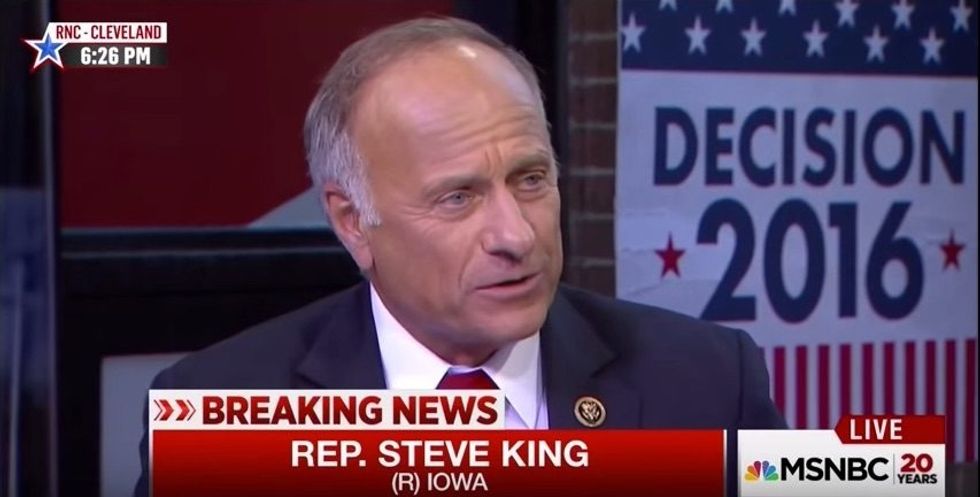 Reprinted with permission from Alternet.

Iowa Representative Steve King provoked widespread outrage this week for making, and then defending, white-supremacist statements in support of Geert Wilders, the leader of the Dutch fascist Party for Freedom, in the leadup to the Netherlands' Wednesday election.
"Wilders understands that culture and demographics are our destiny. We can't restore our civilization with somebody else's babies," King tweeted Sunday, linking to a Voice of Europe website image depicting Wilders' virulent Islamophobia as a defense of European "civilization."
King's remarks are in line with his long-standing track record of making racist claims that people of color, immigrants and Muslims pose a threat to "white purity."
While King's racist rhetoric has earned him the opprobrium of pundits and social media alike, lesser noticed are the far-right policies he is aggressively pushing, with the help of his Republican colleagues in Washington. From hardline anti-immigration bills to school privatization acts, King's initiatives cast him as a representative of the Trump-aligned forces at the helm of America's political institutions, positioned to inflict material harm on countless people through actions, not just words.
A Republican representative for northwestern Iowa since 2003, King first threw his support behind presidential candidate Ted Cruz before making the jump to Trump. He has emerged as an enthusiastic proponent of Trump's proposed border wall between the U.S. and Mexico, a region already lined with walls and fences and featuring a heavily militarized U.S. presence.
King, who ran the company King Construction before his son took over, claims to have designed his own wall, stating on his website, "My concrete wall would function as both a human and vehicle barrier, inspired by the success of the concrete wall in Israel. My design is cost-efficient, easy to construct and impenetrable. This design would funnel illegal traffic to our ports of entry, where it can be reasonably controlled by our nation's customs and border patrol agents." He recently said he sent his construction plans to John Kelly, who now heads the Department of Homeland Security.
As vice chairman of the House Subcommittee on Immigration, King introduced the "Birthright Citizenship Act of 2017," which targets the children of undocumented immigrants by terminating the process by which they are automatically granted citizenship if they are born in the United States. This is just one of several attempts by King to advance such legislation, and now he is doing so with 22 co-sponsors. If passed, the bill would rip families apart and put children at an increased risk of incarceration, abuse and forcible expulsion.
Notably, King appears to have allies in the Trump administration. Vice President Mike Pence said last fall that Trump's then-proposed immigration commission would "look at all of our immigration laws, including the whole question of 'anchor babies'" (a derogatory term referring to children whose parents are not U.S. citizens).
Like Trump, King is an anti-immigrant, anti-Muslim hardliner who has received the political backing of European fascist leaders, as well as domestic white supremacists, including former Ku Klux Klansman David Duke.
Since Trump's inauguration, King has introduced a flurry of far-right initiatives that are in line with the new administration's policies. These include an act advancing school privatization, a proposed repeal of the EB-5 visa waiver program and an anti-worker "national right to work act." King recently introduced a bill allowing the U.S. government to revoke the citizenship of "Americans who knowingly join or provide material support to foreign terrorist organizations such as ISIS." Notably, Ted Cruz presented the companion bill to the Senate, with the co-sponsorship of Chuck Grassley (R-IA) and Mike Lee (R-UT). King also proposed a "Resolution Rebuking the Courts' Actions Against President Trump's Executive Order" on immigration, a clear effort to shore up support for Trump's travel ban targeting Muslims.
In light of these policy positions, King's rhetoric throws into relief the racist forces taking power in the U.S. and Europe. In September 2016, King published a tweet showing a photograph of himself standing alongside the European fascist leaders Frauke Petry and Geert Wilders with the phrase, "Cultural suicide by demographic transformation must end." The language is a reference to the racist tenet that "white purity" is under threat.
During an MSNBC panel discussion hosted by Chris Hayes in July, King argued that white people have made the most valuable contributions to civilization. "This whole 'old white people' business does get a little tired," he said. "I'd ask you to go back through history and figure out where are these contributions that have been made by these other categories of people that you are talking about? Where did any other subgroup of people contribute more to civilization?"
In September 2014, King called on the U.S. government to indiscriminately spy on mosques, allegedly to target ISIS recruitment. Speaking with the Deace show, he said of ISIS recruiters: "So they have a network that they flow in. And it isn't that all Muslims are [supporters] of ISIS, but the network that flows through the mosques is certainly the communications center. We ought to be looking at this dot to dot. And we ought to have people in those mosques watching to see what's going on."
The surveillance of mosques and Muslim communities spread under the Obama and George W. Bush administrations. During the 2016 presidential elections, Ted Cruz and Donald Trump called for police to patrol Muslim neighborhoods, echoing King's earlier policy prescriptions.
Muslims aren't the only targets of King's racist rants. In a 2013 interview with the right-wing outlet Newsmax, he insulted undocumented children by employing racist and xenophobic stereotypes. "For everyone who's a valedictorian, there's another 100 out there who weigh 130 pounds—and they've got calves the size of cantaloupes because they're hauling 75 pounds of marijuana across the desert," he stated.
This article was made possible by the readers and supporters of AlterNet.