Steve McQueen Has Tirelessly Promoted '12 Years A Slave'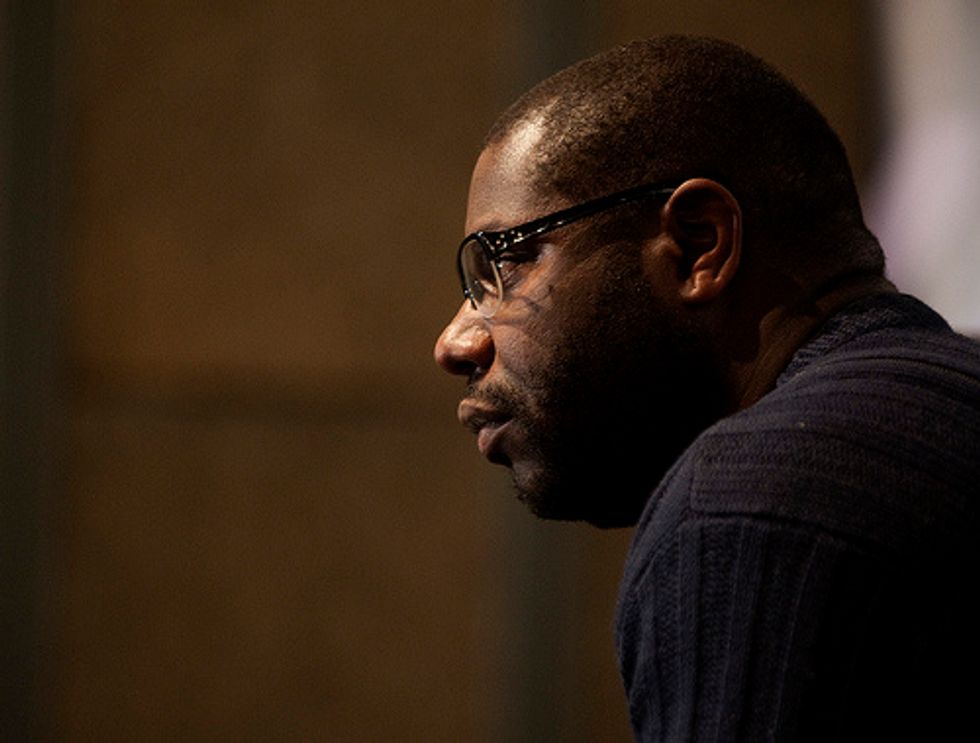 By John Horn, Los Angeles Times
LOS ANGELES — Not long after Steve McQueen's 12 Years a Slave premiered at the Telluride Film Festival last August, a friend cautioned the British director that his movie was "more important than you."
It turned out to be far truer than anyone, including McQueen, might have guessed.
Nearly half a year after McQueen's searing retelling of the 1841 enslavement of Solomon Northup was first shown to moviegoers, 12 Years a Slave remains the year's hot-button movie, with McQueen the thoughtful and sometimes stubborn voice at the center of the conversation.
"I feel I have to be the spokesman for the movie, and I feel I have to put myself out there," McQueen said. "Yes, I have to sacrifice a bit of my family, too. And they understand that."
No matter how long and enthusiastically people talk about Gravity or American Hustle, the context of the discussion rarely transcends Alfonso Cuaron and David O. Russell's storytelling artistry. But like fellow best picture nominees Philomena and Dallas Buyers Club, McQueen's film, based on a real life and real issues, focuses on a subject with teeth and staying power. Notwithstanding its period setting, the subject underlying 12 Years a Slave sparks soul-searching about race, complicity and reconciliation.
McQueen's passion for the topic not only fueled his desire to make the independently financed film but also has sustained him through the seemingly endless awards season, which now stretches from Labor Day to March 2, when the Oscars are finally handed out. What might be a burden to some, in other words, has become for McQueen an opportunity to participate in thoughtful salons around the globe.
Since its initial showing, the 44-year-old filmmaker has crisscrossed the planet to support and discuss his film, a powerful and often difficult-to-watch account of how Northup was drugged, kidnapped and sold and bartered to a series of slave owners, culminating in an overseer so inhumane his name — Epps — is still to this day Southern shorthand for ruthless behavior.
McQueen's efforts have yielded not only surprisingly strong box office returns of more than $110 million globally but also nine Oscar nominations, including one for director.
All of that comes at a price: It's cost McQueen the chance to develop another movie and, among the missed family milestones, being with his daughter in Amsterdam on her 15th birthday.
But as the British director said with no evident weariness or regret, "It's been extraordinarily rewarding."
One of the unfortunate paradoxes of the Academy Awards season is that it effectively takes the year's most celebrated filmmakers and, owing to the promotional necessities of awards campaigning, sticks them on the sidelines for half a year as they talk up their movies. Some writers and directors try to work in off hours, only to find their creative energy has been swallowed in the maw of festival premieres and awards dinners.
"It's kind of all-consuming, to be honest," said McQueen, who in the last six years directed the features Shame and Hunger, in addition to numerous videos and short films. "You can't really focus."
For McQueen, the potential pain of not being able to return to work has been more than offset by the exchanges around his film. A woman from Kenya recounted at a screening at the Museum of Tolerance in Los Angeles how she had been sold into slavery in Abu Dhabi, and at a premiere in New Orleans the director candidly shared his own feelings of recognizing as a young child the particular shame of slavery for people who are black.
"It's just so stimulating," McQueen said in an interview conducted for KCRW's The Business. "So it never gets particularly tiring. Because you are talking about something which is as relevant today as yesterday."
The neck-and-neck nature of this year's best picture race — 12 Years a Slave, Gravity and American Hustle all are considered potential victors for the top Oscar — has meant that the people behind the three films have missed few opportunities to tout their work.
Because Fox Searchlight, the distributor of 12 Years a Slave, can't match the big-studio advertising blitzes behind Warner Bros.' Gravity and Sony's American Hustle, much of its marketing has hinged on personal appearances by McQueen and his actors Chiwetel Ejiofor and Lupita Nyong'o.
"We don't have a lot of money," McQueen said. But the publicity generated by 12 Years a Slave's Oscar nominations, which trail only Gravity for the most this year, has helped bring people into theaters, a difficult task given how graphic the film is.
"This helps us tremendously in getting people to see the movie, in getting people to talk about the movie," McQueen said. "But we've been very lucky that we've come this far. It is gratifying when you don't have the funds that other people have."
McQueen, who recently became a patron of the long-standing human rights organization Anti-Slavery International, is particularly pleased that the memoir upon which he and screenwriter John Ridley based 12 Years a Slave has been a bestseller for months.
He believes that the film's success will pave the way for other, seemingly risky productions. (McQueen's film, like the best picture nominees Her, American Hustle, Dallas Buyers Club, The Wolf of Wall Street and Philomena, was financed outside the studio system.)
"I so hope that the studios understand that people want to see challenging films — films that are not sort of blockbusters," McQueen said. "I wish that they could understand that they can actually make money. And that will be so healthy. Come on, guys, it makes sense."
While McQueen would obviously like to see 12 Years a Slave walk away with a lot of hardware at the Oscar ceremony, for now he's grateful that the film has prompted talk about slavery and race.
"It can change people's lives, change people's perspectives. Art — movies — can actually do that. Crazy, but true," McQueen said. "It's been actually extraordinarily rewarding talking to people. Having these kinds of passionate debates about where we are now, where we want to be in the future, and who and what we are as a society."
At McQueen's urging, Fox Searchlight will soon announce a partnership with Penguin Books and the National School Boards Assn. to send DVDs of 12 Years a Slave and copies of Northup's memoir to every public high school library — more than 30,000 campuses — in the United States. The movie and book will be available at the start of the next school year.
Even if McQueen shows no outward signs of exhaustion, it's clear the nearly half-year grind has taken a toll.
"There's been a lot going on," McQueen said. "I feel I just need to take a break and come back, hopefully, with something that can make me have the passion I had when I was making 12 Years a Slave."
Photo: Cornerhouse Manchester via Flickr