Still 'No Way Out' For Saudi Women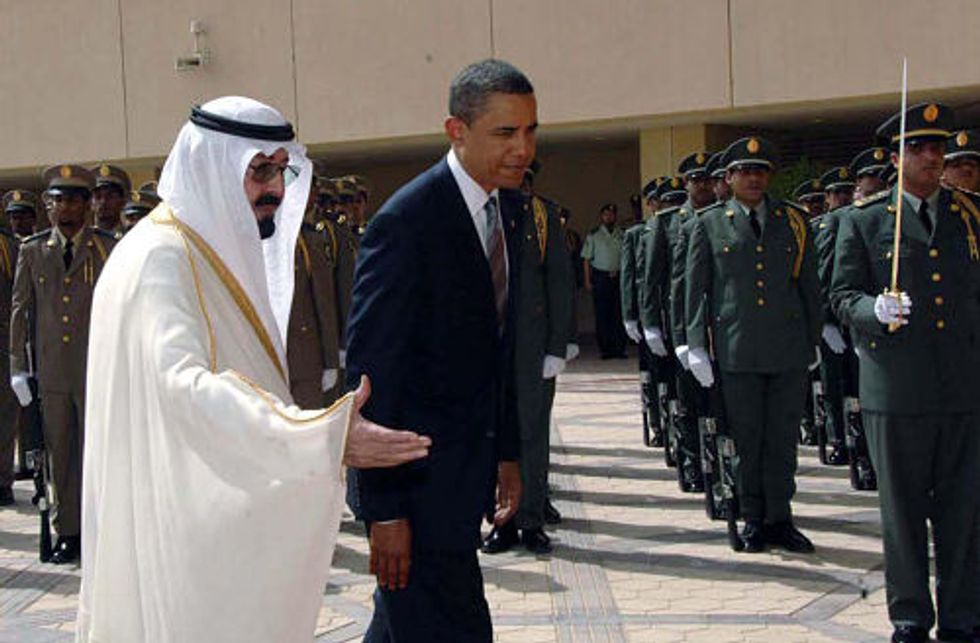 A friend of mine, an environmental consultant working at a research compound in Saudi Arabia, had a memorable moment when she tried to visit an archaeological museum in Riyadh. She found a time when the museum was "open to individuals" and requested a driver, but was told she could not go. "You don't understand," the man at the help desk said with a chuckle. "Individuals means men."
And so it goes in Saudi Arabia, where women are treated as children and worse under a system that makes apartheid in South Africa seem like a beacon of liberty.
The Saudis, key suppliers of oil and allies in the fight against terrorism, are hardly on the receiving end of sanctions or boycotts despite their egregious brand of gender apartheid. Rather, as they mourned the death of King Abdullah, they welcomed a U.S. delegation that included President and Michelle Obama, three current or former secretaries of state, two former national security advisors, the director of the CIA, Sen. John McCain and other members of Congress.
The massive VIP presence is an important signal at a time of transition, but it's also a galling, glaring acknowledgment of impotence. Saudi women live under soul-killing and sometimes physically threatening laws and traditions, and there's very little we can do about it. When she was secretary of state, Hillary Clinton once said publicly that she was moved by brave protesters defying the Saudi ban on women drivers. Once. More typical was Obama urging the newly ascended King Salman in a private meeting this week to let civil society "take hold."
Abdullah is viewed as a reformer. He gave women seats on the unelected Shura Council that advises the king and the government, and said in 2011 that they could vote and run — both firsts — in 2015 local elections. He also established a university where men and women attend class together. But the deeply disturbing fundamentals, as catalogued in the State Department's human rights report on Saudi Arabia, remain untouched.
The core of the oppression is the requirement that all adult women have a close male relative as a guardian. The polite fiction is that this is to protect women — the first meaning that comes up in a Google search for "guardian definition." But the second definition is much closer to the truth: "a person who looks after and is legally responsible for someone who is unable to manage their own affairs, especially an incompetent or disabled person or a child whose parents have died."
A Saudi woman needs her guardian's permission to study, travel, marry, work and receive some medical treatments. Women cannot get driver's licenses or share public space or offices with men. Outside their homes, they must wear long black abayas, cover their hair and, in some areas, cover their faces, hands and feet as well. Foreigners are supposedly exempt from the head-scarf rule, but that didn't stop intimidating religious police from ordering my friend to cover her hair, or hundreds of Twitter users from criticizing Michelle Obama for going bareheaded during her condolence visit.
The State Department list goes on and on. Girls can't play sports at school. Women are well educated but few have jobs. In court, "the testimony of one man equals that of two women." Reporting a rape is a huge risk. Following sharia law, "courts punished victims as well as perpetrators for illegal 'mixing of genders,' even when there was no conviction for rape." There have been "reports of police or judges returning women directly to their abusers, most of whom were the women's legal guardians."
"Behind the Veil," a 2013 report from the Washington-based Institute for Gulf Affairs, describes a woman admitted to the hospital in 2006 after her guardian — her husband — shot her. Police said they could not intervene unless her guardian filed an official complaint, which of course he did not. She was readmitted two more times with gunshot wounds. The third time, she died.
Obviously, Saudi Arabia is no paradise for anyone. It mistreats guest workers and minorities, and imprisons dissidents. It is similar to the Islamic State in its array of barbaric punishments, including stoning, lashing and amputation. The case of blogger Raif Badawi, convicted of insulting Islam and sentenced to 10 years in prison and 1,000 lashes, has triggered international outrage.
Badawi's case prompted the Washington Post editorial board to propose an "international commission of inquiry" to take testimony on the repression of dissidents and the absence of rights for women. Good idea. Investigators should look into reports by Channel 4 News in Britain that four of Abdullah's daughters have been held against their will in a Jeddah compound for 13 years. "Our father said that we had no way out," Princess Sahar said in a chilling email to reporter Fatima Manji, "and that after his death our brothers will continue detaining us."
Follow Jill Lawrence on Twitter @JillDLawrence. To find out more about Jill Lawrence and read features by other Creators Syndicate writers and cartoonists, visit the Creators Syndicate website at www.creators.com.
Photo: President Barack Obama is greeted by Saudi Arabia King Abdullah upon his arrival at King Khalid Airport on June 3, 2009 in Riyadh, Saudi Arabia. Saudi Arabia's King Abudllah Bin Abdulaziz Al Saud has died at age 90, state television announced on Jan. 22, 2015. He had been in the hospital for several weeks suffering from a lung infection. Abdullah, a U.S. ally in the fight against al Qaeda, came to power in 2005 after his half-brother died. (Xinhua/Zuma Press/TNS)