Stimulus Spending For Party Animals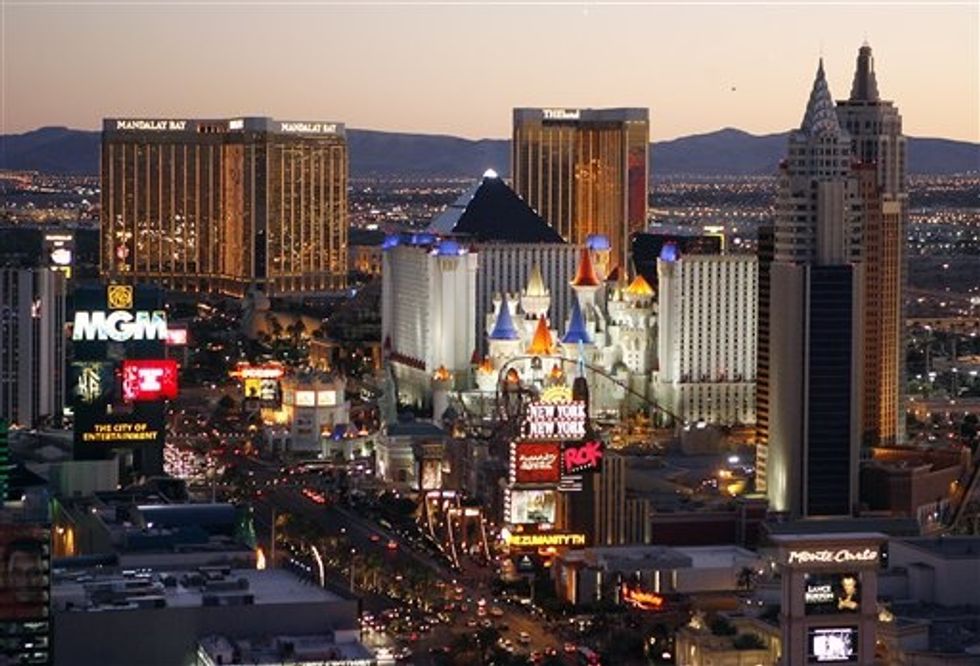 In a new twist on stimulus spending, the government's General Services Administration laid out more than $822,000 for a rocking mega-party at a gambling resort near Las Vegas.
It was fabulous for the economy of Nevada but not so good for U.S. taxpayers.
The idiot who came up with this boondoggle still hasn't been publicly identified, but the supposed mission was to reward 300 federal workers with an "over-the-top" conference in October 2010 at the M Resort and Casino.
Apparently, six advance scouting trips were necessary, costing a mere $130,000. Here are some of the other items paid for by you and me:
–A $31,208 "networking" reception that offered a thousand sushi rolls bought for $7 apiece, and morsels of gourmet cheese for which Uncle Sam paid about $19 per attendee.
–Commemorative coins, delivered in velvet-lined boxes to all participants at a tab of $6,325.
–Breakfast every day at $44 per head.
–"Team-building" conferences that included an inspiring $75,000 presentation on how to screw together a bicycle.
–The professional services of a clown (who probably felt right at home) and a mind reader, whose bold fee of $3,200 suggests that he also performed some hypnotism.
A powerful and far-reaching agency, the GSA is in charge of major government purchases such as office buildings and fleet vehicles. Why not reward its workers for efficiency and frugality by sending them to a Vegas casino at taxpayer expense? Brilliant.

The scandal is the talk of Washington, fueling as it does a widespread national sentiment that government is wasteful, arrogant and clueless. As the economy claws back from a near-paralyzing recession, it's boggling that anyone in a position of authority could dream up such a junket for federal bureaucrats, and that their knuckleheaded bosses would approve.
On the eve of a critical inspector general's report, the White House moved quickly to douse the flames. GSA Administrator Martha Johnson resigned last week and two of her top people were fired. Four other managers were put on leave.
Congress plans to hold hearings about the Vegas extravaganza, and it would be nice to think that the authors of this boondoggle will be hauled forward to answer the question: "What on earth were you thinking?"
Next question: "Did you at least learn how to build a bicycle?"
We know that one of the high-ranking GSA folks on the trip was Robert A. Peck, head of the agency's Public Buildings Service. He threw a $2,000 bash in his top-floor suite at the M.
Peck no longer has a job with GSA, but he'll always have those memories. And if he got his picture taken with a fake Elvis, we probably paid for that, too.
It's easy to flog the Obama administration for lax management, but the truth is that the GSA has been roaring out of control for a long time. Imagine a humongous stoned octopus that has no idea what all its legs are doing.
One embarrassing GSA headline after another plagued the second Bush administration. The agency's chief of staff resigned and was convicted of lying to Congress during the investigation of scumbag lobbyist Jack Abramoff, who later went to prison.
And Bush's choice for GSA administrator, Lurita Doan, departed under pressure after a series of controversies. Among other things, she was accused of trying to steer government contracts to her pals, which she denied, and had sought to slash the budget of investigators looking at gross overspending within the agency.
The most infamous of GSA extravagances surfaced during the Reagan years, when it was revealed that the Pentagon had been paying $535 each for hammers, and a bowel-churning $640 for toilet seats.
It turned out there was nothing special about those toilet seats, either. They weren't made of titanium or even skid-proof Kevlar, and they served no function other than to prevent the user from falling into the commode.
The tradition of hog-wild excess continues, now with the Las Vegas excursion. As this is being written, reporters are intrepidly searching for the clown and the mind reader who were brought in to entertain the partiers.
It goes without saying that the GSA wasn't smart enough to hire a mime, who might keep his mouth shut, or a psychic, who could have warned of the furor to come.
This time, what happened in Vegas didn't stay in Vegas.
Only our tax money did.
(Carl Hiaasen is a columnist for the Miami Herald. Readers may write to him at: 1 Herald Plaza, Miami, Fla., 33132.)
(c) 2012, The Miami Herald Distributed by Tribune Media Services Inc.