Stolen Memos Case Prompts Call For Kavanaugh's Impeachment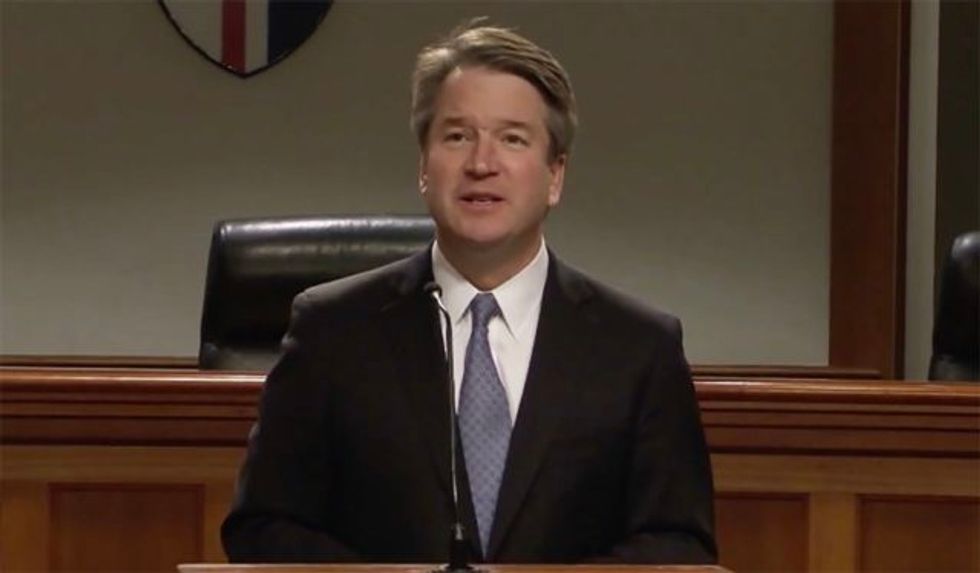 Reprinted with permission from AlterNet.
In a tightly argued and powerful article for Slate, a Democrat who was one of the victims of a document theft related to Supreme Court nominee Brett Kavanaugh's time in the White House argued Friday that the judge should be impeached.
Kavanaugh, Lisa Graves argued, repeatedly lied to Congress under oath about his involvement with the stolen materials.
She noted that just receiving the documents, which she says were taken by GOP Senate aide Manuel Miranda isn't an impeachable offense. Graves said that Miranda stole the "confidential memos, letters, and talking points," some of which she personally wrote, which were part of the Democrats' private communications about blocking President George W. Bush's controversial judicial nominees. Some of this material was passed on to Kavanaugh, though he says he wasn't aware that the documents were stolen.
This, Graves said, is implausible. Kavanaugh almost certainly would have known this material was not supposed to be in his possession. But things get even worse for the Supreme Court Nominee.
Graves argued that even after the theft was revealed, Kavanaugh has still claimed, under oath, that he had nothing to do with the stolen documents. She wrote:
During the hearings on his nomination to the D.C. Circuit a few months after the Miranda news broke, Kavanaugh actively hid his own involvement, lying to the Senate Judiciary Committee by stating unequivocally that he not only knew nothing of the episode, but also never even received any stolen material.

Even if Kavanaugh could claim that he didn't have any hint at the time he received the emails that these documents were of suspect provenance—which I personally find implausible—there is no reasonable way for him to assert honestly that he had no idea what they were after the revelation of the theft. Any reasonable person would have realized they had been stolen, and certainly someone as smart as Kavanaugh would have too.

But he lied.

Under oath.

And he did so repeatedly.
Even apart from any questions about whether Kavanaugh is fit for the Supreme Court, Graves argued that he isn't fit to continue on the D.C. Circuit. Lying to Congress under oath is a serious crime and an impeachable offense. She also noted that Kavanaugh was also a part of Kenneth Starr's team that aggressively argued that President Bill Clinton should be impeached for lying under oath.
"That's why—without even getting into other reasonable objections to his nomination—he should not be confirmed," she wrote. "In fact, by his own standard, he should clearly be impeached."
Cody Fenwick is a reporter and editor. Follow him on Twitter @codytfenwick.